While he has built mini-sailboats for an annual celebration in his home village in Papua New Guinea, it's been anything but smooth sailing for Roland Hure in his time as a Southwestern Community College student-athlete.
Last week, Hure graduated from Southwestern with an associate's degree. He will perform one more time as a long jumper and sprinter for the Spartan track and field team at the NJCAA national championships next week in Hutchinson, Kansas. Already having broken the school record many times in the long jump, he hopes to establish his country's national record in the event and achieve All-American status by placing in the top eight. (He is currently ranked 11th.)
Near record
This spring, Hure's best jump under conditions with a legal wind has been 7.25 meters (23.7 feet) at the Kip Janvrin Open at Simpson College. He was just one centimeter shy of the Papua New Guinea national record of 7.26 meters.
At the regional meet last weekend at Iowa Western Community College, Hure seemingly broke his country's national record with a second-place jump of 7.37 meters, but the wind was 2.7 mph, while the maximum allowable wind for national records is 2.0. (The 7.37 meters — 24.2 feet — stands as SWCC's record as allowable wind for NJCAA national qualifying has been increased to 4.0 mph. National record standards are more stringent.)
Hure competes in the long jump and 100 meters at the NJCAA national meet May 19-21. He shares the SWCC 100-meter record with teammate Justin Cunningham at 10.77 seconds.
All-American status would be a rewarding end to a challenging three-year period as a scholarship athlete at Southwestern through the Oceania Foundation, which assists applicants from the South Pacific to obtain two-year athletic scholarships at colleges in the United States. Southwestern is no longer associated with the foundation, which provides $9,000 per year and travel expenses if the host college provides the balance (approximately $5,000).
"It got to the point where it was creating a strain on our scholarship budget, while also trying to hit roster number goals," Vicker explained. "Roland was grandfathered in, because he had already been here two years prior. We wanted to see him finish his degree, and he wanted to finish it as well. The Oceania Foundation agreed to do that."
Two former Southwestern track and field athletes competed in the 2016 Rio Olympic Games after enrolling in the Oceania Foundation program. Theo Pineau ran the 200 meters for Papua New Guinea, and Sisilia Seavula ran the 100 meters for Fiji.
Hure's time as a Southwestern student was extended during the COVID-19 outbreak and associated travel restrictions that led to a return home during the second semester of his initial year on campus.
"He's been through so much the past three years, and now everything is coming together for him," Vicker said.
COVID interruption
Hure arrived in Creston in the fall of 2019 and competed in cross country that fall to improve his conditioning. Then, before his first outdoor track season, he was rushed back home in March 2020.
"We wanted him to get back before he would have been locked out of his country under COVID restrictions," Vicker said. "He tried to finish that semester online, but there is no WiFi in his home village so he kept buying data to do the work on his phone. It was very expensive for him and not easy to do."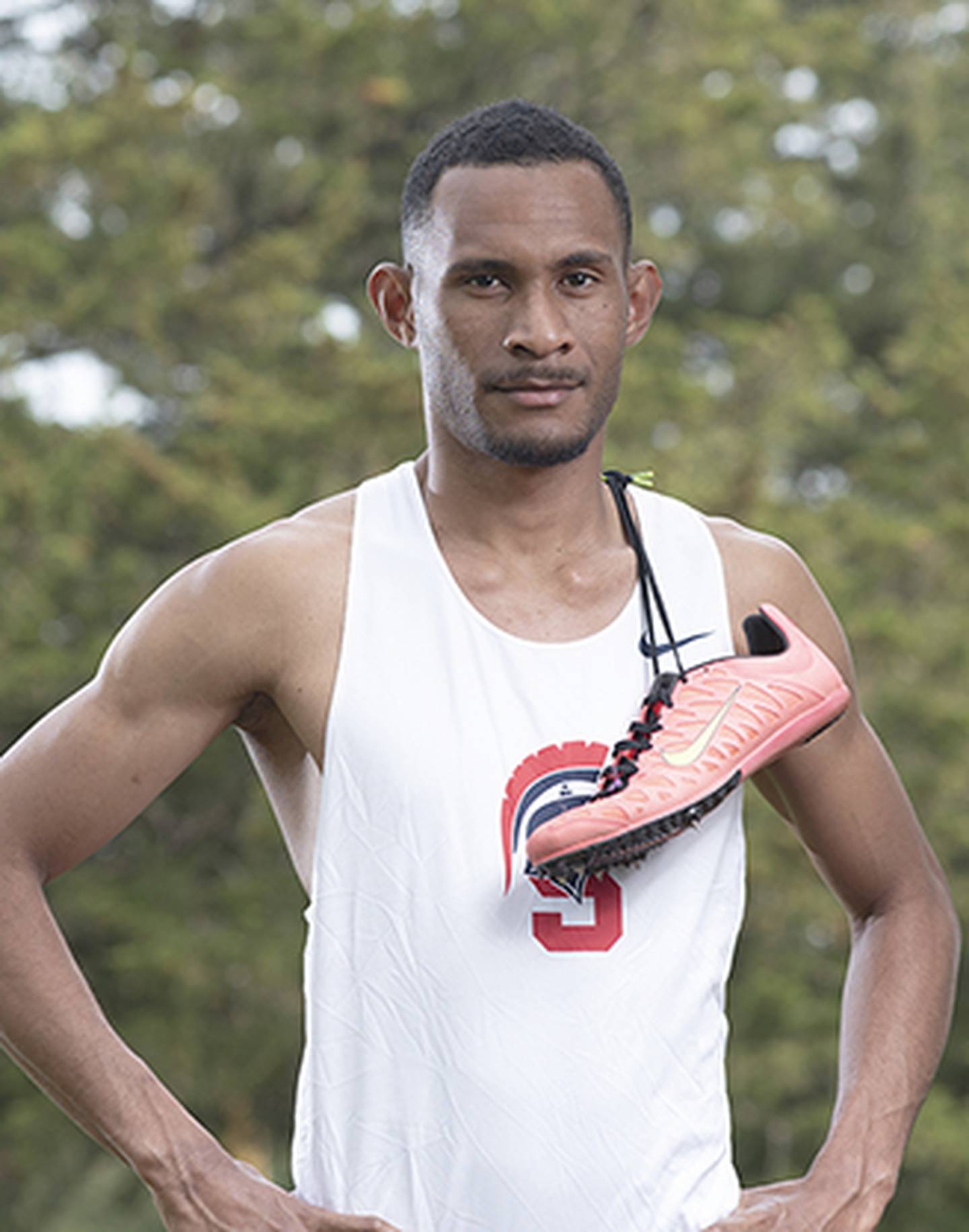 There was also a concern about when he would be able to return to the United States. Oceania team members from Fiji such as Fane Sauvakacolo were able to return before the start of the spring semester. Sauvakacolo became an All-American in the pentathlon during the indoor season and the heptathlon in the outdoor season. She now competes at Dakota State University.
However, Benjamin Aliel and Hure were not cleared to leave Papua New Guinea. Hure said he helped build asiasis (miniature sailboats) for a village fundraising celebration, and worked on a village watermelon farm until being told he could return to Iowa in mid-January after the semester had already started. He was unable to train for track and field during that period.
"The 2021 season was kind of practice for me, since I had no training at home," Hure said.
He qualified for nationals in the 100 meters, but was short of the 7.0 meter long jump standard with a best jump of 6.88 meters. Hure stayed in Iowa over the summer to continue working toward his degree, and to avoid further COVID-related travel issues between the two countries.
"He stayed with a family that he got connected with through the First Baptist Church here, Tim McKinney, the boys track coach at Interstate 35," Vicker said. "They live in St. Charles. We just weren't sure that if he went back home, would he be in the same situation as the prior year?"
Family deaths
While away from home there were three family deaths — an uncle, a cousin and an aunt. That was difficult for Hure, because of the strong family bonds in his upbringing.
"The culture is different from America in that we often have two or three families living under the same roof," Hure said. "My uncle died the day I left Australia for the United States. He was a diabetes patient, and when I competed in the Mini Pacific Games when I was 18, he bought me new track shoes instead of buying his diabetes medicine. I had just left home when that happened."
Next month, when he's finished as a SWCC student-athlete, Hure will again compete in those Mini Pacific Games in Vanuatu. Five years ago he won the event with a jump of 7.08 meters. This year, he hopes to be victorious again, perhaps as the national record holder. At 23, he's gained a lot of maturity as a 6-0, 151-pound athlete.
Hure hopes to be a coach someday, and Vicker said his interactions with teammates at SWCC shows that he has a bright future in that endeavor. He's pursuing a business adminis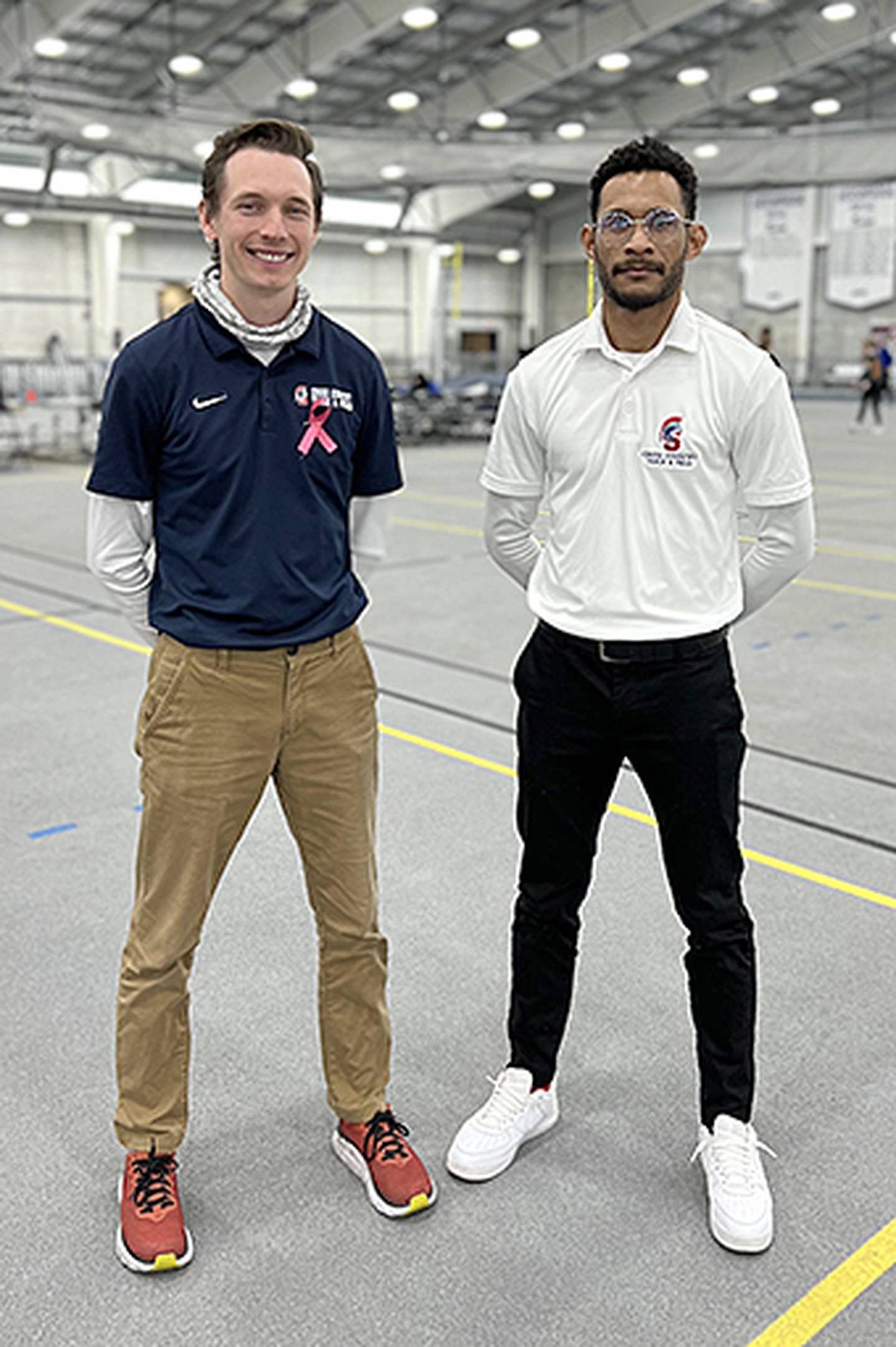 tration degree in hopes of competing next year for a four-year college.
"That was really an emotional moment for me, watching him walk across the stage at (Southwestern's) graduation," Vicker said, "because I've put so much into Roland getting to that point. We developed a strong connection, starting with those cross country van rides in 2019 when he'd ride up front with me and we'd just talk about life."
Other SWCC competitors at nationals next week are Justin Cunningham, 100 meters and 200 meters; Brianna Osterson, javelin and heptathlon; Emma Decker of Murray, javelin; and Molly Venteicher of CAM, shot put.