(Editor's note: This is the second of a two-part series on the 10th anniversary of the EF2 tornado that struck the northern edge of Creston on April 14, 2012.)
When a deadly EF4 tornado wreaked havoc in Madison County on a Saturday afternoon in early March, Brad Baker was reminded of the scene on Creston Community School grounds 10 years earlier.
After a Saturday evening tornado on April 14, 2012, an army of volunteers turned out one day later to help clean up debris from nearby damaged buildings that was strewn across several acres of school property and nearby farm fields. Within two days, the property was cleaned up and classes were underway again with repairs made inside Creston Elementary/Middle School.
So, this year Baker had an idea for some payback, and 40 middle school students jumped at the opportunity to help those in need.
"I remembered the response that we got here was just overwhelming by volunteers and from other schools," said Baker, currently Creston Community Middle School principal and an elementary principal in 2012. "We thought, let's take a bus load up to Winterset and help them out."
When they arrived at the Madison County Fairgrounds to be assigned a clean-up area, Baker was impressed with the organization and planning already in place.
"People with large equipment were matched up with groups of volunteers to move debris in certain areas," Baker said. "They kept us all together. They sent us to Pammel State Park west of town. They needed us to walk through the rugged land that you couldn't get machinery into. We took off through there like a massive bean walking crew. I think our people enjoyed helping out for a few hours."
The other thing Baker recalls from the 2012 tornado aftermath is never lacking for anything needed to expedite the recovery effort.
"I just remember the graciousness of the businesses," Baker said. "Farm and Home gave us those big magnets on wheels that we could run through the grass and fields. Farm and Home and Barker Implement took gloves off their shelves and send them to us for the workers. Same thing with food. We had so much food donated that I got the Gator and ran some over to SWCC and the hospital to make sure those folks had some.
"Everybody was just pitching in wherever they were needed," Baker added. "When a community our size has a tragedy — and you saw the same thing in Winterset — the amount of people who show up and help out is amazing."
SWCC campus
Tom Lesan, who oversees buildings and grounds at Southwestern Community College as vice president of economic development, had a similar response last week when questioned about his memories of the tornado that struck the SWCC campus. Late that Saturday evening, he used a flashlight to search through dorm rooms to make sure nobody was stuck inside injured, or worse. Only one student was injured.
By 6 a.m. the next morning, Lesan said numerous volunteers were already assembled on campus, some with heavy equipment, moving debris into piles so it could be hauled away.
"We lost about 400 trees and there was glass everywhere," Lesan said. "Our new tech building had just been finished, and every window was broken out. I was amazed how quickly everything was picked up and cleared out. People were there with chainsaws and trailers. Those trees were cut up and gone in a day! The volunteer effort was crazy. It really helped us get up and running in just a couple of days. By the next weekend everything from the tornado was completely gone."
Just to the northwest, the Don and Betty Pottinger farmstead sustained damage to the upper floor of the house, and debris from areas stricken in Creston was scattered across a field that was ready for spring planting. The couple could not possibly clear all of it alone.
Volunteers from SWCC and Creston schools gathered on the property to pick up the debris and place it in trailers brought to the piles by a tractor.
"Don and Betty sat in my office one day and didn't know what to do," Lesan said. "The soil temperature had warmed and he needed to start planting. It happened to be Pay It Forward Week here, so we took a group of students and som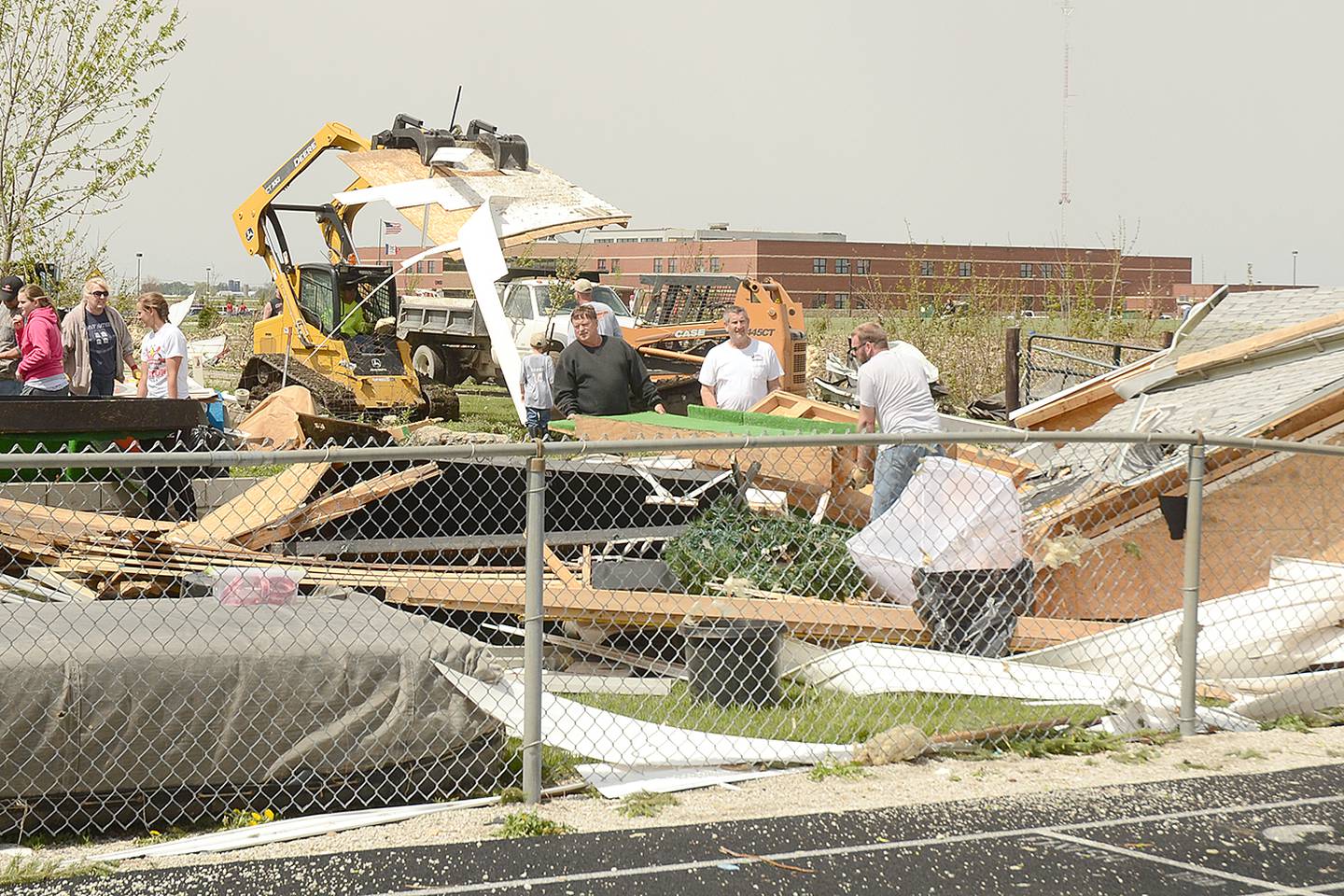 e staff memers and went out in one afternoon to take care of it. I know the school had people out there, too. When something like this happens, people just want to help."
People power
Likewise, the scene at Greater Regional Medical Center resembled a war zone with overturned cars, portions of the roof and building debris scattered about the property and along Townline Street. Damaged materials from nearby homes also laid along Townline Street.
It didn't take long for the piles of destruction to be hauled away as repairs were rapidly made at the hospital to provide care. A makeshift emergency room was set up immediately and regular patient care resumed in less than two weeks.
"People were out there helping to pick things up and leave them in piles early Sunday morning," said Monte Neitzel, Greater Regional Medical Center chief executive officer. "The fellowship was inspiring. Our leadership team met at 6 a.m. to make a plan, and away we went. Cell towers were down, so we had radios to communicate with each other."
Today, Neitzel looks with pride at the progress made at the medical center complex since 2012, recalling how the swift response of volunteers paved the way for those improvements.
"The community of Creston and southwest Iowa is fabulous," Neitzel said. "As Iowans, we don't have mountains and oceans. But, we have damn good people."