At first glance, Southwestern Community College basketball opponents may underestimate diminutive 5-foot-6 guard Cassidy Nelson.
The freshman from Lenox brings many skills to the court after an all-state career at Lenox High School, where she established the school record for steals. Her athletic ability transcended throughout the year as a defensive specialist in volleyball, state track participant in multiple events and infielder and ca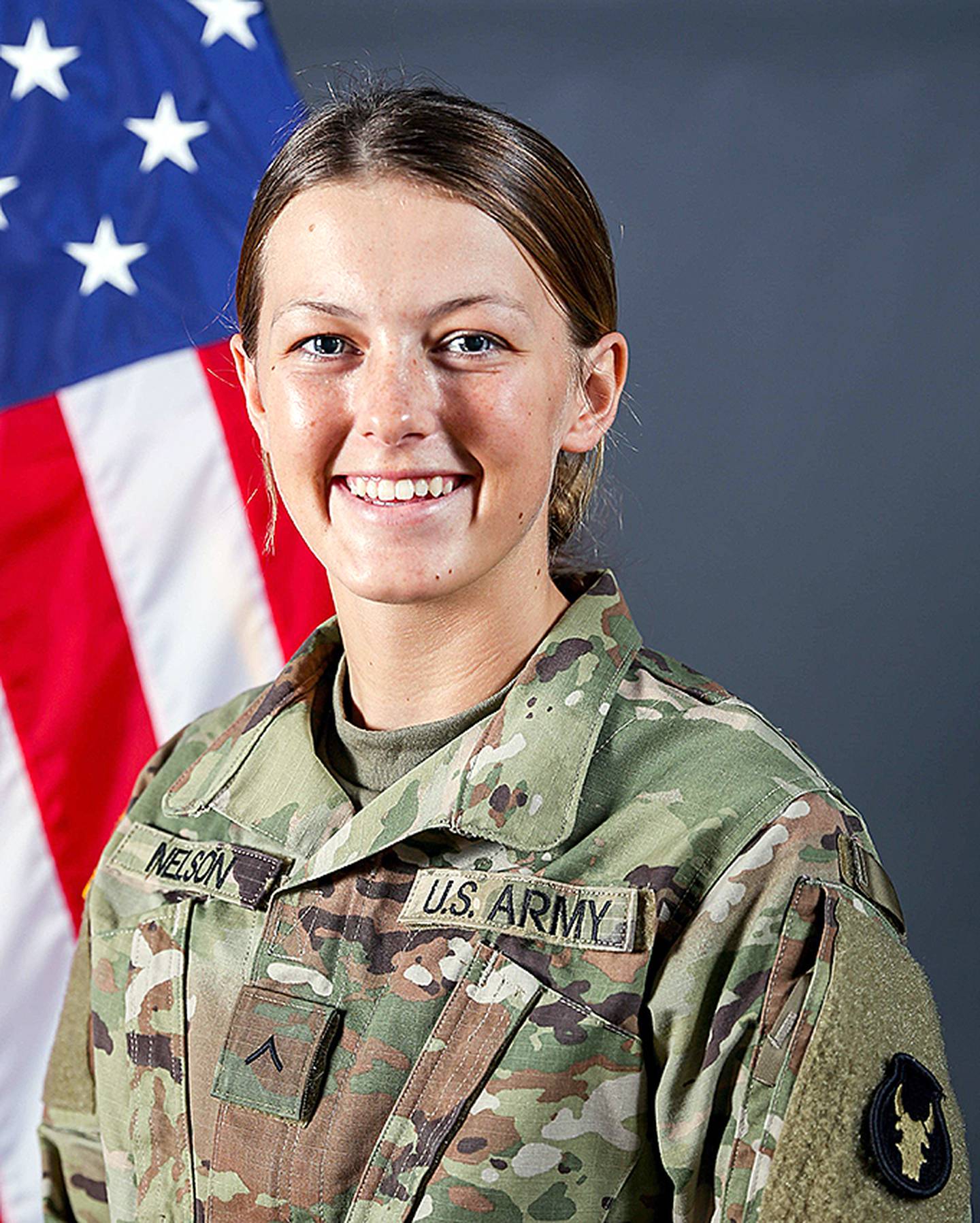 tcher for a successful softball team.
But, what you may not realize at first glance is that Nelson, daughter of Clay Nelson and Stacey Sprouse of Lenox, is a trained United States Army soldier. She's Pvt. 1st Class Nelson, with 68J duty (medical supply specialist) with the the Iowa Army National Guard 334th Infantry Unit based in Johnston.
One weekend per month, and a two-week period in the early summer, Nelson reports for training in the National Guard, which is covering her college expenses. (Nelson is also a Bright Foundation Scholar of Iowa for her exemplary academic record.) She is under contract to fulfill those obligations for eight years, at which time she can decide to re-enlist for a career that provides retirement benefits after 20 years.
Catching up
It was a situation that caused Nelson to miss her senior season of softball (reporting for duty on June 24), and she was unable to join her SWCC basketball teammates and begin class work until October.
"I feel like I'm still catching up," Nelson said. "But the coaches spent extra time with me when I got here, and my teammates have been amazing. They've been so supportive. I couldn't do this without them."
"Our plan was to wait awhile in getting her into the games," head coach Bryan Austin said. "But then we had a (season-ending) injury to Jordan Richards. So, then easing in turned into 'I'm going to put you in real quick.' She's handled it well, adjusting to the speed and physical play at this level. It's like riding a bike, but it took awhile because she didn't get to do much basketball stuff for 16 weeks."
Instead of working on her shooting and ball handling, Nelson was immersed in intense military training.
Nelson was first intrigued by the idea of joining the Army National Guard after a recruiter visited Lenox High School during her junior year.
"I thought the college benefits looked good, and I filled out a card that I was interested," Nelson said.
Physically she had prepared, both on her own and in trips to RSP Drills (Recruitment Sustainment Program) designed to introduce new recruits to the fundamentals of the U.S. Army before leaving for Basic Combat Training. But, mentally, she said new soldiers are put to the ultimate test in a weeding out process.
Upon arriving to Fort Sill, Oklahoma, Nelson quickly learned that encounters with drill sergeants are much different than a coach being stern during a timeout.
"You don't go to bed until 11, and then they wake you up in the middle of the night just screaming in your face," Nelson said. "You're like sleep deprived when you get up at 5 a.m. or 4 a.m. and start working out. They're still yelling at you. They would yell at you, 'You have attitude?" I'd say, 'No, I don't have attitude.' You just take it. We had so many people try to quit in the first week."
The four-sport athlete drew on her athletic experiences to make it through the early weeks.
"Oh yeah, a couple of people I met down there didn't do sports at all," Nelson said. "I knew that being in sports, it's like a team thing. That is what it's all about. It made me never want to quit."
After two weeks, the platoon had thinned out, which was intentional, in retrospect.
"They said, 'You notice how the strong people are here? All the weak people left. We wanted them to.' If you can make it through week one and week two, you'll make it. But it's hard."
Honor graduate
Nelson excelled in the Army Combat Fitness Test (ACFT) and was the Honor Graduate from her platoon of 70 soldiers. She handled the dead lift of 140 pounds, the six-mile runs carrying gear, dragging a sled for 100 meters and difficult leg tucks (pull-ups in which the knees are also lifted during the pull-up).
"I couldn't do the leg tucks at first, but I got it," Nelson said. "With yelling, you can do anything. You're scared and you just do it."
Nelson also earned marksmanship honors, thanks to her Taylor County upbringing.
"I had never shot any guns like that, but my dad had taught me how to shoot a bow and a gun. That did help, definitely," she said.
Advanced training
Her family got to visit for the basic training graduation in Oklahoma on Sept. 3, before she left for Fort Sam Houston in San Antonio, Texas. There, she underwent eight weeks of training as a medical supplies specialist at Advanced Individual Training (AIT).
There was physical training along with the day-long academic schedule, but not as intense as basic training.
"It wasn't as hard, and we didn't have drill sergeants yelling at us by that point," Nelson said. "They respected us as soldiers then."
Nelson was an A student at AIT and graduated again with honors. She took a flight home and arrived at 1 a.m Oct. 21 after being gone since June 24. A surprise party was thrown for her at the Lenox Community Center on Oct. 23.
"I was so happy to see everyone," Nelson said. "You don't realize how grateful you are for everyone until you get back home."
Nelson had already begun some online courses while finishing her work in Texas, and soon got caught up in her only in-person class of the fall semester. A crash course was held for her to get up to speed in basketball, with the first game of the season scheduled one week after her return home.
Military background
Austin, who grew up as a self-described "military brat" as the son of an Air Force veteran, had played for an Italian club team while in Italy during part of his high school years, before graduating from Blue Springs South High School in suburban Kansas City. He said said the entire team embraced Nelson's dual role as a soldier and student-athlete.
"I was definitely open to it and appreciative of what she had committed to," Austin said. "We looked at it as a positive, not a negative. With the diversity on our team — we have three international students — it was almost like she was an international as well, with the military experience that the others did not have. She broke down the process of what she had been through and they respected her for doing it."
As Austin looks to incorporate Nelson into a bigger role as a defensive menace for the Spartans, he knows he has someone he can rely on.
"In a unit you have the medic, the sniper, the captain and so forth," Austin said. "On a team, we're looking for her to fill that defensive role — get some steals and be aggressive on the offensive end. She's a tough girl and fearless."
A drill sergeant screaming in your face at 3 a.m, will do that.