On June 30, 2017, Rusty Zimmerman was getting his camper packed for a weekend trip as his wife Hillary was at work. But by evening, he was unpacking that very camper to welcome the arrival Emerson, the couple's now 4-year-old daughter.
Until that point, the Zimmermans didn't know they'd be bringing a baby home from Greater Regional where Hillary worked, but the stars aligned unexpectedly for the couple who had been trying to conceive a child, but faced issues with infertility.
Hillary said it wasn't the most ideal time for them to have a baby as she had just started radiology school a month prior and between full-time work, she was traveling from Creston to Ottumwa for school a few days a week. Rusty, who worked as an equipment operator for the county also managed all the duties of the family farm. But when Rusty's mother called and explained a distant cousin had given birth and the Department of Human Services was there to place the baby with someone else, the Zimmerman's didn't hesitate to step in.
"I called my husband and explained the scenario, asked him if he wanted to do it and he said yes," Hillary said. "I had no idea if it was a boy, if it was a girl, or anything at this point."
Hillary called the OB floor and was told the baby, a girl, was 4 days old. The nurse then arranged for the baby's discharge at the end of Hillary's shift an hour later. DHS came to fill out paperwork with Hillary at the end of her shift. With her mother by her side, she went upstairs to the maternity ward where she picked up Emerson.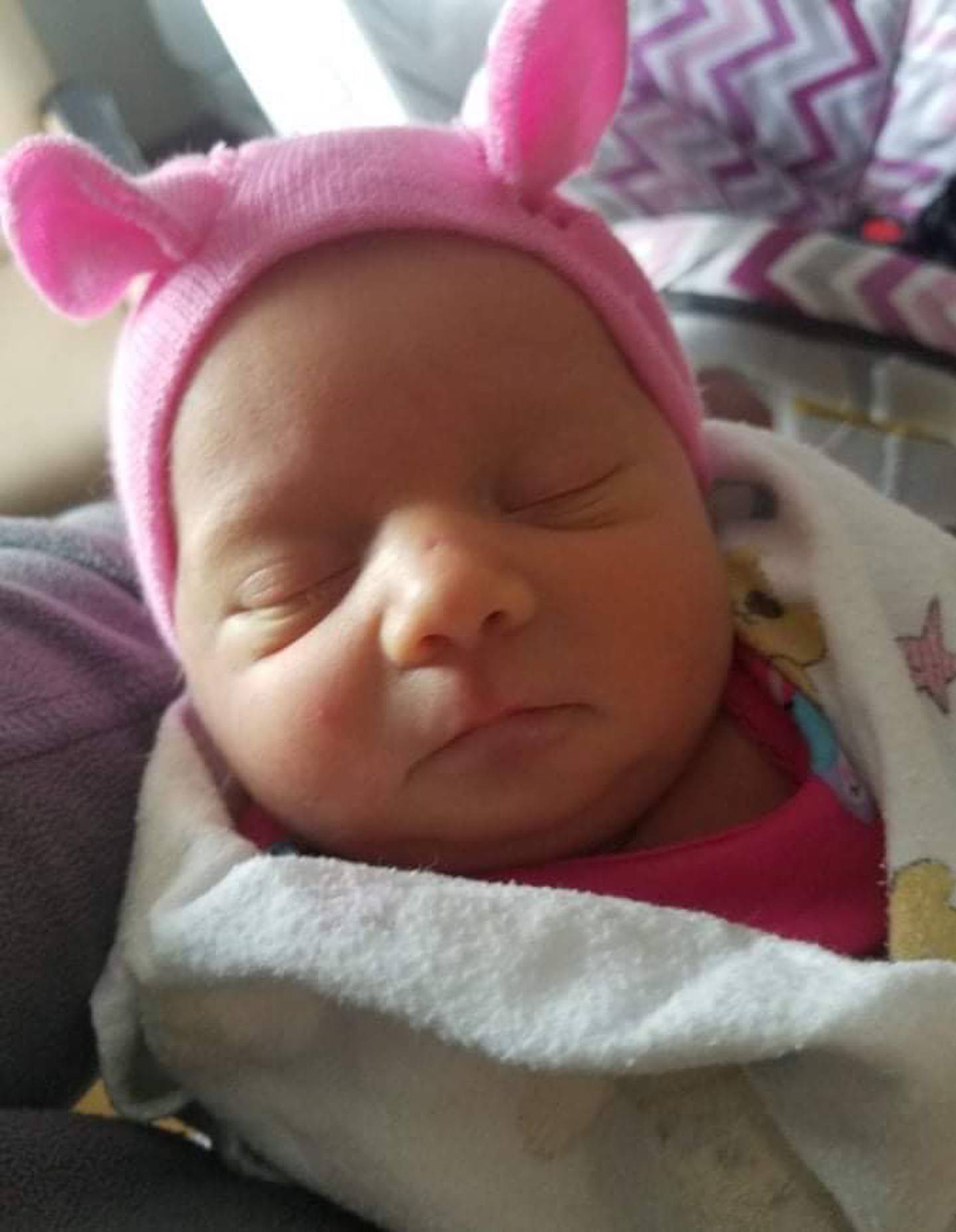 Going home
With a new baby in her care and not much more than formula, diapers and a car seat, the ride home was emotional for Hillary. It was also hard for Emerson's mother, who was given a ride home by Hillary.
"I knew her for years. I knew what had happened was not ideal," she said.
Hillary said Emerson's biological mom was known to have struggle with substance and alcohol use. And DHS's priority was to reunite the child and mother.
"There was anger toward her, but at the same time you've got to be supportive and try to help her get clean," she said. "There were so many emotions. I was so scared, nervous, I didn't know what to think because everything just piled on all at once.
Once at home, Hillary and Rusty made frantic calls to friends and family to help them prepare.
"We had enough things to get us by overnight and then when the weekend happened, it spread like wild fire," Hillary said.
Hillary said their friends and family immediately turned out to help out by bringing clothes and blankets, and even a loaner crib.
"It was just crazy the amount of help we got from the community in a matter of 48 hours," she said.
Even in the state of shock and fear they were in, the Zimmermans were elated.
"Knowing that we've always wanted children, struggling with infertility and not knowing if that would ever be a possibility for us to conceive our child, the ability to raise a child in our house was a dream," he said. "It's an indescribable feeling knowing you have the chance to be a parent. Even if it's temporary. Knowing you're going to make a difference in that child's life and she wasn't going to be part of the system. She wasn't going to an adoption agency or home or stay in a hospital. She was staying with family and people who wanted to take care of her and love her."
Growing a family
Hillary said she always knew that it was possible to love Emerson as if she had birthed Emerson herself.
"I've always wanted to adopt," said Hillary. "My dad adopted me from a very early age. I was a year old when he came into my family. I didn't know any different."
And with each day that passed, the Zimmermans grew closer and more in love with Emerson. However, bonding was not easy.
"I was so scared of losing her," she said.
The distance between Hillary and Emerson was also challenging as she was still enrolled in school in Ottumwa full time and worked full time.
Hillary said, for the first three months, she felt detached from Emerson until stumbling upon a quote she came across on Facebook.
"It basically said she didn't choose this life," Hillary recalled. "It wasn't fair to her to not have someone to bond with, so I needed to get over my emotions so I could bond with her more."
With limited time to spend together, Hillary made it her priority to spend Emerson's waking moments with her, saving her studies for when she was asleep.
Rusty, on the other hand, was serving as dad and Mr. Mom to ensure his wife's success and his daughter's care. As a result, Emerson grew a tight bond with him.
"You could tell that Emerson and I were together way more by the way we acted with each other," he said.
However, he also had fears of losing her.
"We were under the realization that [DHS] could call us tomorrow and place her elsewhere," he said. "That fear went on for the first 15, 18 months – that she could be taken from us at any point and it was not anything we could do about it. That fear was always there, but the opportunity to love her never changed."
Now 4 years old, and Hillary done with school, the Zimmermans say Emerson is a "mama's girl."
"Yeah, she flipped the script on me now," he said.
The system
As DHS was short-handed for staff, the Zimmermans assisted by supervising visits for Emerson and her biological mother. But as the first few months went by, the relationship between the Zimmermans and Emerson's mother became strained. However, as time went on, it was also clear to them that her biological mom was not committed to recovery.
As DHS started the process of terminating birth mom's rights, they sent letters to Emerson's biological aunts and uncles, many of which were more closely related to the child, asking if any would like custody of her.
"If they said yes, then they could have taken her up until the day of adoption," said Hillary.
In the beginning, DHS's goal was to reunite mother and daughter.
Hillary said because they've known of the birthmother's drug and alcohol addiction for many years, their goal shifted to become Emerson's legal parents.
"We understood that that was her child, but on the other hand we knew the probability of her becoming sober was not likely," said Rusty.
'Relief'
Without any contest, a judged ruled in favor of the Zimmermans' adoption of Emerson May 2, 2019.
"It was the coolest feeling," said Hillary. "There was about as many emotions that day as there was picking her up."
Rusty said 30 to 40 of their closest family and friends showed up to the courthouse in support.
"All eyes are on you so you have that nerve going on and you practice and you write things down and you don't want to mess anything up," said Hillary of being in the courtroom on adoption day. "The lawyers and judge were so chill, but I don't think I was ever chill around that time."
Hillary said, about half way in to the hearing, she broke down in tears.
"I just started bawling," she said. "But it was great. It was perfect."
Upon hearing judge's ruling, Rusty only described it as, "Relief."
Hillary graduated from her program nine days later.
Today
Now with the daily stress cries behind her, Hillary shared they are expecting a second daughter in December. The Zimmermans discovered the cause of their infertility problems and each underwent surgery – Hillary in December 2020 and Rusty in January. Now that they know they are able to conceive naturally, they aren't sure about going through the adoption process again, but both said the end result was worth it.
"I'm not going to lie. It was a lot of stress," she said. "But we wanted it so bad we were willing to do whatever it took to be where we are."
Hillary said Emerson is living a "normal wild child life" and doesn't show any signs of the complications she was born with. They also said she is thriving in preschool and enjoys playing.
"She loves her dance, her Barbies, just as any 4-year-old," said Rusty.
The Zimmermans said no one would know Emerson wasn't born unto them unless they knew their story.
"You can't tell," said Hillary. "She's one of our own."
"Family is family," said Rusty.
The Zimmermans said they talk openly about Emerson's origin, even thought she's still too young to completely comprehend it.
"We won't keep it a secret from her," Hillary said. "It was meant to be."