Nearly every aspect of housing in Creston, from availability, affordability and quality, was emphasized Thursday during the Creston City Council candidate forum held at Southwestern Community College.
"We have housing issues, quality houses," said Jesse O. Bolinger, a candidate for a council-at-large seat, a two-year term. "There are houses people living in Creston that really are not habitable at all."
Bolinger was one of seven candidates in attendance. Others were for council at large, four-year term; Richard Madison Jr., Michele Thatcher. Council Ward 3, incumbent Matt Levine and Jennifer Worisek. Others running against Bolinger were Kiki Scarberry, Jordan Nelson and Vidette Dixon-Borgmann. Only candidates for contested seats were featured. Dixon-Borgmann was unable to attend.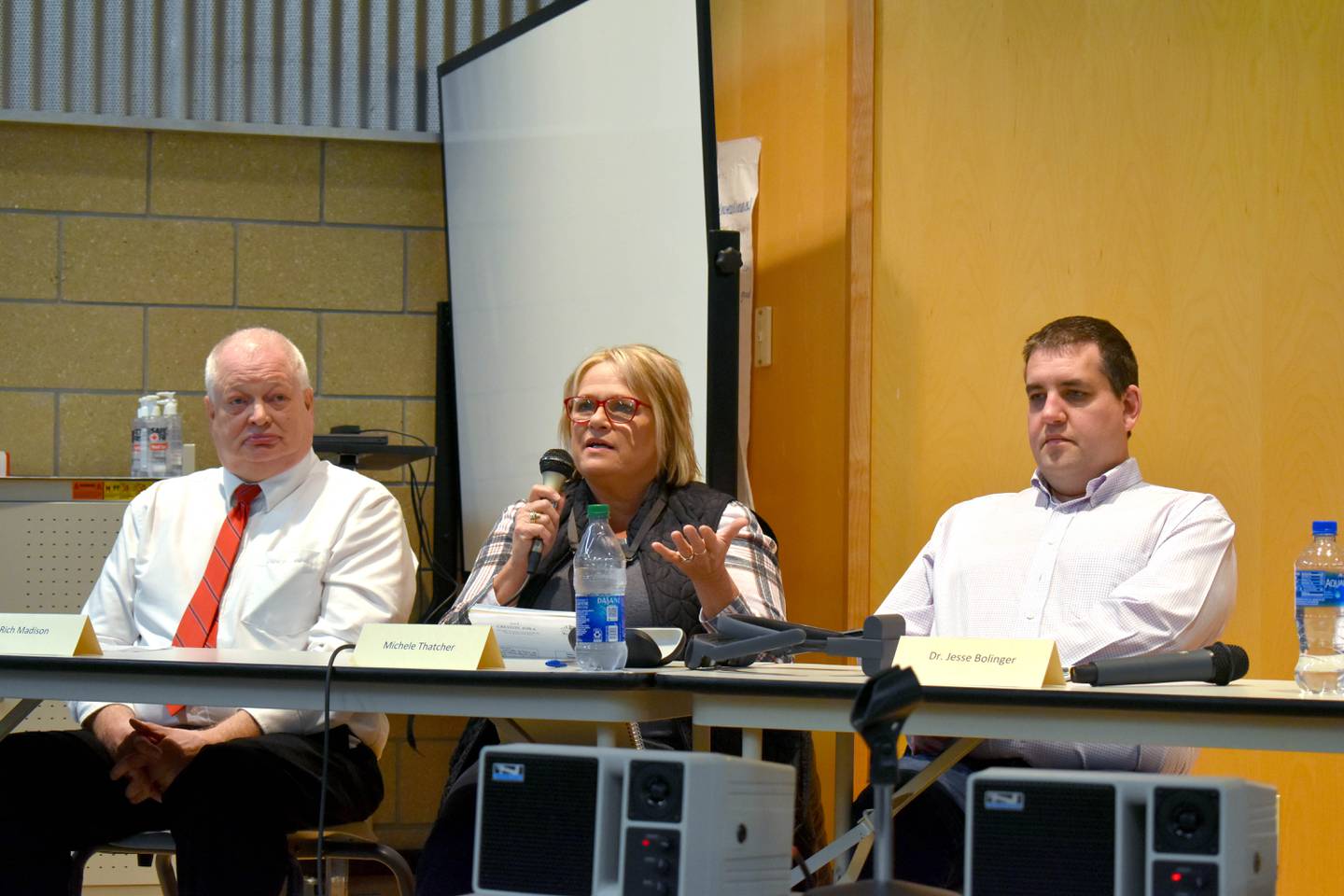 She did provide a statement that explained Creston's need to be more accepting of minorities and outsiders.
"We need a seat at the table," she stated. "Treat each other better."
Madison, who is already on council in Ward 2, is running for the same seat as Thatcher. If she wins, Madison will continue as a Ward 2 member. His term expires Dec. 31, 2023.
"I'm already fielding calls from around town," Madison said after the meeting about his interest in the at-large seat.
If Madison wins, council will appoint a person for Ward 2.
The election is Tuesday, Nov. 2.
Candidates answered prepared questions from the Creston News Advertiser, KSIB Radio and Creston Chamber of Commerce which all sponsored the forum. Questions varied from what candidates' thought the two biggest issues in town to what they thought the town will be like after the term they are running.
Bolinger, who does consulting for non-profits, connects poverty in Union County to Creston's housing situation.
"We have a growing poverty problem. Decatur County was the poorest county in the state," he said about his time when he lived in Lamoni which is in Decatur County. "When you put Creston next to Lamoni, percentage points separating from Lamoni are very few."
Worisek saw the same thing as Bolinger.
"It's disheartening to walk into these places no one should live in," she said. "It's nuts. It's sad to see. You bring a new doctor into town and drive down a certain road because they don't want to show them that side of Creston." She works as in emergency medical services.
Thatcher took Bolinger's concern with housing in another direction.
"For new teachers it's hard for them to find affordable housing. What kind of opportunities can Creston have to rent decent houses, or building nice houses that low and middle-income can actually afford and have families," she said. She is a special education teacher at Creston schools.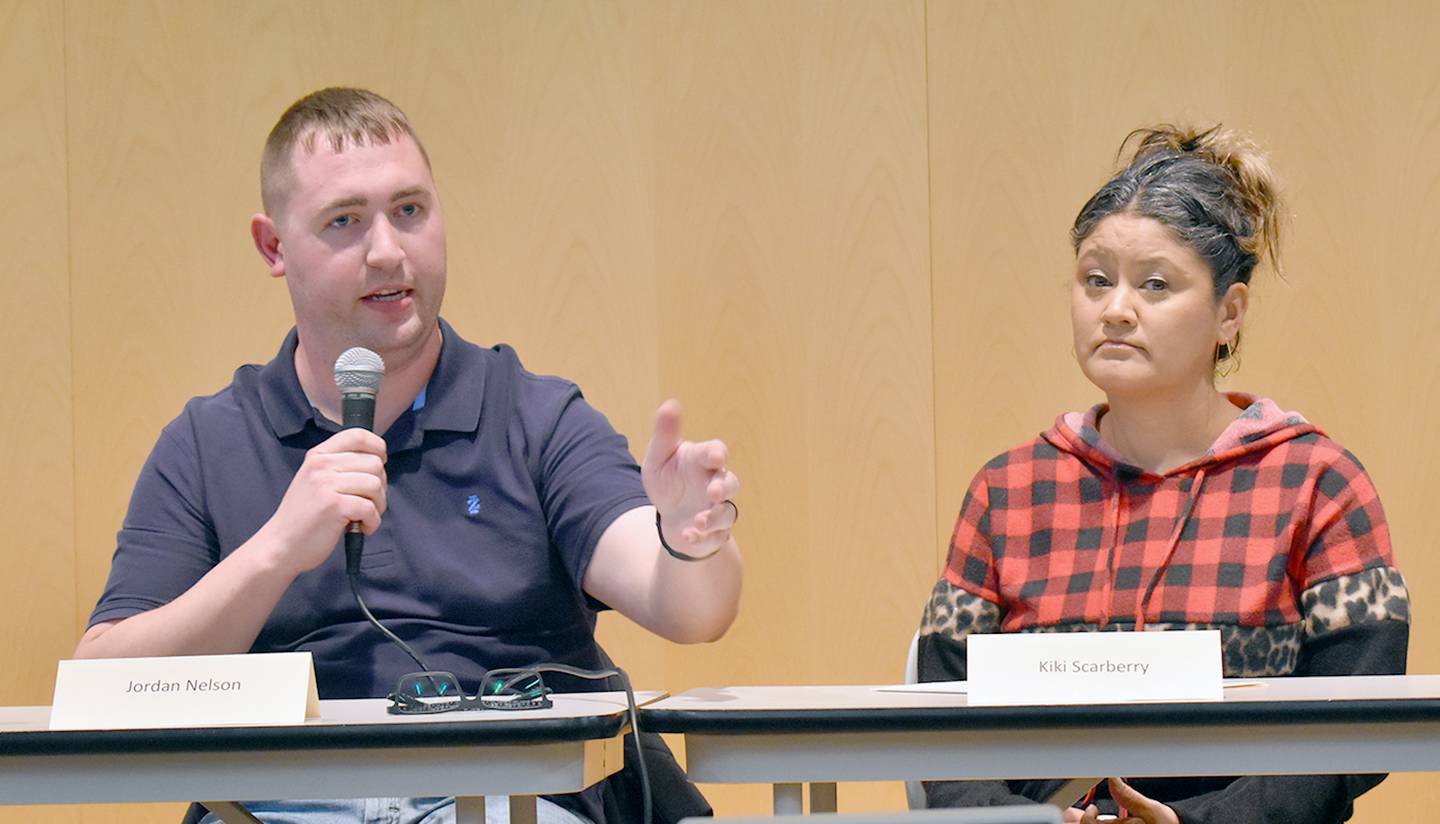 Nelson, who is a paramedic at Greater Regional Medical Center and a firefighter, said the high property taxes in Creston have not been justified.
"Property taxes are ridiculous, the highest, second highest in the state," he questioned. "They are up there." Questioning the condition of the town's infrastructure and streets, he said Creston "doesn't have much to show" for the high taxes.
Scarberry, who works in real estate, said housing is on top of her list should she be elected to the seat.
"I have rental properties. I understand the struggles that they face; safety, affordability and availability. We don't have enough for the people who are here and safe housing for the people who need it. It won't be fixed overnight."
Scarberry wondered if a coalition of rental property owners could agree to keep rents within a certain range and have property maintenance at a certain standard.
"This is important for our town. I don't know if you can hold them to that," she said.
Other issues about town were mentioned when asked how they see the town at end of the term, should they be elected.
Levine said he hopes the two questions on the Nov. 2 ballot also pass; one related to the finance and construction of a new public works building and improvements at McKinley Lake. He also said continued improvements in Uptown Creston, in the 100 and 200 blocks of North Maple Street are finished because that will, "attract businesses, apartment dwellers." Levine hopes the city's 10-year tax abatement for multi-residential, which include apartment buildings, will help the housing situation.
Nelson is not optimistic much can be accomplished in two years but is also in favor of Uptown work and city needs.
"The public works building has been old for years. You will see that on the ballot. We have internal things with the city. A position hasn't been filled. We need to get those things taken care of and focus on spending."
Madison echoed some of Nelson.
"We have lots of invisible stuff. It's there, we don't see it. We drive over it. It's all aging and need to be replaced," he said about infrastructure. He hopes during the next four years Highway 25 through Creston will be converted to a three-lane road rather than four. He said the change will improve safety for traffic and encourage a dedicated bicycle lane.
Scarberry continued Madison's thoughts.
"Our infrastructure is way beyond the roads. We have aging sewer, storm sewer, things we can't even see. We don't have exponential growth which makes updating those systems a real challenge," she said.
Bolinger hopes sidewalks are improved in Creston. Although the city has passed sidewalk related ordinances, he said more needs to be done to.
"There are still usable areas of town not walkable," he said. "Crossing Sumner (Avenue) is not the safest thing in the world. Same can be said on Townline by the high school. Lots of people walk in Creston," He also wants more use out of the airport and public transportation in addition to Southern Iowa Trolly.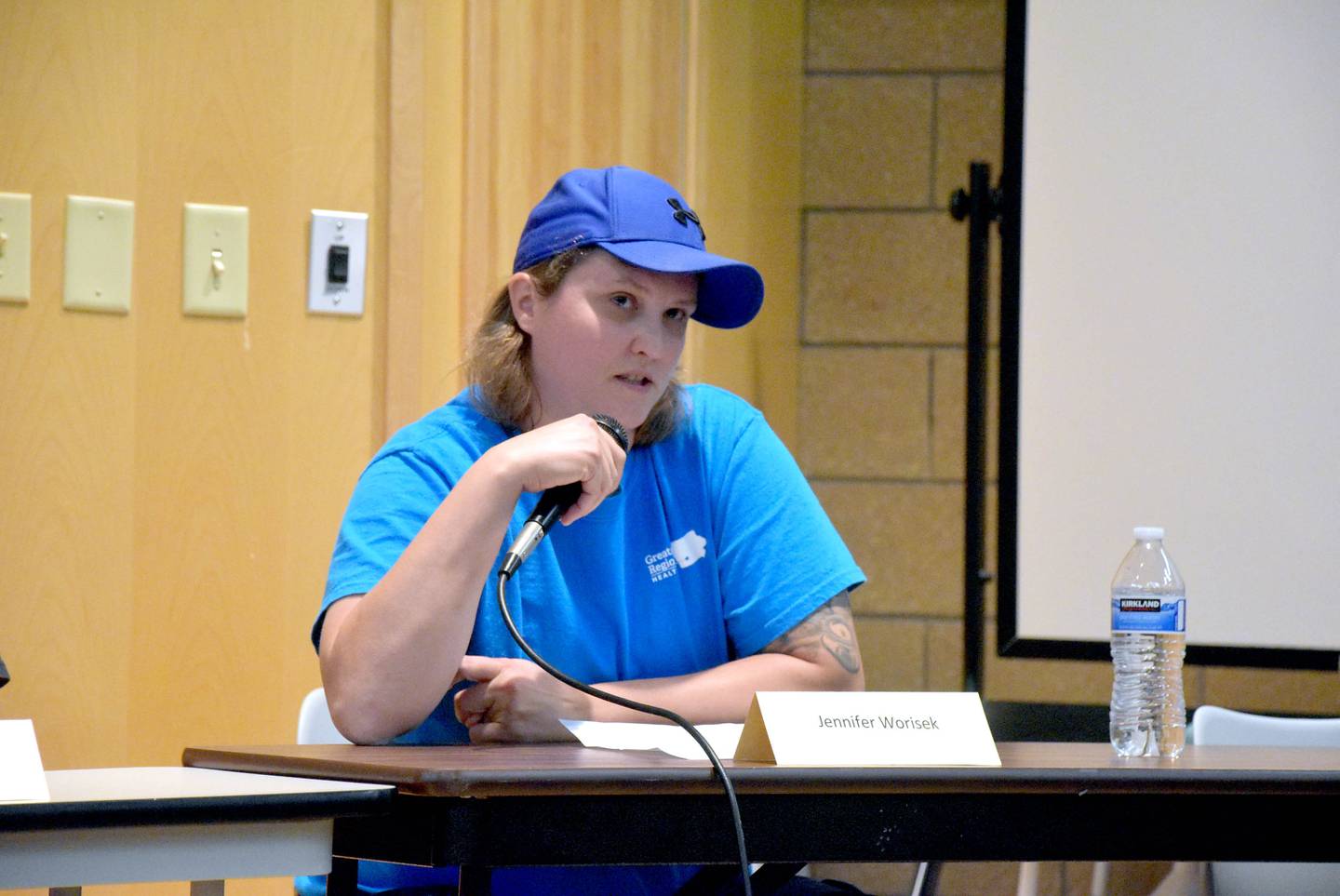 Worisek looked at the completion of a possible term differently.
"I'll have a better understanding of how the city works," she said. "if I don't run or not elected for another term, I have a better understanding. You see that," she said about listening to residents' questions about city operations. "But this is why," she said will be her answer.
People and support were common themes among the candidates' answers for the good things about Creston.
"We have a strength of pride of our town," Thatcher said. "Accomplishments with parks and entrepreneurs with new businesses. There are many job opportunities for community members. Volunteers at the hospital, library and other places. The celebrations we have; balloon days is wonderful and July Fourth parade."
Levine said the people of Creston are its benefit. "The amount of grants we get in this town thanks to Jeremy Rounds and people like him who bring federal and state money to this town It's a big bonus," he said. Levine was also appreciative of Greater Regional Health Center.
Madison was encouraged by the strong push near the end of the candidate filing period to see more candidates.
"That is fantastic for Creston," he said as he explained how it went from three candidates to 10 in a matter of days. He hopes the people who can vote, will. He referred to a Southwestern Community College finance election in 2013 when only 92 of about 6,000 voted.
"I was sick," he said. "People are the only thing that make a city. It's not the amenities. It's not anything we can point too," he said.
Should the city receive funding it was not expecting, Bolinger would like to see the proposed dog park at McKinley Park be made bigger. "Dog parks attract people. One of the best is in Winterset. It won't be a money maker, but it will attract people," he said.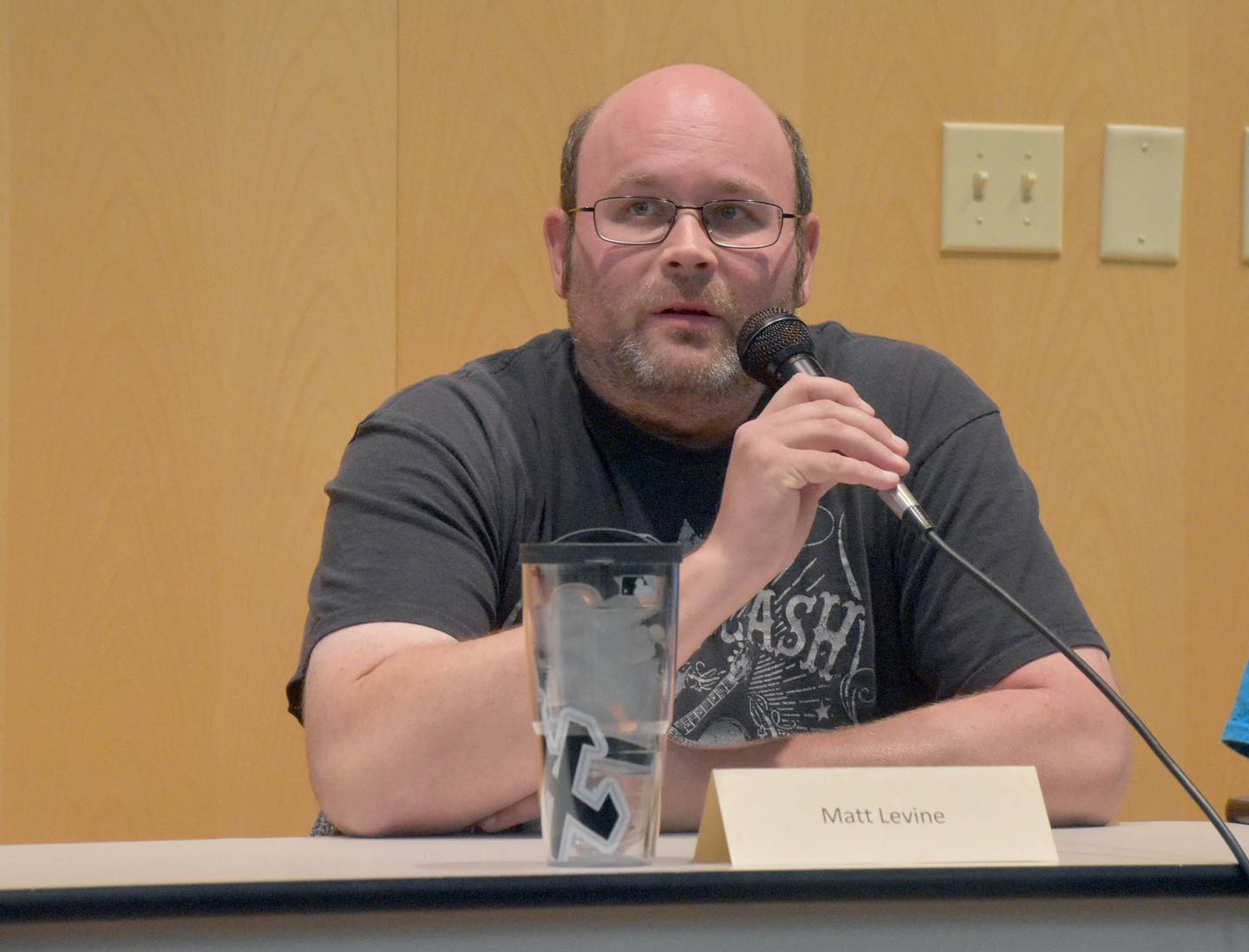 Levine said he wants to continue what his ancestors started as his grandfather was a high school principal and mother was a teacher. He also wants to continue what he has started during his existing term.
"I want to continue their legacy," he said about his relatives serving the public.
Nelson said he has an open-door policy with people.
"I don't know everything. I don't claim too. I'm a straight forward person. I want to hear from people. I want you to call me, good or bad. When people are feeling heard, it's easier to work with them."
Creston News Advertiser, KSIB Radio and the chamber are also sponsoring a Creston school board candidate forum. That will be held at 7 p.m, Thursday, Oct. 28, at Southwestern Community College's Allied Health and Science Center. There are four candidates for three seats.