Coffee culture was once about offering the beverage aficionados a place to gather and socialize, but as the economy and the way consumer behavior and taste changes, so must the offerings and the delivery of services of these establishments. In Creston, there are a number of places for a cup of joe, but less than a handful offer specialty drinks with a nice.
The newest cafe in Creston is Uptown Brick & Bell, opened by Doug and Jane Brunell July 4.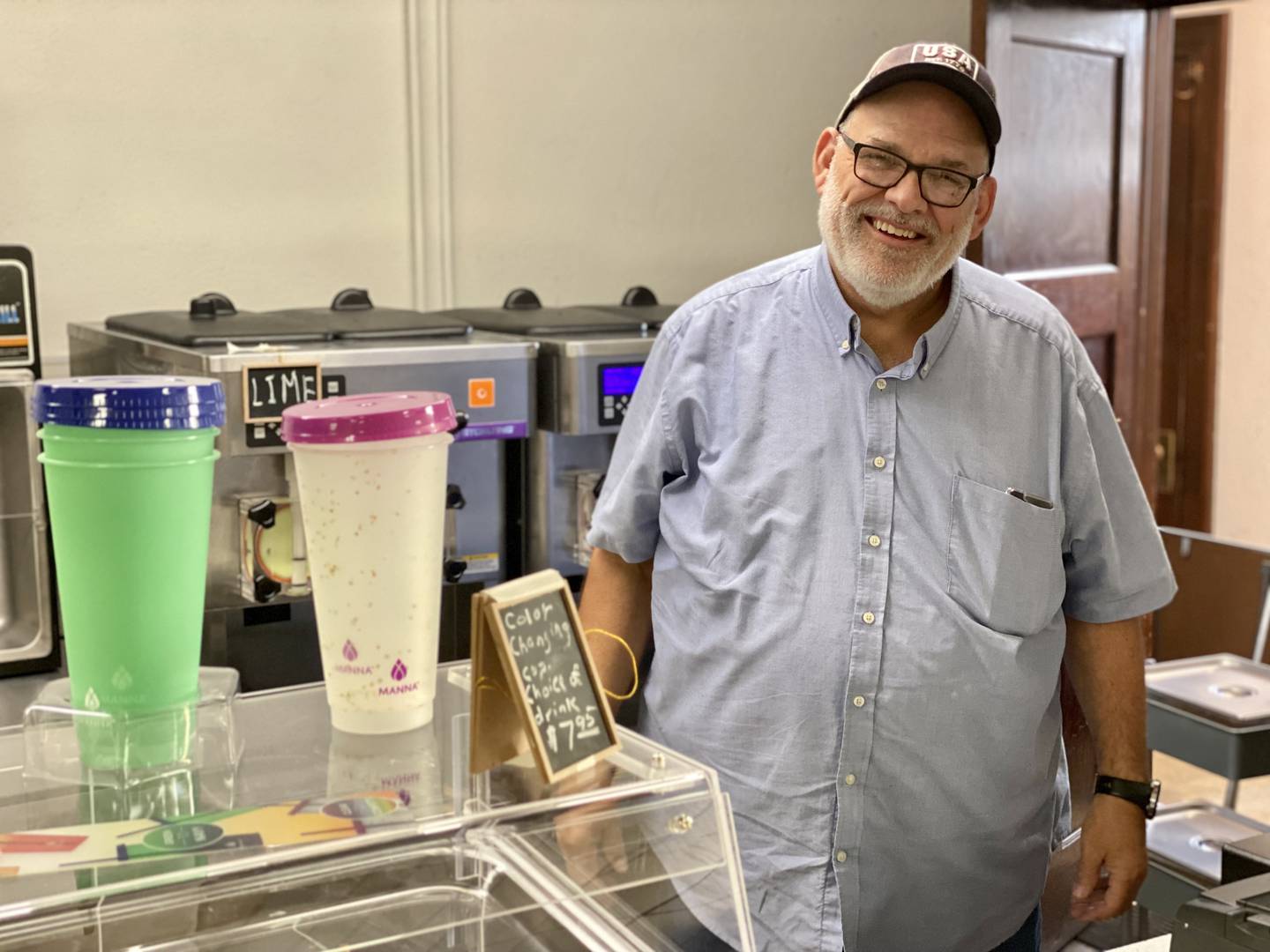 Uptown Brick & Bell, 501 W. Montgomery Street, is located in the basement of the former United Church of Christ Congregational. It was purchased by the Brunells as an event space for meetings, weddings and other services.
Doug said the addition of the cafe has increased traffic to the space, which used to sit empty between events. He also said the cafe has been a draw for more to utilize the space.
"It's nice when we have events here, some people like to have the coffee here," Brunell said.
Brunell offers a variety of specialty coffee drinks, Italian sodas and loose leaf tea, but their niche has become Dole Whip soft serve ice cream in pineapple, mango, orange, strawberry, raspberry, lemon-line, cherry and watermelon.
"Dole Whole is a true to fruit flavor, non-dairy," said Brunell.
The Brunells are slowly venturing in to some quick food options as well, Jane makes brownies and cookies on site, and Doug makes dogs and chilli and nachos, which remind him of Coney Island.
"It's something I can do myself," he said. "I don't need to have a chef on site."
The Brunells are continuing restoration and renovation of the building. A chair lift has been the latest addition, helping customers access the cafe.
Brick and Bell is open 8 a.m. to 6 p.m. Monday through Friday, 11 a.m. to 6 p.m. Saturday, and is closed Thursday and Sunday.
Convenience
Union 25, 912 N Sumner Ave, was opened June 27 by Stacey Ray, former co-owner of Adams Street Espresso.
"I missed the people. I missed the coffee business," she said. "I was with Bunn, so I got a different aspect of the coffee business, you would say, and I thought Creston just needed that drive-thru convenience, but also on this part of town, close to the college, close to the hospital, close to the factory, even the high school. I wanted to give that to the community."
Ray said the drive-thru is not just about convenience, but about safety, as well.
"People have very busy lives right now. They have children they don't want to get out of the car or they are in a rush from one meeting to another," she said. "When COVID hit, you couldn't really go in to those brick and mortar businesses. COVID is still around, so I wanted to provide that minimal or no contact service to the people and not put people at risk."
Ray said Union 25 offers unique items in addition to specialty coffee, such as Red Bull infusions and Lotus energy drinks, protein shakes and a small quantity of "grab and go" items to eat, such as protein balls, muffins, and bagels with avocado mash.
"All with the concept of being a very quick, convenient drive-thru, get you through in the morning or at lunch if you don't have time," she said. "We're just trying to provide some of those unique items at a fast pace."
Also adding to the convenience at Union 25 is the ability to order by app.
"Everybody is mobile-friendly. Everybody has a smart phone," said Ray. "Drive-thru and mobile apps is just the way our society is moving towards."
The Joe App, which is used for "no contact order" allows customers to order up to two hours in advance and to choose a time for pickup and accrue rewards.
Union 25 is open 5 a.m. to 3:30 p.m. Monday through Friday, 5 a.m. to 1 p.m. Saturday, and closed Sunday. They are currently testing a 4:30 p.m. closure during the weekdays.
Options
Regulars at Adams Street Espresso, 213 W. Adams St., will be quick to notice a facelift happening inside. Jessie Davis, who took ownership of the cafe April 1, is working on rebranding the the business with a new modern look. However, as she adds new offerings, she is dedicated to keep house favorites, as well.
"We've had such great response from the community," said Davis. "It seems that in everything we do we've been so wonderfully supported and encouraged."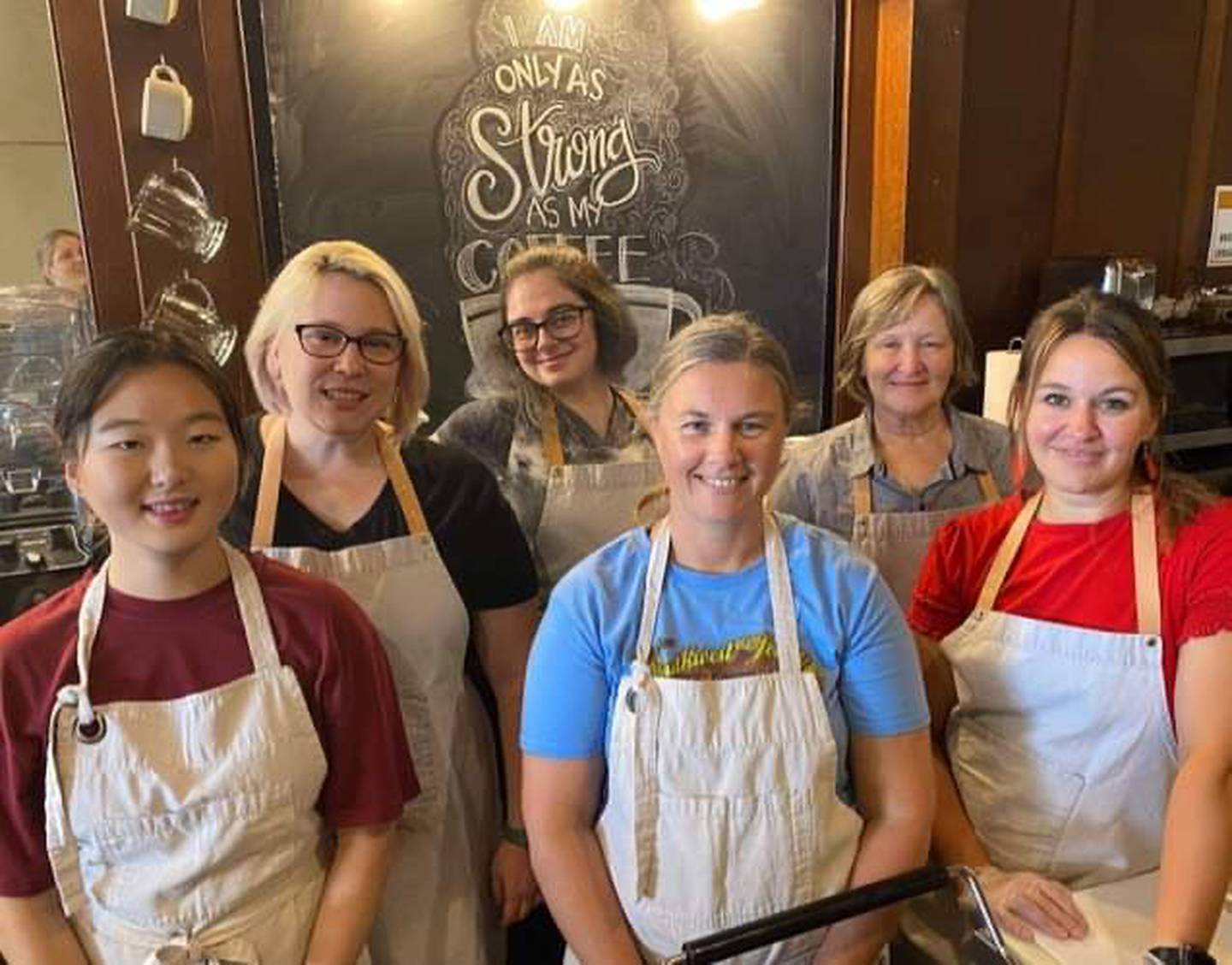 Adams Street Espresso offer lunches in the form of paninis, wraps, salads, and sandwiches. It also offers breakfast all day – burritos, sandwiches, biscuits and gravy, and omelets, in addition to its specialty coffee and espresso drinks.
Davis is also cognizant of dietary needs of her customers, which is why she strives to offer multiple milk options. Adams Street now offers oat, soy, almond and coconut milks.
There are also some gluten-free baked goods, such as biscotti, French macarons, cinnamon rolls and donuts, at Adams Street Espresso, which are made by Elizabeth Marroquin of Amorcito Baked Goods & Sweet Treats. For those without restrictions, Cynthia Wolf of Upper Crust supplies the cafe with a variety of baked goods, such as monster cookies and pies, twice weekly. The latest addition to Adams Street Espresso is roasted coffee from "Little House on Prairie, which is roasted by Bryan Spencer in Creston.
A new ice cream freezer adds eight options to the shop's five existing ice cream flavors, which will be served year-round.
"I would say two of our most popular are our Milky Way and amaretto cherry," said Davis. "But we are having fun bringing in new flavors because we've had so many requests."
Adams Street Espresso is open 6:30 to 9:30 a.m. Monday, 6:30 a.m. to 2 p.m. Tuesday and Wednesday, 6:30 a.m. to 4 p.m. Thursday and Friday, and 9 a.m. to 3 p.m. Saturday.
One stop shop
Java J's Coffee, Fudge and Gifts, 801 W. Townline St., serves as a one stop shop for specialty drinks, lunch and gifts.
When Juliann Sinn opened Java J's 13 years, ago, she had 10 drinks on the menu. Her offerings have grown exponentially.
"We've actually have come up with 77 creations of coffee since we opened," said Sinn. "And that doesn't include the smoothies, quenchers and regular coffees."
Java J's is attached to True Value hardware store, which is owned and operated by her husband Kent. Juliann said the most popular sandwich on her menu – the Knotty Zeke – is named after longtime True Value store manager Zeke Chafa.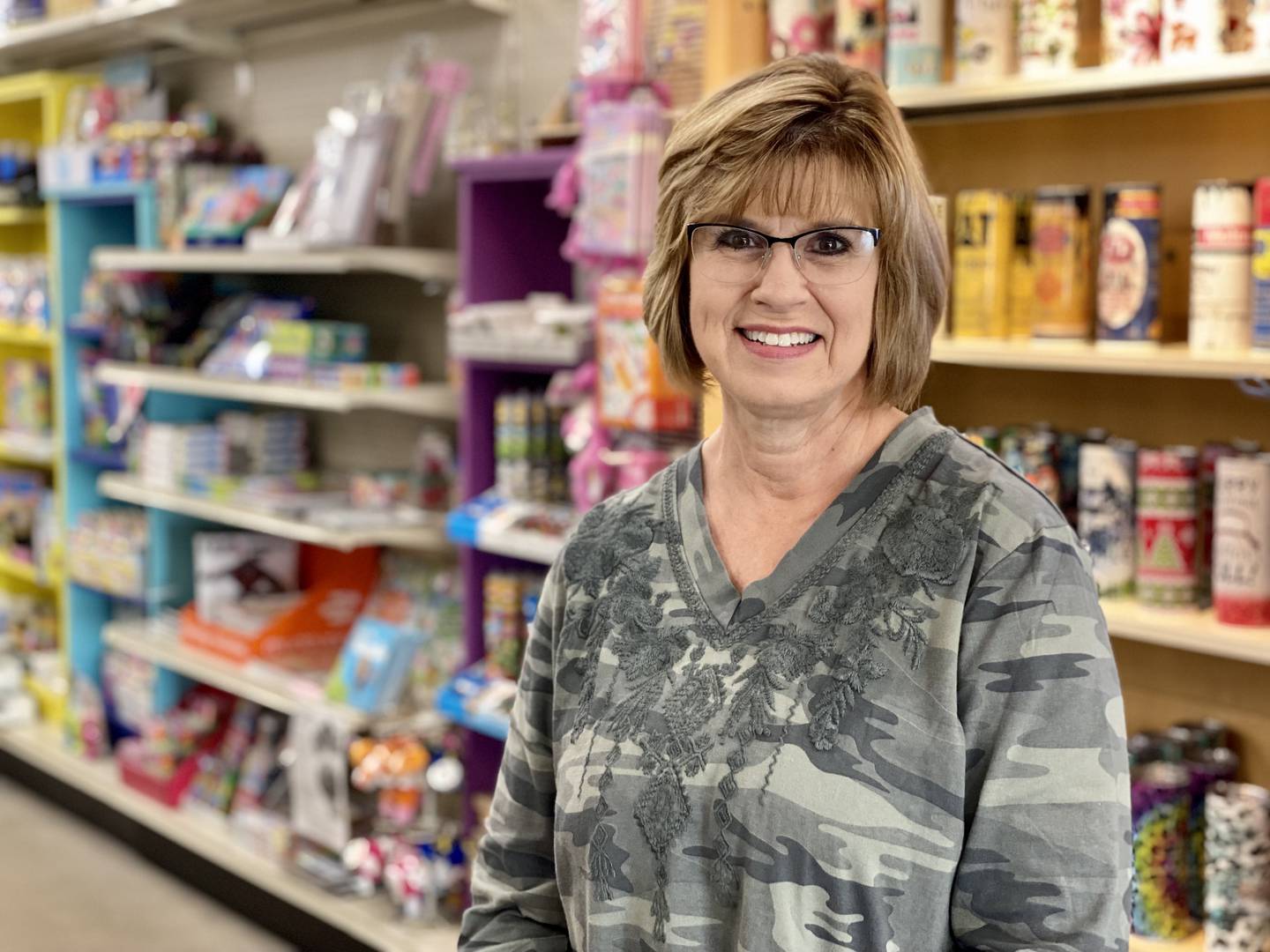 Free gift wrapping is also available for items purchased in the shop, which offers Hallmark cards, home decor, gifts, Willow Tree figurines, cups, mugs, puzzle, accessories for men, women, and children, and 36 flavors of whole bean and bagged coffee, to name a few.
Like other cafes, Java J's offers its own sweet treats, which they have become known for, like their scones and fudge. At any one time, 12 to 15 varieties of fudge are available, which are made on site by Juliann.
"We've sold 4,995 scones since we've opened," said Sinn. "Then of course, our fudge. We've sold "2,535 pans of fudge in 13 years. So that would be 60,843 pieces."
Java J's is open 7:30 a.m. to 3 p.m Monday through Friday and 8 a.m. to 5 p.m Saturday. It is closed Sunday.