On Nov. 2, the public will vote on whether the city should build a new public works building at 1100 E. Mills St., estimated at $2.5 million by FEH Design of Des Moines. The city council approved language Aug. 17 for the November ballot up to $3 million for a general obligation note.
Who will pay?
Mike Taylor, Creston City administrator, said property taxes will not be levied for the construction of the new public works building.
"We would use a combination of multiple sources," said Taylor. "Some road use money, which is money that comes from the state. ... Potentially some local option sales tax."
Sources of road use money comes from tax on fuel, fees collected on vehicle registrations, titles and driver licenses, and use tax collected on motor vehicle purchases and related equipment. Local option sales tax is a special-purpose tax implemented and levied at the city or county level. At the register, consumers pay a 7% sales tax on all taxable items in Union County, with 1% of that being the local option sales tax.
"It's not property tax, that's the thing," said Taylor. "Everyone in the county voted for the local option sales tax, but we get our share in the city."
The estimate was provided by FEH Design so that the city could know the amount to borrow.
"When we get the bill, we will have to pay for all of it at one time," said Taylor. "But the payments will be set up to use these two other funds."
What's the problem?
The current public works building was originally built as a concrete plant in the late 1970s. It's considered machine shed-type building – a wood-framed structure with tin siding. Half-inch insulation panels were added years after it was originally constructed.
TJ Parsons, street department supervisor, said water leakage is one of the main issues with the building. During rain or snow melt, water flows through the building. When this happens, office equipment needs to be removed so that floors can be dried. Rust is noticeable at the base of cabinets and benches used for storage and work. Parsons said water pools throughout the building, increasing risk of injury and inconveniences staff as they have to clean and move equipment around to protect it.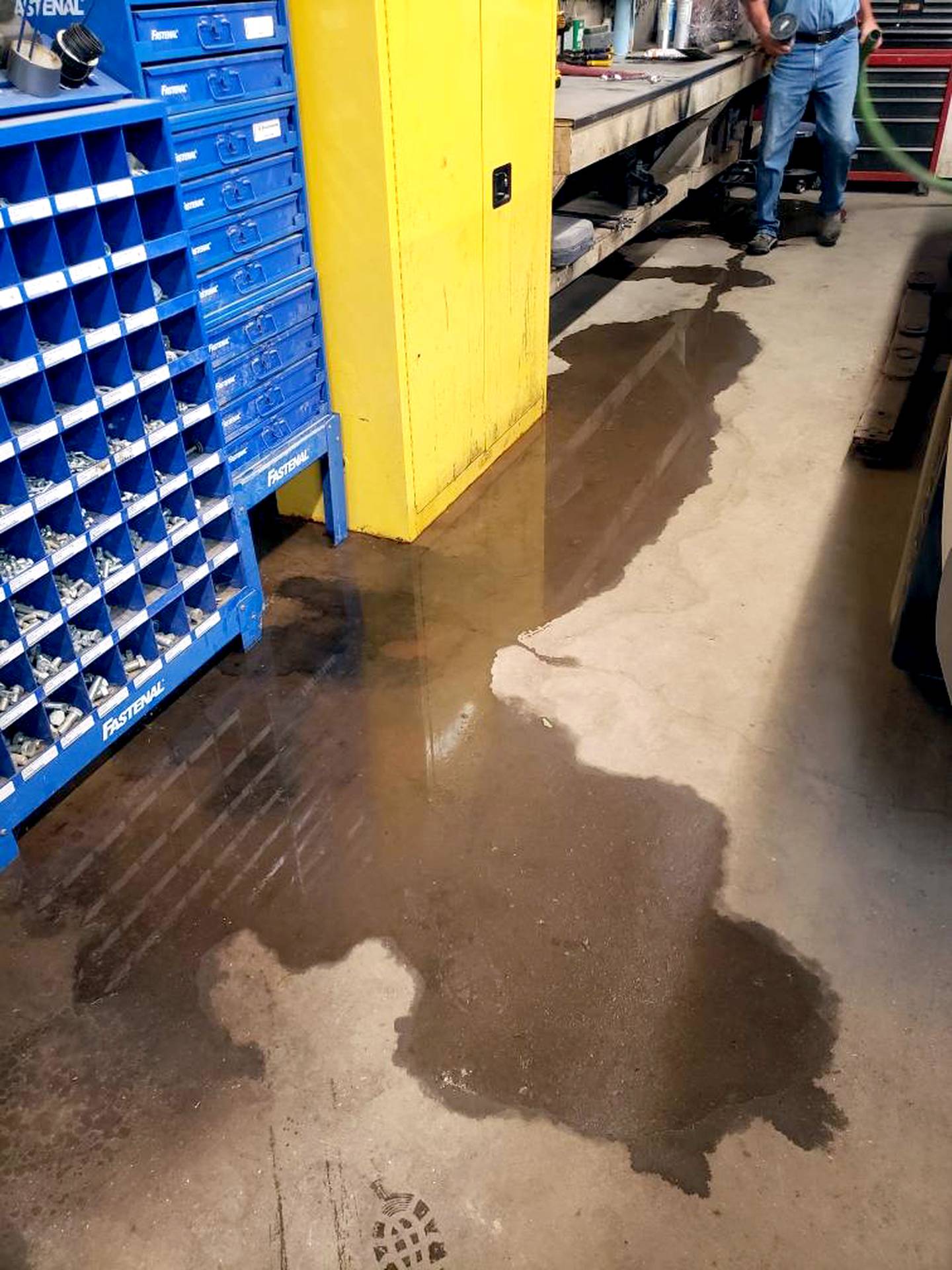 "The main concern is the electrical part," said Parsons. "When it does rain like that, we make sure nothing is going to get electrified or shocked."
Water that enters through the sides and roof have deteriorated the wood structure, making repairs difficult as siding falls off from strong wind.
"We were trying to put screws in to hold the siding back up and we couldn't even get the 3-inch long screws to hold anything because the wood is so rotten," he said.
"You can save anything, like any house if you want to spend any amount of money," said Taylor. "The recommendation is that it's not the safest building. From the two architectureal firms we've talked to, neither one said saving the building would be economical and equipment has just gotten bigger over the years."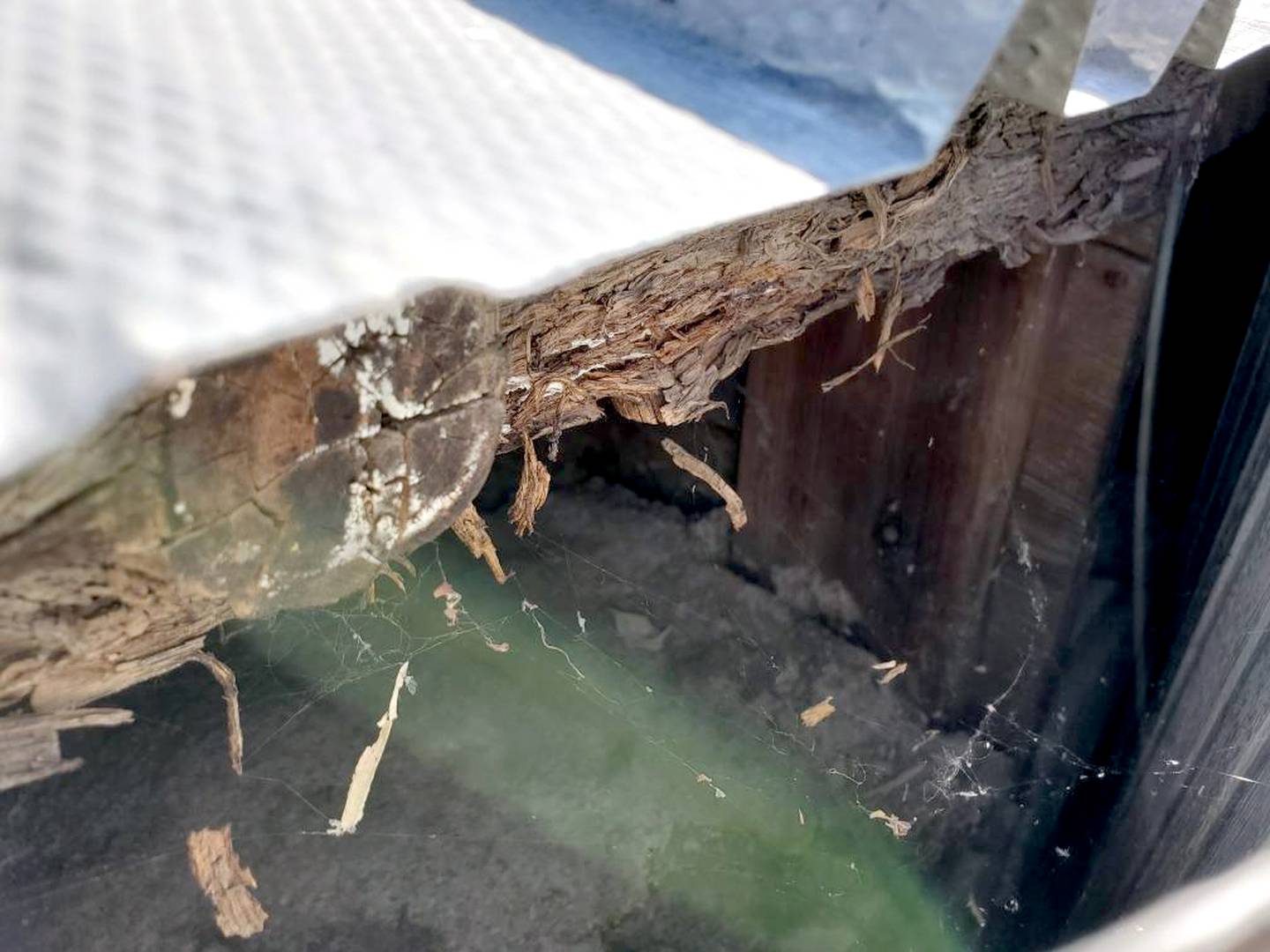 The public works building is where mechanic work for seven city departments is done: street, fire, police, park and recreation, waste water, cemetery and building departments. The vehicles are serviced and repaired year round in all types of weather. However, Parsons said the boom truck, backhoe, sewer jet truck, waste water and fire trucks don't fit inside the opening of the building, which measures 11′6″ tall.
Mold is also visible throughout the building's interior and deterioration has also caused a garage door to collapse. He said the building is unsafe, which also serves as a city-approved evacuation site for residents and staff of Crest Haven Care Center.
Poor insulation is also an issue during cold months as the heater trips the breaker.
"If you left on a Friday night and didn't come back until Monday morning and that breaker tripped on a Friday night, you'd have frozen water pipes. So somebody stops out here every single day when it's below freezing just to keep the heaters running because the electrical system can't handle the heaters," said Parsons.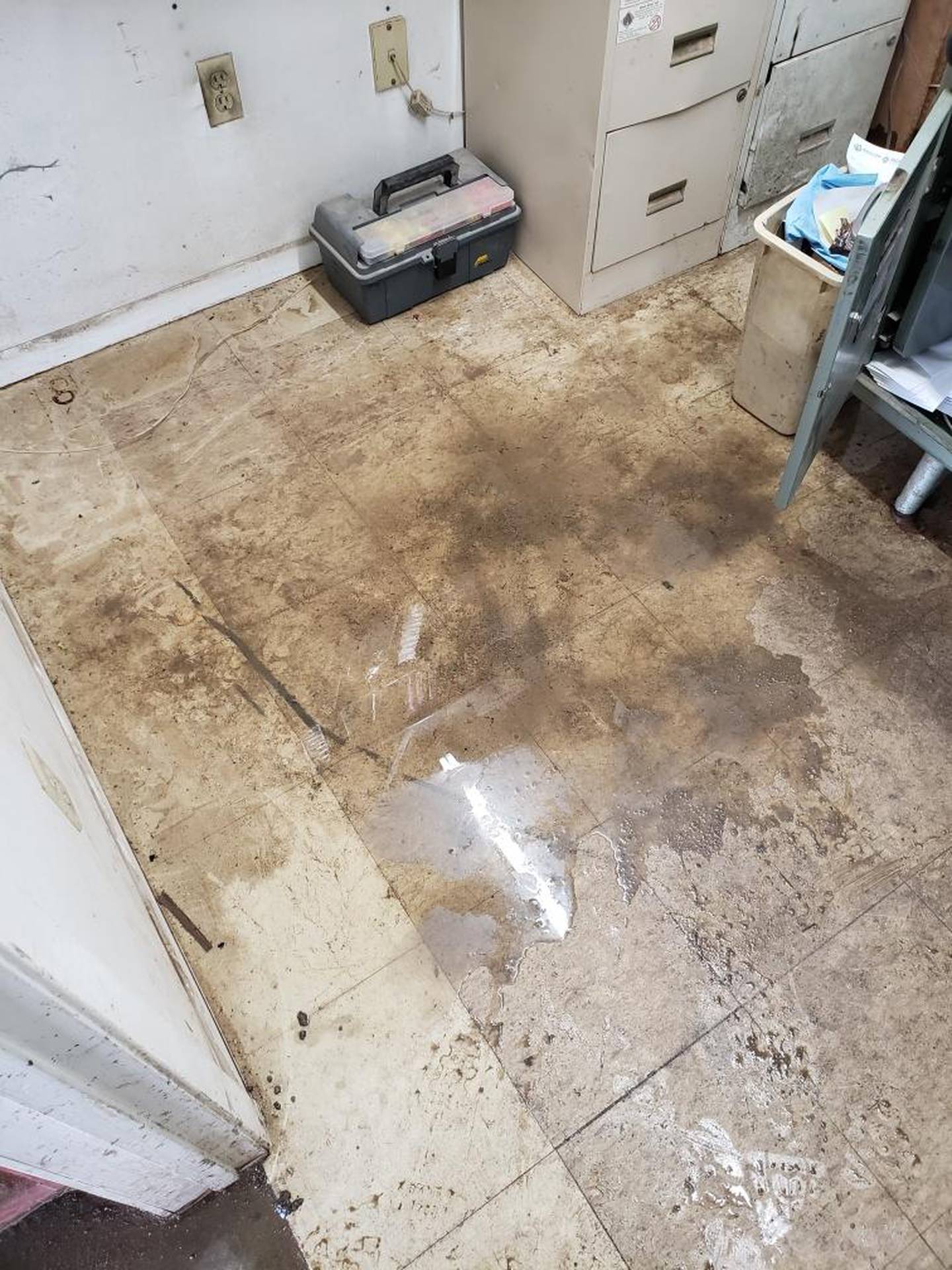 What's proposed?
When Parsons first started the project three years ago, he said he spoke with another contractor who told him of a similar project near Lake Panorama that was nearly $1 million.
"It was a wood frame, metal siding building like this one here," Parsons said. However, with the current cost of those materials, he said he was told it's nearly in line with the cost of a building with concrete paneling.
While the Lake Panorama building is one Creston is trying to model, Parson said concrete panels were chosen to lengthen the life of the city's investment and because of the added benefits.
"Concrete has a better R value, which is the insulation. It will stay cooler in the summer and warmer in the winter. That's less electricity to keep it controlled," said Parsons.
FEH Design originally presented the city with nine different proposals to choose from this spring, which included seven bays for city vehicles and heavy machinery, two of which were for Creston Fire Department. Creston Fire's bays have been removed from the design.
"When that estimate came back the council said, 'That's too much,'" said Taylor.
The updated proposal that would span approximately 11,000 square feet includes five 80-foot bays for the public works department, a shared wash bay, two private offices, a break/training room, and mezzanine space for storage above the office areas and two handicap accessible restrooms. The current structure would be use to store patch and sand, presently piled outside, and the city's salt supply, which is stored at and transported from the city's east yard.
Some have expressed concern about the concrete upgrade versus constructing a similar wood structure, which has a lifespan of approximately 40 years.
"If you're thinking long term, 80 years, I would be all about the concrete so that the city, the tax payers, the employees don't have to go through this again," said Parsons.