Editor's note: This is the first of a two-part series about the artists behind Creston's newest murals.
Creston, a town of 5.25 square area miles, boasts more than 40 public murals.
Many of these murals are due to the effort of Creston Arts partnership with Creston High School art teacher Bailey Fry-Schnormeier. With support of private donations, grants and permission of property owners, Fry-Schnormeier continues to partner area students and professional artists with mentorship opportunities.
In the past two weeks, seven artists from Los Angeles, Chicago, New York, Miami and Des Moines have worked on nine murals, including one in Lenox.
"It was like a little mini mural festival," Fry-Schnormeier said.
With so many murals happening simultaneously, students worked more closely with the artists.
"The student-artist interactions were meaningful to witness," said Blake Fry-Schnormeier of Create Creston.
NS/CB Studio
Nicole Salgar and Chuck Berrett of NS/CB Studio in Miami, Florida, painted two murals in an open green space on North Maple Street last summer. Salgar said the experience working with at-risk youth and the reception of the community was such a powerful experience, she didn't hesitate when asked to return.
"I thought, 'Why?' You can paint New York, you can paint in Chicago, you can paint in Israel, you can paint in Tulum," said Bailey. "We're not paying her even a portion of what she gets paid in those other cities and she just said it was just such a great experience getting to work with the youth."
Mentoring through the arts is important to Salgar as it's what has guided her to become what she is today.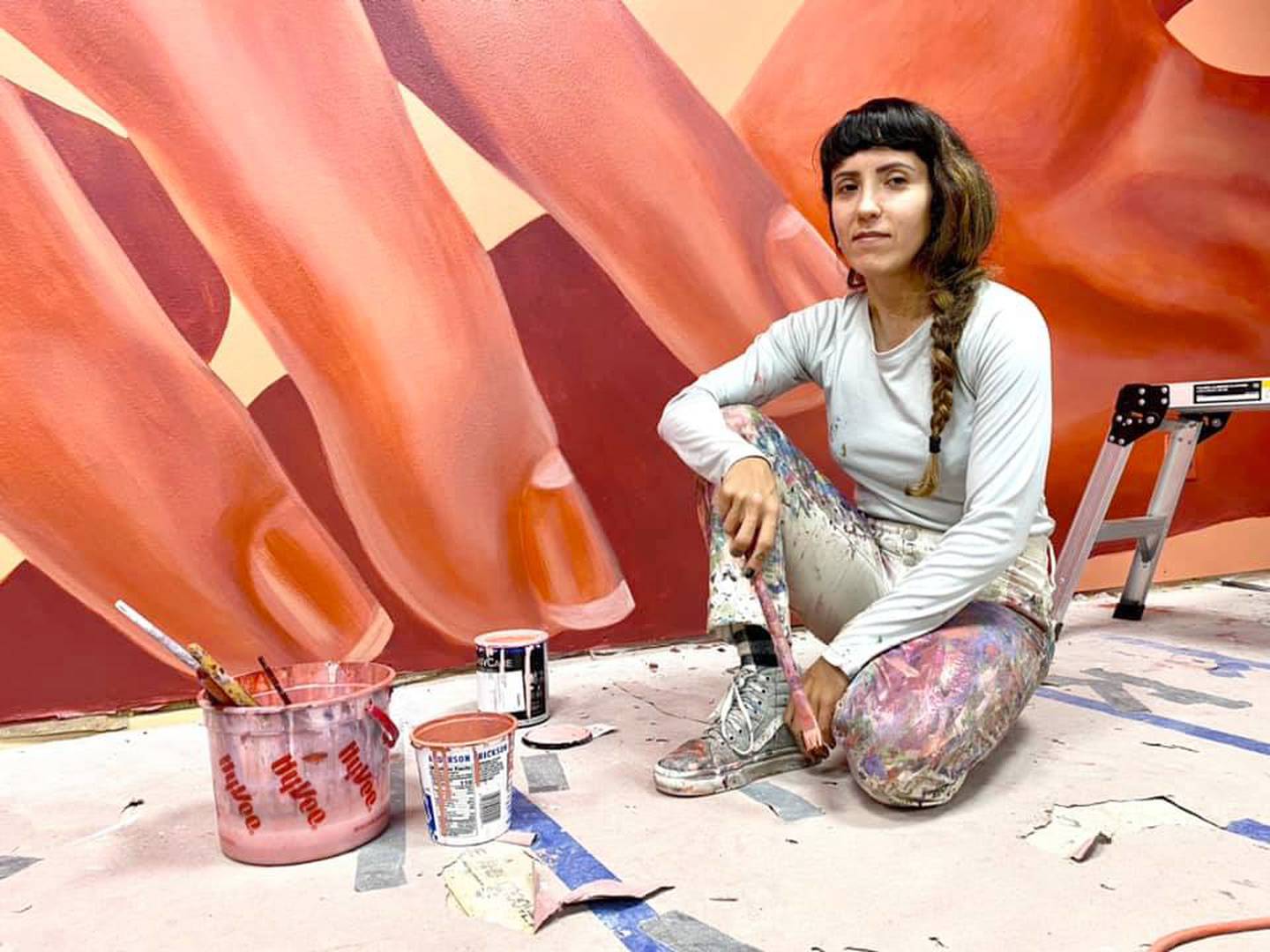 Nicole Salgar
Salgar grew up in Miami and attended an arts program in middle school. She said it was a teacher at her elementary, trade-type school that saw her potential and encouraged her to apply. Salgar, who is also interested in the performing arts, initially tried out for drama, but also applied to the arts program, which she accepted admission.
"We would take three hours of art a day," said Salgar. "In middle school, we had print-making, ceramics, all sorts of different sculpture, painting, drawing, architecture. It was crazy."
Salgar attended a high school focused on programs in fashion, painting, architecture and design. She said she comes from a long line of seamstresses and started making her own clothes at a young age after learning to sew from her grandmother and aunt. By the age of 15, she has completed a number of fashion shows in high school, which landed her acceptance to the Fashion Institute of Technology in New York City for college.
"I was obsessed with John Galliano, Jean Paul Gautier and all the super couture fashion designers," she said of what inspired her to study couture tailoring.
She still has a love for fashion, but as she interned as a stylist while working on her bachelor's degree, something started to shift.
"While I was assisting (in styling), I would just draw. We wouldn't have anything to do and I had already done all my work. I had drawn for my corporate life but not for fun and I got it in my mind one day to have a group art show," she said. "Then after that I just got obsessed with creating art for the public. It was very different."
After the group art show, she got the urge to paint a mural and pitched the idea it to Berrett.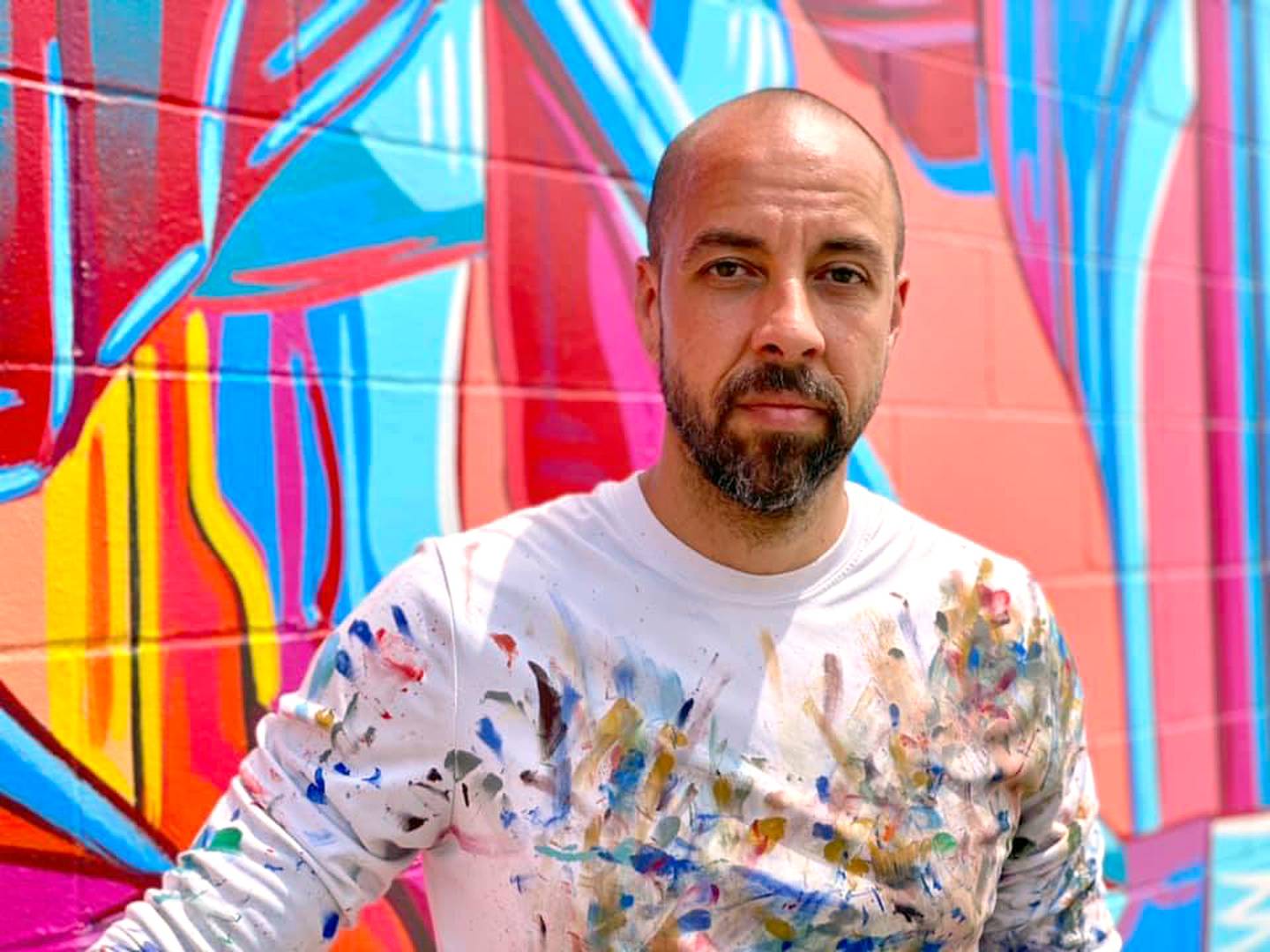 Chuck Berrett
Berrett grew up in Salt Lake City, Utah. Following his service in the Unites States Marine Corps, he made his home Brooklyn, New York, where he met Salgar in 2012. The pair has been residing in Miami together the past four years.
Berrett credits Salgar with pushing him out of his creative comfort zone as an adult, but like Salgar, has been into the arts since childhood.
"I've always drew as a hobby, but I didn't take it seriously or spend a lot of time on it. I really focused on music as a kid," he said. "When I met Nicole, she saw some paintings I had done for fun in my room and she convinced me that I should try to show them somewhere."
Berrett said he thought the idea was crazy because he didn't have a background in art.
"I mean, it's New York City, which is the most competitive place in the world," he said.
In the group art show he helped organize with Salgar, his art was on public display and the experience was good.
"Then she got it in her head that she wanted to do a mural, so we applied for a bunch of different public art projects and one of them called "Centrifuge Public Art Project' in New York City.
Salgar and Berrett's first mural was located on the side of a construction trailer on the lower east side of Manhattan. She said the trailer was made of corrugated metal, which made for the "worst, first mural experience ever."
"We had no idea what we were doing. No clue," she said. "We gridded it out and made it work."
As they worked, they were painting next to other, experienced, street artists and observed their process.
"After doing that once, the feedback we got from the community, how excited they were, just seeing that change became something more purposeful for me," Salgar said. "Working in fashion, I love it, but it doesn't give you the same (feeling), you're doing something bigger than yourself."
Going pro
Berrett and Salgar completed the project and that snowballed in to consistent work painting murals full-time.
"And then we started making money at it," Berrett said. "And once we started doing that, we realized we needed to take it seriously," Berrett said of starting their studio.
As business owners, Salgar and Berrett are not only able to make a living, but they are able to maintain creative control of their work.
"You can work in this industry, but you might end up doing advertisements and that's not creatively satisfying," he said.
Community
Berrett said creating public art has been an amazing experience that is transformative for communities.
"I think that it gives people a sense of ownership more so than before because now you have something unique that no other place has," he said. And it doesn't belong to the artist because we leave. We go home but it's a gift to the community."
While Berrett and Salgar have been showered with admiration for their work in Creston, Berrett said not everyone appreciates it, and that's OK.
"Not everyone likes it ... . Not everyone likes sports but we still have them in schools and part of our communities. We respect that," he said. "I just think it's a wonderful thing for kids to be involved in, it gives people a great creative outlet and it gives a sense of ownership of your town."
Berrett said he has enjoyed his two visits to Creston because of how different it is from where he lives.
"It's amazing for me to see a place where people really know their neighbors so well," he said. "Just the fact that the whole town comes out for things, it's a beautiful thing. It's something I thought only existed in movies."
Salgar, who has painted in small, rural towns in Europe said her visits to Creston have been different mainly because the project is different.
"When I first came here, it was super welcoming. Everyone was super excited to have us. And the project we worked on was very important," she said.
As Salgar worked on the Maple Street mural, she met the daughter of the late Harry Walters. The tenants of the building shared stories about Walters as well.
"That was one of more meaningful murals I've done," Salgar said. "It wasn't necessarily a memorial mural, but it in a sense it kind of being a little bit. That was one of the more important works I did. And just how we were received and working with the kids, they were just super excited."
This visit, as Berrett added a mural to the rear of R Realty on North Elm Street, Salgar painted inside the second story of the new Creston Art Center slated to open later this year.
"What I loved about it is that it's going to be an art center and the kids that the art center is for were the ones that helped me lay down most of the color," Salgar said. "Every time they come in they are going to feel a point of pride. It becomes part of the fabric, not only in their journey, but for the building, too."