Last weekend, Leslie Tyler, of Leslie's Dance Emporium, took to the stage of her students' final Dr. Seuss-themed recitals, where she was celebrated for her four-decade career as a dance studio instructor.
For Tyler, 62, her life revolved around music and dance. Her father Oscar Lovell, who managed the Ford garage in Creston for more than 30 years, moonlighted as a member of the dance band "The Sundowners," which played the VFW, The Chicken Inn and clubs across southwest Iowa. Tyler recalls going to the shows to help teach swing dancing, and remembers her mother Theresa Lovell sharing about the times she had to miss the dances because, even in utero, Leslie was too active.
"She couldn't go with him that much because I would kick too much," she said with a chuckle.
Leslie, who grew up with three brothers, said her family didn't have a lot while growing up, but her parents always "did for us kids."
"When my teacher, who lived in Corning would say, 'Leslie needs to go to this,' they'd find a way to take me or send me," she said. "So we went to Chicago for a lot for weeklong dance clinics and my parents would go visit family while I was in downtown Chicago."
As a child, Tyler remembers dancing with her brothers, Mick and John. She said family dances were a big deal when she was a kid and remembers performing for other families with her brothers. Tyler said dad would come home from work, and mom would have food packed with the kids ready in costume and makeup.
"We'd get in the car and we'd go to Carla's and all perform at Carla's. And then Carla's family would come perform at ours. And then we'd go to Cindy's, and then we'd go to Connie's," Tyler said. "There was probably three weeks where Friday, Saturday, Sunday, we would be this little dance caravan family. It's kind of amazing."
Support
Tyler first started teaching dance in 1974 as a Creston High School junior under Betty Dybdahl. For four years she rented spaces to teach dance with Dybdahl – everywhere from the second floor of the Elks, the basement of what is now Brick and Bell, and a "hole in the wall" on West Montgomery Street that is smaller than the lobby of her studio on North Maple Street, where she has taught for half of her career. It didn't matter where they danced, as long as they could.
After four years of teaching under Dybdahl, Dybdahl was ready to pass the baton to Tyler.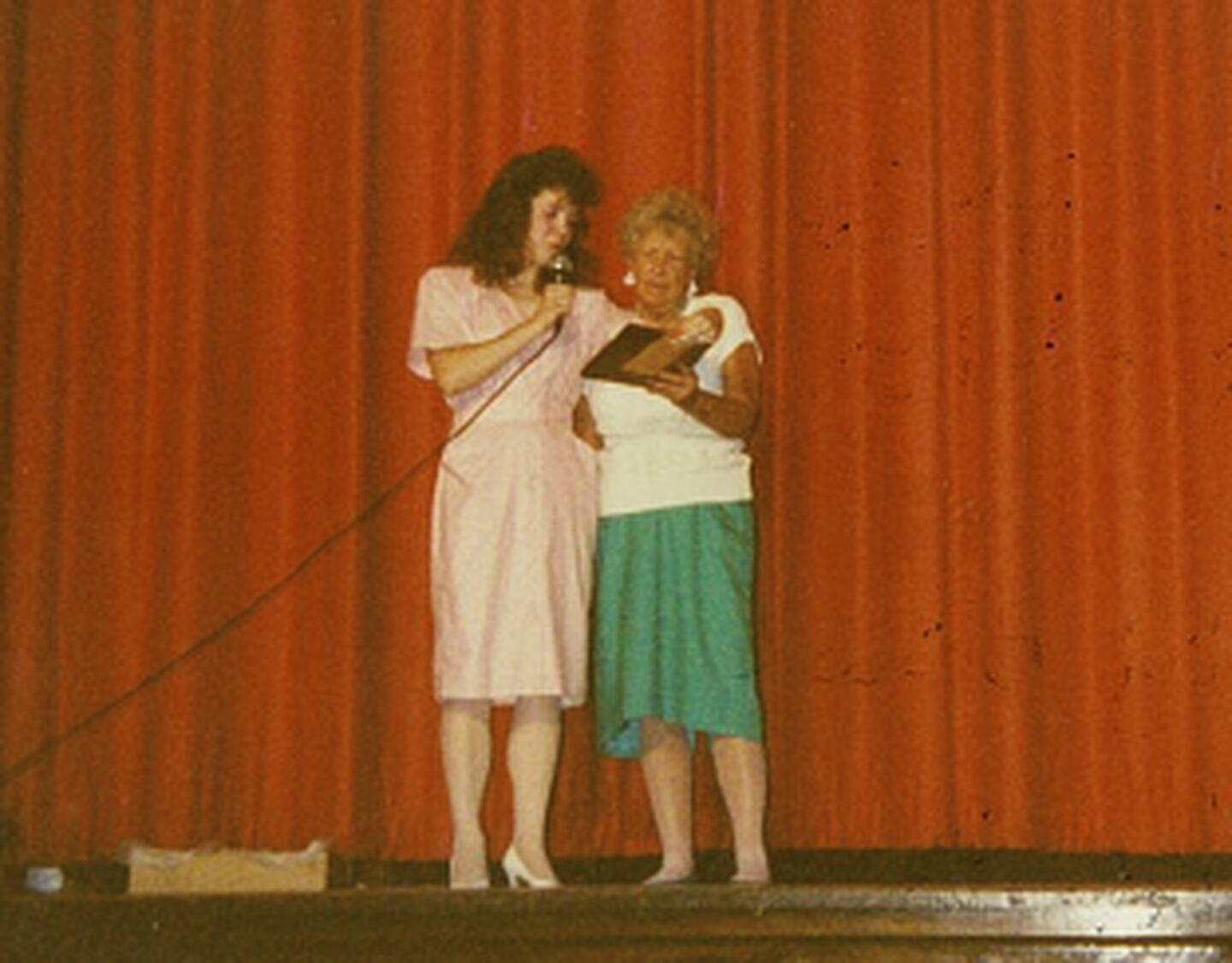 "She said, 'I'm proud of you, you've done all this training, you know what you're doing, you're good with the kids, when you're ready, it's yours," Tyler said.
But Tyler had other plans.
"I wanted to be an airline stewardess," she said. "That was always my dream."
She continued to teach for a total of seven years before she entertained the idea of making a career of dance. However, she had a change of heart when she realized she enjoyed teaching.
In 1979, Tyler purchased her first studio, located at 500 W. Union St., where Reflections Beauty now sits, from Herzberg Construction with the help of her grandfather Jesse Ament, a local butcher at the time.
"My grandpa said, 'You shouldn't be renting, you should be buying a building because you're going to do this forever,'" she recalled.
At the time, dance wasn't a big deal. There weren't regional or national competitions or dozens of competitive dance shows on television. But she and Dybdahl had nearly 90 students and her family had faith. Her grandfather took out a second mortgage on his home to finance it, which she paid off.
"Back then, for a 20-year-old to be asking for money for a dance studio, they didn't laugh, but it's all they could do to keep from laughing," she said. "There was no way I could get a loan for any of that."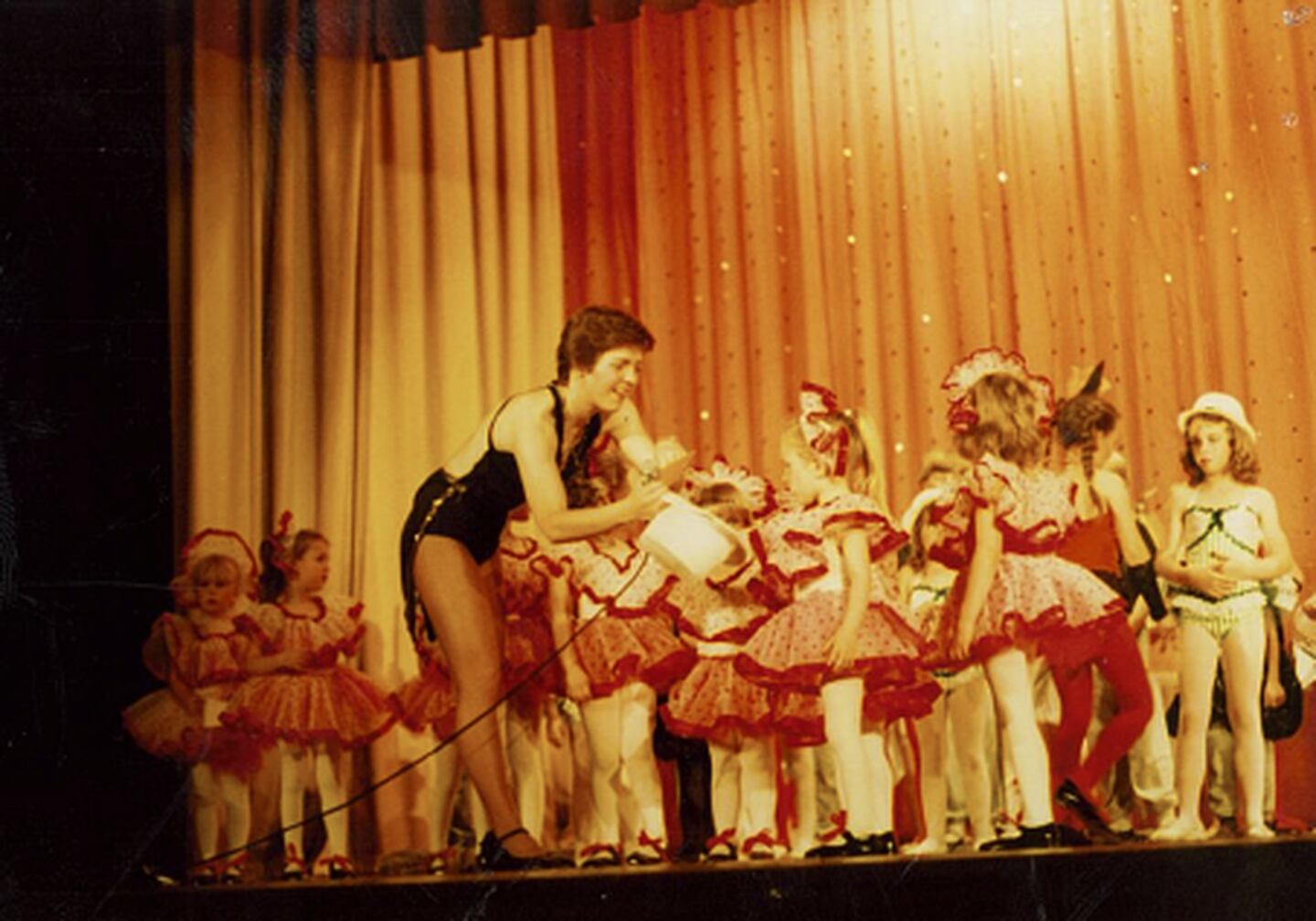 Training
Tyler started dance lessons at the age of 4, with tap and ballet and dabbled in tumbling and jazz. By middle school she was traveling to Chicago for clinics and pointe classes, a classical ballet technique in which a dancer supports all body weight on the tips of fully extended feet within pointe shoes.
"That's really all there was. There wasn't hip hop. It hadn't been developed yet. There wasn't lyrical. There wasn't contemporary," she said.
By high school, she was studying dance more intensively, including a summer workshop at the University of Hawaii in 1979.
"We were graded on the notes we took," Tyler said. "So you'd have an hour and a half class, and before the next day, you had to have as much as the classes you could remember hand written with the counts, with the French spellings, everything. I was glad I had taken my ballet dictionary with me."
Tyler still has that notebook, which she continued to teach from until her retirement.
Child advocate
Tyler said the dance studio was one of her vehicles to reach kids. As their teacher, she had them do as many community dances as possible to give them a more worldly view at the time. To gain experience, she had her students perform at Southwestern Community College's Better Living Show, Creston's Fourth of July celebration, St. Malachy's Crazy Days and at Afton's pre-Fourth celebration, which she has brought her students for 35 years.
Tyler also thought it was important to experience life and competition outside of Creston. so she arranged for them to compete and partcipate in clinics in Chicago, Nashville, New York City and at Disney in Florida for four years.
"I love Creston and I wanted to be here, but I think it's important to see what the world is like," she said. "Not where you are somebody or where you feel safe."
Performing for Disney helped the dancers' etiquette.
"You had to walk in twos. You had to have chin up, eye brows up, your bag had to be on this shoulder," she said. "They were very strict about what they allowed because you were representing them."
For some of the kids, these trips were the biggest they've ever taken, she said.
"All of that, it was to teach character building," she said. "To learn to roll with the punches."
The show must go on
"We have this saying, 'Oh well, just keep on dancing,'" said Tyler.
Tyler said, teachers will signal to their dancer with a flip of their hands to let them know, no matter what has happened – a hat fall off, a shoe come untied or a skirt fall to the floor – that it's OK and to keep on dancing.
"You don't realize how things like that affect people," she said, as she recalled a conversation between her and a former student.
The student had called Tyler to tell her she landed an important job and it was because of what she had learned from her years dancing with her.
"She said, 'As I was going into my interview, I broke the heel of my shoe, and I said, 'Oh well, just keep on dancing,'" she recalled her student saying.
Tyler said the experience for her former student continued to get worse when she spilled coffee on her blouse and a projector for her presenation broke, but she was able to improvise.
"She said, and these were her words, 'You got the job because you know how to roll with the punches. Someone has taught you well,'" Tyler said. "Dance is so much more than plié. Dance is so much more than shuffle ball change. I know there are teachers, and that's what they do. But that was never my intent from the beginning."
Dance for all
As the music changed over her 42 years of instructing, so did the styles of dance Tyler taught. Much of that was influenced by music.
"As music changes, street dance changes. And street dance affects studio dance," she said.
On a visit to New York City, Tyler recalled seeing street dancers battling to the sound of hiphop streaming from the speakers of their boom boxes. It reminded her of Isadora Duncan, dubbed the "Mother of Modern Dance" and choreographer Bob Fosse, who were both ground-breaking dancers for their time.
"There's always been rebels," she said. "I think it's people being true to themselves, that's what dance has evolved down to.
Tyler said Duncan was one of those rebels, who was classically trained in ballet, but believed it was against nature and wanted modern dance to be free and natural.
"Every person who dances should take ballet, but I never required that because I wanted to reach kids," said Tyler.
Tyler thought about Duncan's ideology which shifted hers and inspired her to have a studio that catered to recreational and competitive dancers.
"I knew there were kids who just wanted to take jazz or just come take tumbling, and I thought it was more important to give up that ideal that I was raise with and get kids in there," she said.
Inspired
Tyler said she became a dance instructor because she loved the experience of being in class and challenging herself. Some of it humbled her, making it feel as if she's never danced before, and she liked the feeling of conquering something difficult.
"If I could have made a living taking class, I never would have been a teacher," she said.
Over the course of her career, Tyler has had nearly 3,000 students. She liked the idea of helping children realize they, too, can do hard things.
Now Tyler is working through the hardest part of her lifelong dance dream – packing up her studio as she prepares it for sale.
Tyler made the decision to retire six years ago. During a trip to Wyoming with husband Ned, a first that wasn't dance related, when she found herself on the top of a mountain "just being."
Retirement
"I heard a small, still voice say, 'There's more to the world than the studio. You need to be open,'" she said. "So I just kept myself open and I told Ned then, 'Things are going to change.'He said, "What do you mean? I said, 'I don't know, but I'm open to it.'"
With the loss of family and friends over the years to the expansion of their family with grandchildren in Lincoln, Nebraska, she made the choice to slow down. Tyler also realized, she enjoys employment with Jack Rabbit, a global customer database software company, which she has used to manage her business for more than 10 years before becoming an employee in 2018.
Tyler may be retiring from studio life, but she's not going anywhere. Her role in just changing, but she will still be stay connected as she looks forward to teaching workshops on occasion and judging competitions. She also looks forward to a flat 40-hour work week without any prep. For her, it's the best of both worlds.
"I am so blessed," she said.