Two college sophomores from the University of Nebraska are traveling across Iowa with the goal of visiting all 939 incorporated cities in the Hawkeye State. As of Saturday, the pair had visited 124 towns, including Creston, Greenfield and Orient.
The idea to travel the state isn't a new concept for Seth Varner and Austin Schneider. When the pandemic hit last year and derailed their usual day-to-day plans and closed campus, they decided it was a good time to explore the towns and history of their home state of Nebraska. Varner said it has been a goal of his since he was a boy, and when asked to go along, Schneider, a friend since Kindergarten, obliged. Their travels are documented on visit531nebraska.com and a 431-page paperback book, "Visit 531 Nebraska," was published in response to the comments on Varner's and Schneider's social media accounts and online blog.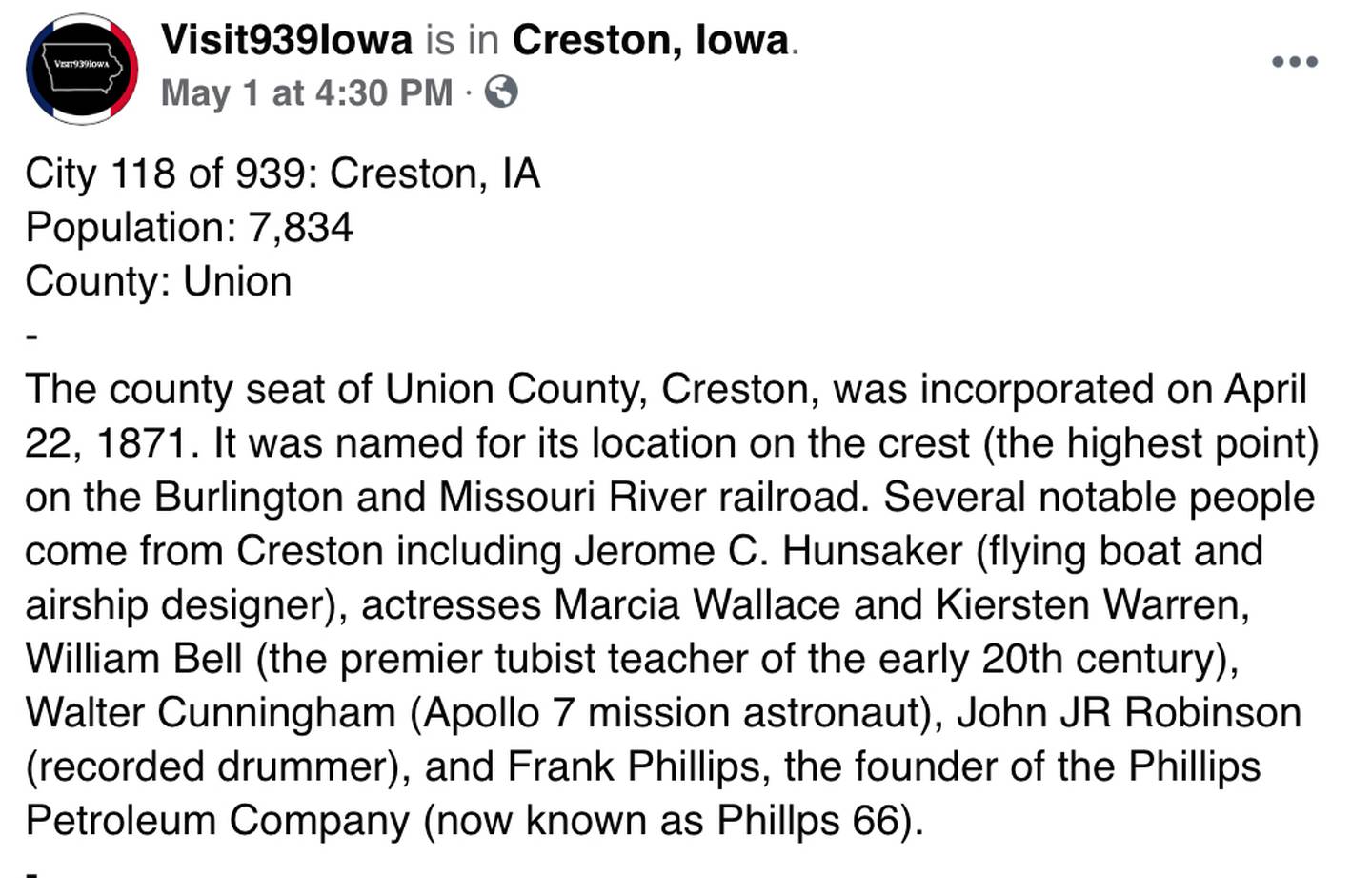 "Iowa was kind of an afterthought," said Varner. "After we finished Nebraska people said, 'Hey that would make a great coffee table book. So many people said that so we just went for it."
With pandemic-related limitations still in effect and profit from the more than 4,000 books sold in their pocket, Varner and Schneider decided to document their neighboring state. Sponsorship from Iowa Love, a GoFundMe account and goodwill extended their online followers, help keep their car rolling and bellies full.
Upon entering Iowa April 2, Schneider noticed an immediate difference from the fields spanning the Cornhusker state.
"It's a lot of flat land in Nebraska and in Iowa it's a lot of hills. It's a completely different view," said Schneider. "I love the different kinds of views in different places."
In Creston, Varner and Schneider were given a quick tour by Tessa Hull, who they asked to guide them based on her deep understanding of Union County heritage. After a tour of uptown, the bloggers explored McKinley Lake.
"I was really surprised by the amount of murals around town," said Varner. "If Tessa (Hull) hadn't shown us all those back alleys, there's no way we wouldn't have found all that stuff."
The Freedom Rocks in Union and Adair counties were also points of interest.
"Getting to see the original was pretty special," said Varner. "I think he's repainting it in just four weeks here, so it's going to be different a month from now."
The Iowa Aviation Museum and Schildberg's Antique Car Museum in Greenfield, and Henry A. Wallace landmark in Orient, were also notable destinations.
"Wallace's the only vice president from Iowa, so it was nice hunting down a little history," said Varner.
Varner said, outside of a building in Orient are pictures of what the town once looked like.
"That was cool that they put the pictures on the outside so that anyone could just walk up and we didn't need anyone to come unlock a building, Schneider said.
Varner said the "Visit 939 Iowa" book will be published in November. To see photos and learn some facts about Iowa towns, follow Visit939Iowa on Facebook or visit visit939iowa.com.