In the spirit of growth, grit and pushing themselves to the next level, Adair County Health System embraced the future of what they're trying to do in the local community by breaking ground on the first of three phases to a master facilities plan, in a ceremony held Wednesday, Sept. 6.
Hospital and community leaders gathered on a property the hospital owns across the street from the emergency and clinic entrance of Adair County Health System to mark the occasion, complete with white hard hats and shovels.
"We are thrilled to start this project, as it will serve as a blueprint for the future at Adair County Health System," said Catherine Hillstead, Adair County Health System's CEO. "We are here today to celebrate the groundbreaking of our Master Facilities Plan and Phase 1 of our multi-phase project. The improvements that will be carried out in Phase 1 will set us up for future phases to ensure that we can utilize our space and organization to serve our community to the best of our ability."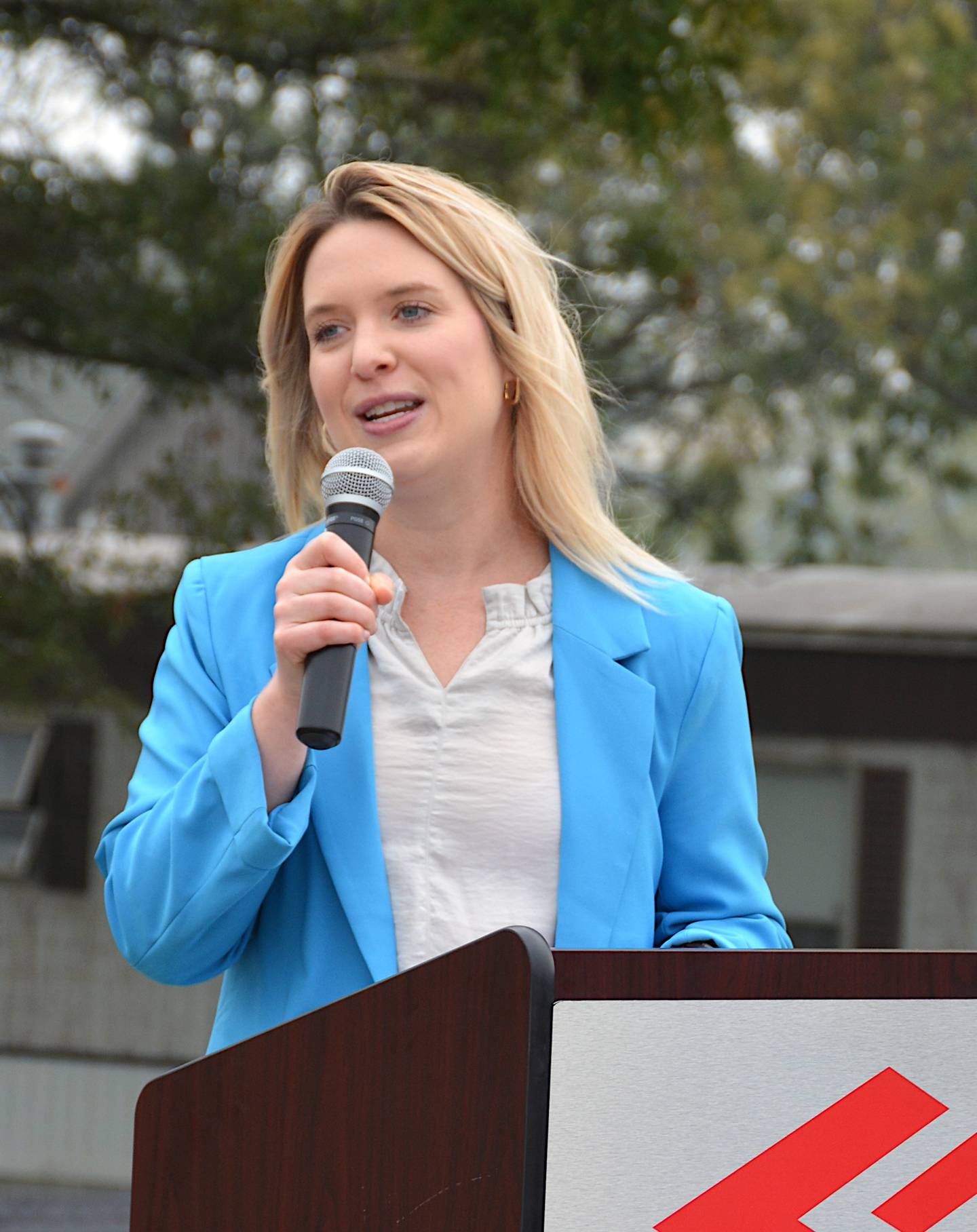 The first phase of three, which has actually already begun, will include upgrades to ACHS's parking areas, as well as infrastructure improvements both in the hospital and on the roof.
Phase 1 is estimated to cost $4.2 million, with the entire project estimated at $17.5 over three phases, paid for by bonds that were refinanced early last year.
Future phases of construction will include enhancements and improvements to clinical areas of the hospital.
Blueprints of all three phases of the construction were displayed on easels in the Adair County Ambulance garage during a reception that followed the groundbreaking.
Adair County Health System has partnered with Invision Architecture and Graham Construction for this project. Both had representatives on hand at the event.
During her presentation, Hillestad touched on the news that Greater Regional Health of Creston is working to develop a clinic on the Greenfield square. While she acknowledged she and ACHS's executive team see this as concerning and unnecessary, she countered that by saying competition is a fact of life, including in business.
"Basic business and economic theory demonstrate that when organizations have competition, it pushes them to have higher quality, greater variety and more innovation," HIllestad said. "As a team, we want to compete with others in a way that brings out the best in us and in everyone else who is involved. It's about challenging ourselves, pushing those around us and allowing our commitment and skill, and the motivation of others, to bring out the best in us and tap into our potential. Positive competition is about growth, grit, and taking ourselves and our team to the next level, which I know we are very capable of."
Hillestad thanked several individuals for their work in preparing ACHS to break ground for this large project. These individuals included Plant Operations Director Derek Perkey and Facilities Technician Kelly Berkland, officials with Invision and Graham, as well as the entire leadership, board and staff of ACHS.
Board of Trustees Jimmy Freeland, Barb Kalbach, Willard Olesen and Pam Wiggins were able to be present for the groundbreaking.
Also there were Greenfield Mayor Jimmie Schultz, Greenfield Municipal Utilities General Manager Scott Tonderum and Stacie Eshelman and Carol Woosley, representatives of Greenfield Chamber/Main Street and Development.
The hospital announced parking restrictions on its social media last week that is due to concrete work being completed in the existing and new parking areas.
"Thank you to everyone who is a part of this organization. We wouldn't be who we are today without every single one of you," Hillestad said. "I'm so proud to work along side our staff and truly look forward to our future together."