Sophomore thrower Trent Warner and senior distance runner Doug Berg each made it to the state track meet for their Nodaway Valley boys track and field team over the weekend. Niether placed where they would have liked to in their events, however they carried a good outlook away from the experience.
Berg placed 20th, running a 10:30.81 in the 3,200 meters on Thursday's portion of the state meet. On Saturday, he was due to run the 1,600, however he was unable to due to illness.
In the longer race, Danville's AJ Bonneson won in 9:10.37. Woodbine's Landon Bendgen ran a 4:18.92 to capture a win in the mile.
"I'm definitely glad my career ended on the blue oval, but it's not the ending I wanted," said Berg, who will run cross country and track at Simpson College beginning this fall.
In the 3,200, Berg described his race as the "second worst" of the year. His times stayed in a similar range throughout the season in that event, and he ran a personal record time in it at the state-qualifying meet.
There were times he backed out of the 3,200 to experiment with his times in the 1,600, which he did run faster at times throughout the year. In the mile, he set a new season best time almost every time he ran it. It is his favorite race of the two, but he commented on how fast that race was at state. He said Nodaway Valley's record may not have even medaled on that day. His coach, Chase Green, said the goal they had set was for him to go under 4:40 in the mile, however that wouldn't have finished any higher than 18th.
Green felt Berg may not have run "his" race in the 3,200, which could have made a difference.
Berg ends his high school athletic career with a long list of state event entries, whether that be in track or cross country.
"I'm still grateful I got there [to state track] three times and not many people can do that," Berg said.
Warner threw shot put Thursday 42 feet, 1 3/4 inches and placed 24th. He threw the discus Friday 117-06 and placed 21st.
"It's a big deal to make it but I wasn't happy with how I performed on the day, but there's nothing I can do about that now," said Warner, a sophomore.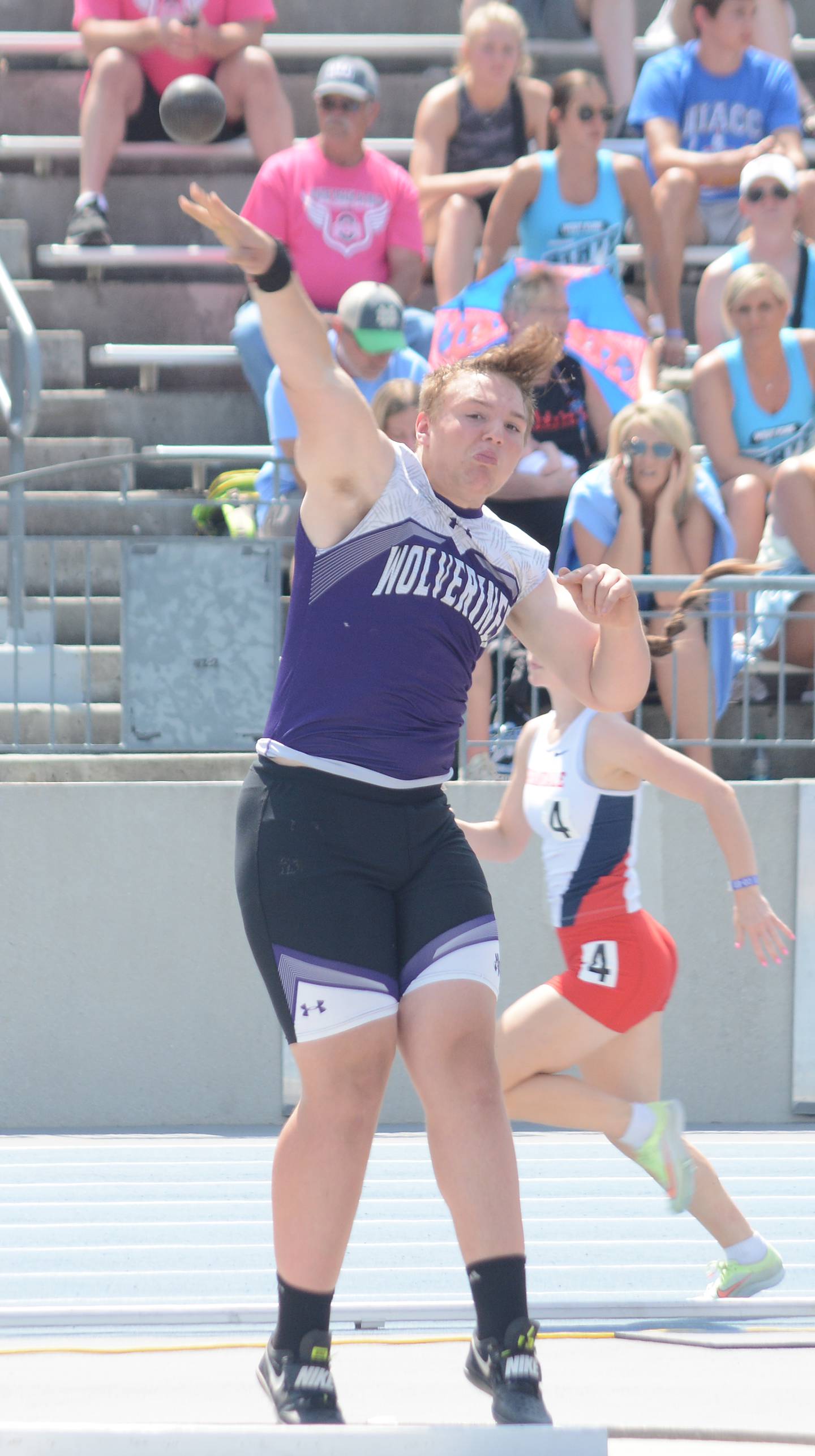 The thrower said he looks forward to honing in even more on his throws during next season. He has throwing coaches he can take lessons from to learn even more and add distance in both events. He said he peaked toward the middle of the season in shot put and wasn't able to match that the rest of the way, and the same happened with discus.
"Little movements can change a whole throw. There are so many components to everything," Warner said. "I figure I'll try to get up to more throwing coaches next season. Hopefully I can place next year."
Boys track coach Chase Green looks back on the season and said each of the seniors on the team had their spot in the lineup. Berg was the distance runner, Boston DeVault settled into the mid distances, Blake Lund was a solid hurdler, Avery Phillippi was another mid-distance runner, Will Sturdy ran the mid to longer distances, and Mason Wilson was an effective sprinter.
Though not all of the seniors were part of events that consistently medaled, some were. Green appreciated the group as a whole for the role they played in the season's success.
"I enjoyed coaching these boys," Green said. "I wish we could've performed better, but they still showed up, worked hard, had a good spirit about us and enjoyed each other every day."