DES MOINES — Saying track and field is alive and well at Nodaway Valley may be an understatement when you look at how the girls team brought home two second place and two fourth place medals from the Iowa State Track and Field Championships held Thursday, May 18 through Saturday, May 20 at Drake Stadium.
While the Wolverines would have loved to flip the script and finish on top of a few of those races, they end the season with much to be proud of.
"I feel really great about it. When were second in the 4x200 they were jumping up and down, taking pictures. When the 4x100 second-place came they were disappointed they couldn't get it done," Nodaway Valley girls track coach Brett Welsch said.
With Maddie Weston, Abby Engles, Emma Lundy and Annika Nelson in the 4x100-meter relay, Nodaway Valley qualified as the fastest quartet going to the finals, with a time of 50.28 seconds. They again bettered their time when they ran it in the finals, crossing in 50.26, but they were edged out by Lisbon's 50.11. For the fifth race in a row, they broke their school record in that relay.
"I just feel Lisbon was just a little better than us that day," Welsch said.
Kicking off the day Saturday, the Wolverines ran to fourth place in the sprint medley. With Grace Britten, Weston, Lundy and Engles, they finished in 1:53.02, while Lawton-Bronson won in 1:51.38.
Grace Britten commented that she was proud to have an opportunity to run at the blue oval for the first time. She thought her start was strong, as was her handoff to Weston. Weston also felt the handoff went well and praised Lundy and Engles for how they turned on the jets later in the race.
Later on Saturday, Lundy went on to get a fourth-place medal in the 200. She finished in 25.81 seconds. Murray's Aleksys Gannon claimed the state championship, winning in 25.26, as the top four in the race went sub-26.
"Coming in, from the beginning of the season and starting to run this race, blocks have never been my strong suit. I did my best, and once I got around the curve, I tried to really get going down the homestretch," Lundy said.
Engles, Weston, Nelson and Lundy were runners-up on Friday in the 4x200-meter relay. They finished in 1:46.28, while Oakland Riverside won the timed final in 1:46.13. The Wolverines ran in the first heat but were good enough to finish as high as they did, right there with many from the second and third heats.
"This was our best time of the season, so I knew it would be really good, and it ended up being second," Nelson told KSOM Radio's Bennett Blake after the race. "We've been running against Riverside all year, we knew they were a couple seconds ahead, and it turned out [to be really close] today."
Seniors finish strong
Engles and Madison Fry, both seniors, were able to cap their final track seasons at state in individual events that made it to state.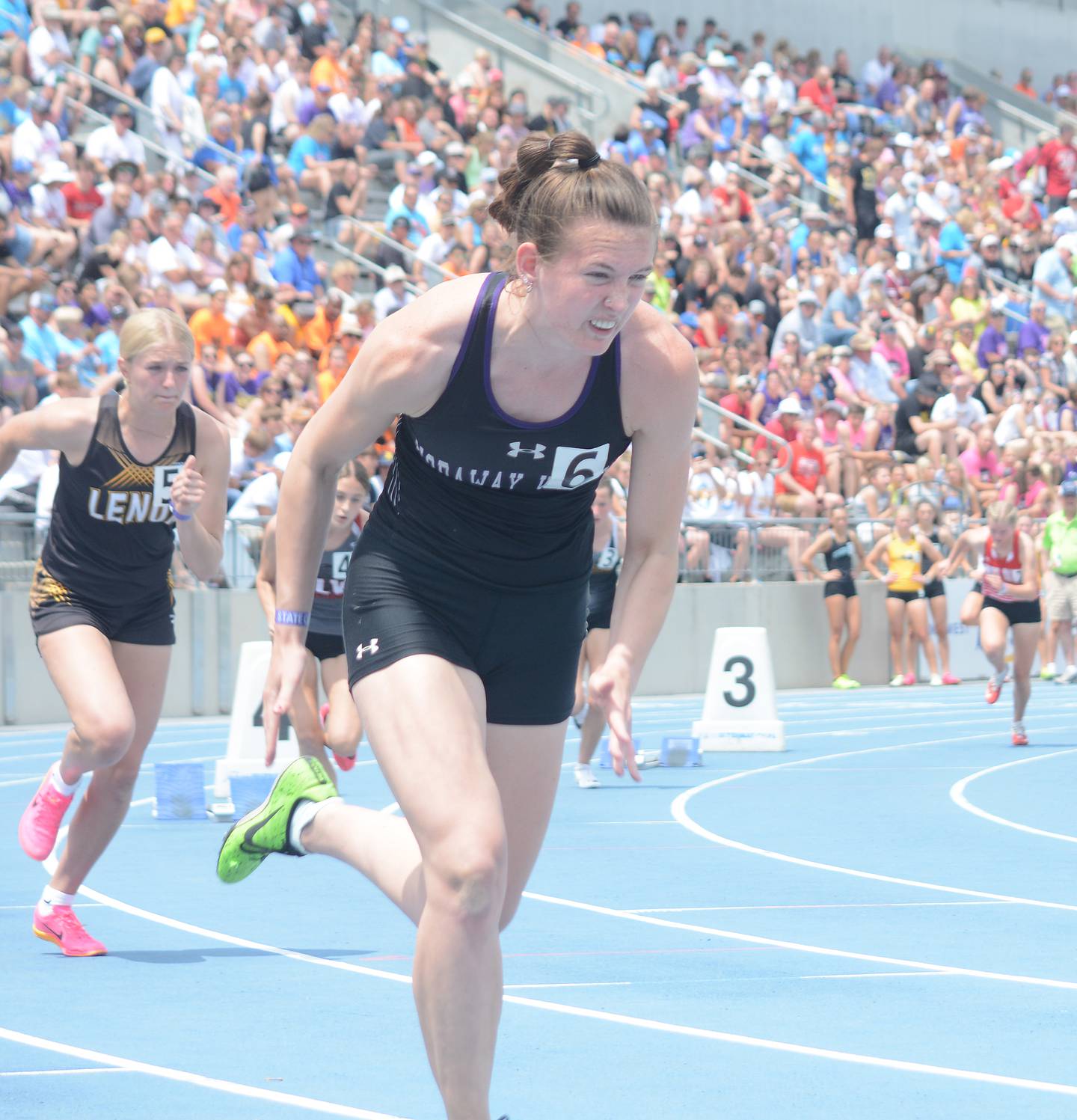 Engles ran to a 16th place finish in the 400-meter dash, in 1:02.07. Welsch said she provided strong leadership for the girls program, but also the boys program when certain things were combined throughout the season. She wasn't afraid to take charge.
Engles was sad when she ran her final 400 as part of the sprint medley. That became her favorite distance to run throughout her career.
"It's a hard race, but it's my favorite race. The sport of track has meant everything to me," Engles said. "Being with everyone, with the ups and downs we've had, it's just a great reward. My teammates are my best friends."
Fry overcame an ankle injury she nursed all season but qualified individually in the 100-meter hurdles. On Friday, she was 14th with a time of 16.29 seconds, a season-best time. East Mills' Emily Williams ran a 15.19 to win the race.
"I ran my fastest race of the year. I think I three-stepped most of them. I maybe four-stepped on the eighth or ninth hurdle. I just wanted to try to be fast between hurdles and have a clean race," Fry said. "It was fun to be able to finish out my career here."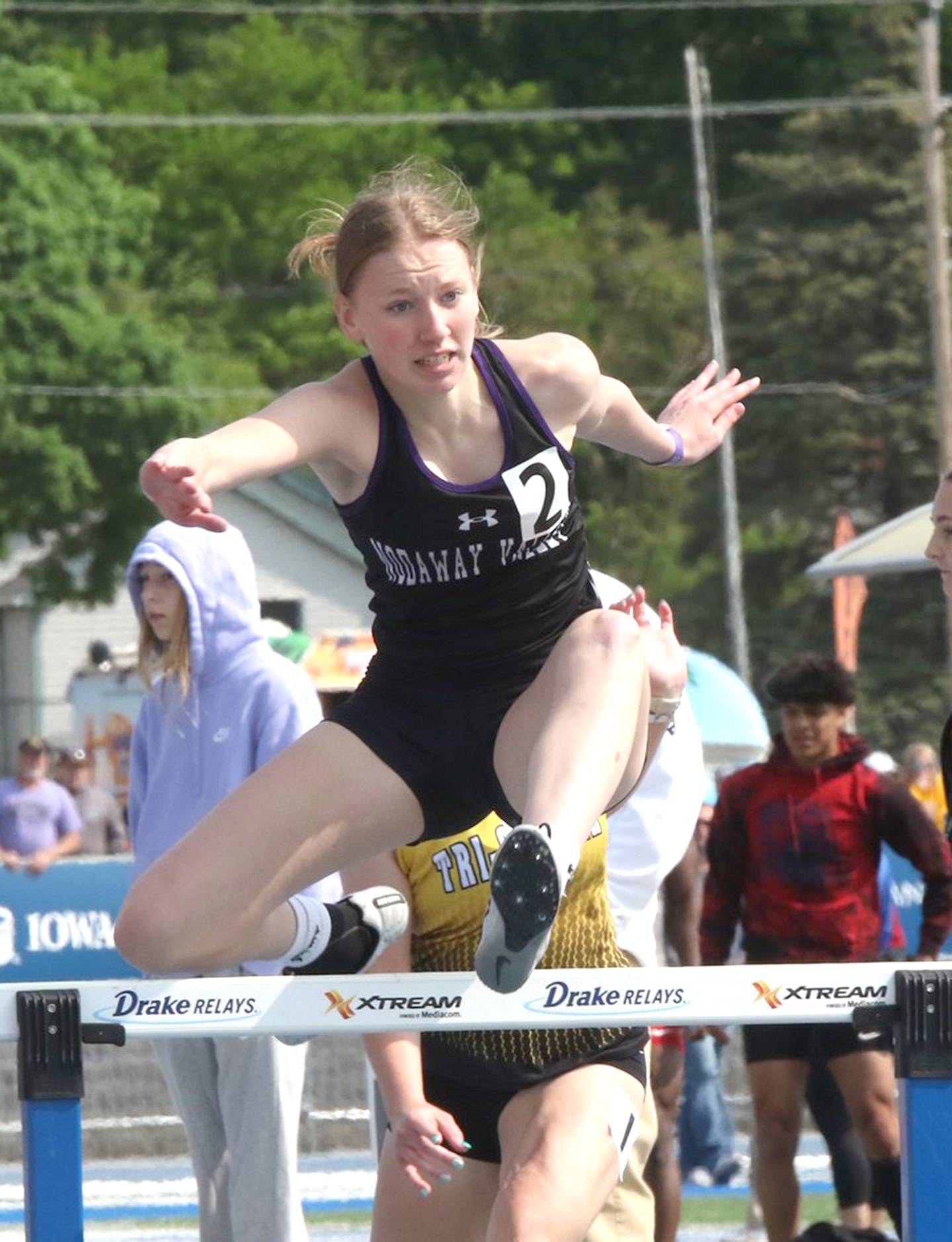 Other events
In the field events, junior Jorja Holliday was 23rd with a throw of 32 feet in the shot put. She qualified for state with a strong throw of over 35 feet. Iowa State womens basketball commit Audi Crooks won the state championship with a throw of 44-00 3/4.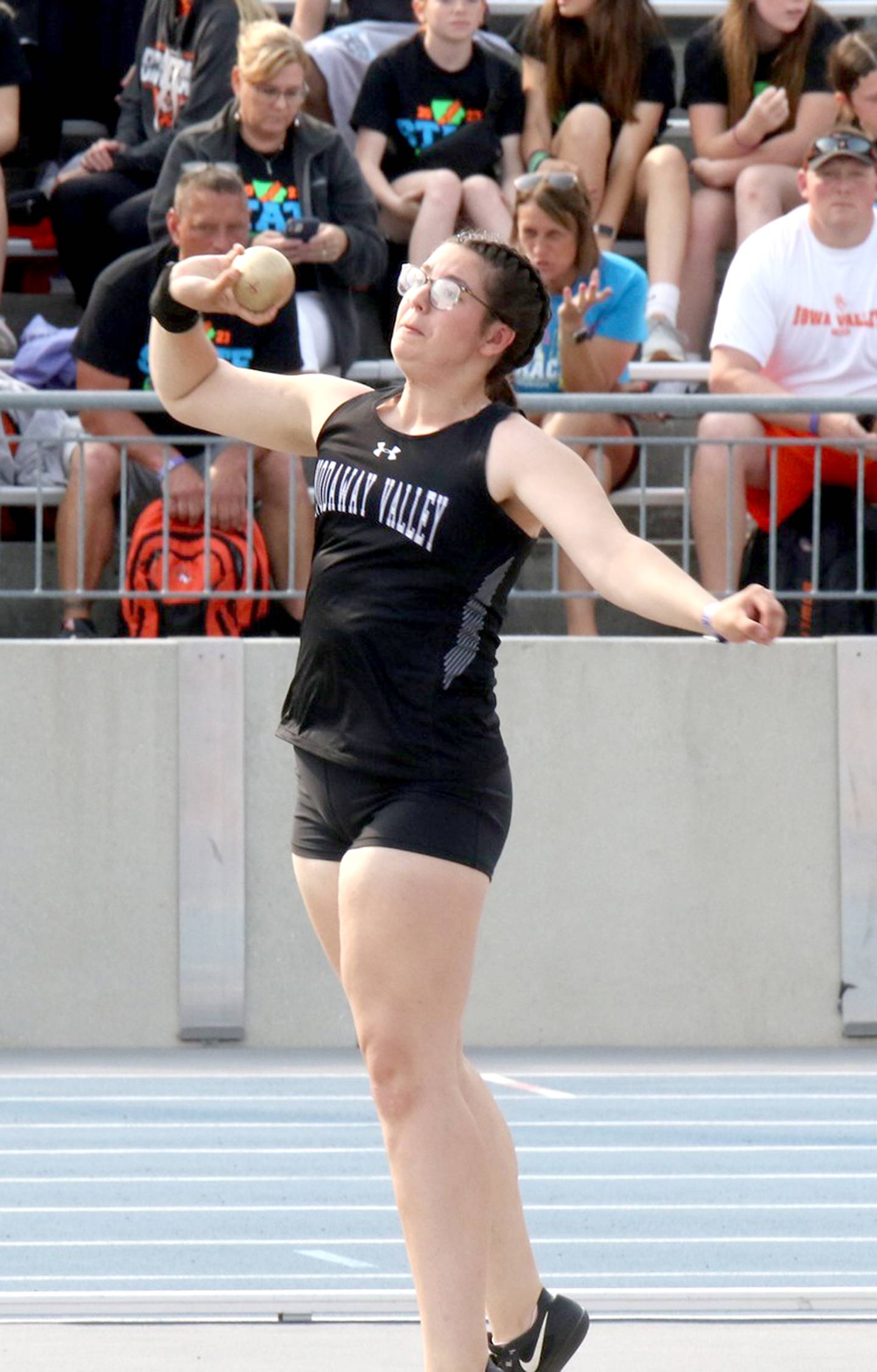 "It didn't go the way I wanted it to, but I got the experience and I had fun," Holliday said. "At least I made it here. I think I progressed through the season how I wanted to. I maybe wanted to get a little farther in shot put because I only have one year left, but I improved by two feet this year and I'm happy about that. I improved in discus as well."
The shuttle hurdle relay was unfortunately disqualified for an exchange zone violation. Runners on that relay were Fry, Liv Laughery, Caroline Britten and Nelson. They ran a 1:10.56 at the state-qualifying meet at Guthrie Center, which was second-place there, but good enough to qualify. Members of that relay the newspaper spoke with were proud to make it to state in that event, though they were disappointed in the result.
Looking back
Only graduating the two seniors, Welsch is very excited for the future of the school's track program, and specifically his girls team.
"They stayed positive, the weather was nice this spring, and we worked hard. In the end we put it together," Welsch said. "I heard some of the older kids telling the younger kids that if you buy into the system and put the work in, there will be results in the end. It's great to see that, year after year, we have individuals who are willing to put the work in and realize there can be success in track and field at Nodaway Valley and it makes our athletic pool broader."