Three farmers from Adair County thought the big airplane they left for Tanzania on recently would land at a big airport more like what we're accustom to in the United States, but it didn't.
Instead, it landed on a dry, desolate air strip.
While that may have at first seemed like an anticlimactic start to a trip they had high expectations for, experiences they gained during their time in the country far outgrew their initial notion.
Dennis Lundy, Rolan Jensen and Marlin Marckmann went with Growing Hope Globally on a trip Feb. 24-March 6 to Tanzania. Growing Hope Globally is just one mission organization working in that country. It is the ministry that serves as a conduit for the funds these men, and others, raise together each year through their "Fields of Faith" project. Through the soybeans they grow and sell, they've raised over $630,000 for global missions.
Other organizations they worked with while in Tanzania include One World, Mennonite Central Committee and Convoy of Hope.
While they were able to have the fun occasion to experience a faraway place, the main purpose of their trip was to learn from the natives and have the natives learn from them.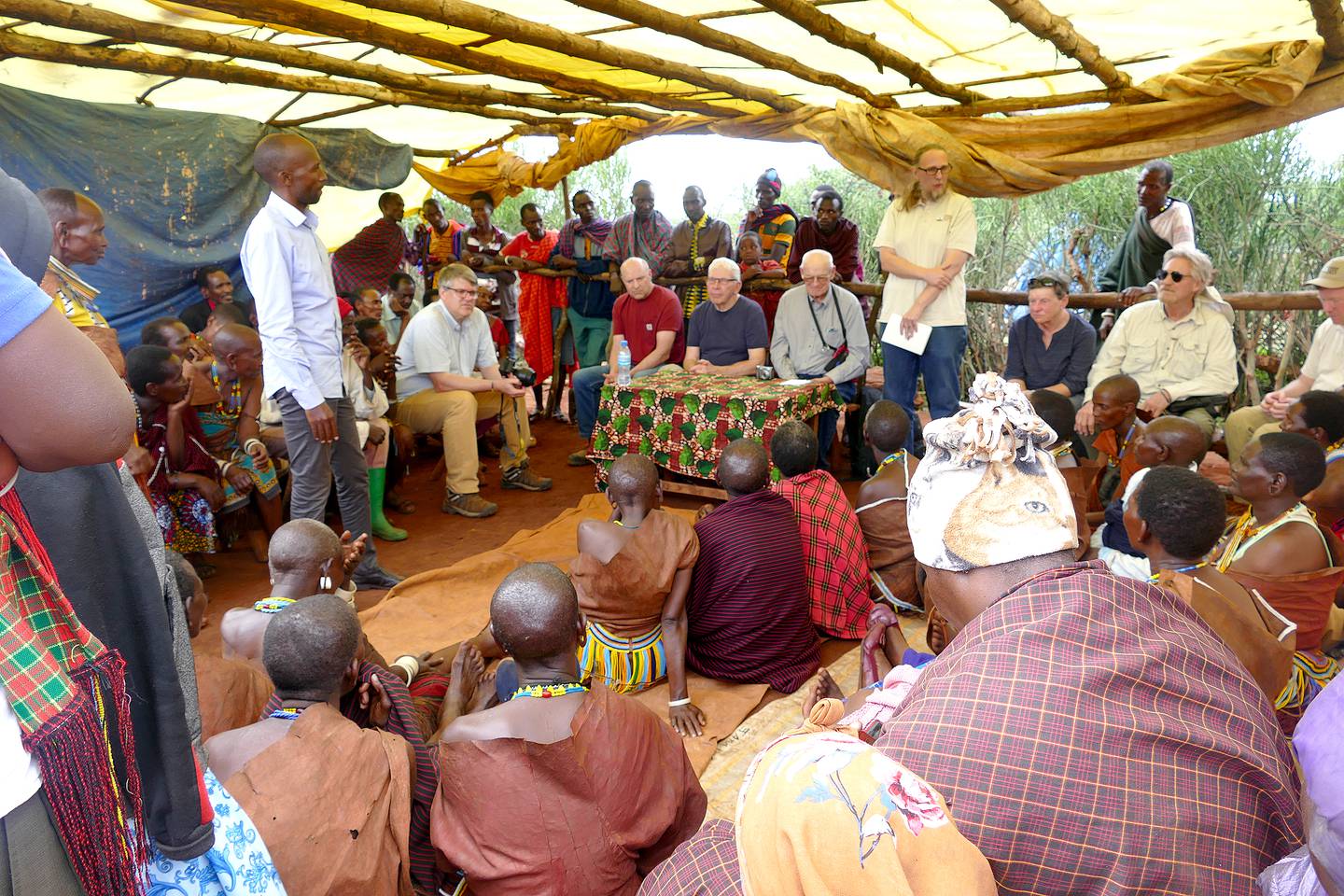 'My gosh, it's dry here'
On a trip to Arusha after they landed, Lundy first thought, "My gosh, it's dry here."
"The first 50 pictures I took are of rocks, dry dirt and dust devils blowing in the distance, going way up," Lundy said. "You see a herd of goats, cattle, with someone herding them, and you're wondering what are they eating. There's nothing there."
They didn't have to go far to encounter people. In fact, there were people everywhere, walking outside, or many rode motorcycles. As they drove into villages, they encountered open front shops because of how warm it gets.
"It was the beginning of rainy season, so it was actually quite cloudy," Marckmann said. They were never uncomfortable because of the heat. As they went along, they found areas that were wetter.
First visits
Spending a few days in Arusha, a sprawling metropolis of 2.3 million people, the men were able to recover from their flight. They attended worship on Sunday at a local church, where there was lots of singing and a coffee/tea time that followed. Some parishioners spoke English, others didn't.
That afternoon, they visited a research farm that was home to chickens, fish, bees, corn and other various plants. Its primary function is to test out plants and animals that may one day be introduced more widely to the area.
Monday Lundy, Marckmann and Jensen went with their crew — they were the only non Growing Hope Global staffers of the eight they traveled with — and trekked to their first official stop of their trip, the town of Haydom. The journey was a 6-hours bumpy bus ride the men likened to riding through a dried up river bed. In their time in this city, they only had electricity for about 12 hours.
"They have rains out there and their roads system, when they get a heavy rain it washes the road out," Marckmann said. "That's how they get around, and you drive how you can drive."
When they pulled up to the farm, women greeted them warmly, singing and dancing. It was at this visit that they were able to walk out into a corn field and see how the Tanzanians have been learning how to grow corn with greater rates of success.
The Americans learned that before, the Tanzanians were doing everything by hand. They were scattering the kernels by tossing it out over the ground. With a new method of African-style precision planting, they increased yields four-fold.
"They started with a rope and knotted it off every 12 to 14 inches, and that's where the next hill of corn was going to go. They put a little manure in it with a couple of kernels," Jensen said. "In the past, they would get three bags of corn out of an acre. After they started using this method, they got three bags for a quarter of an acre. That's a big jump."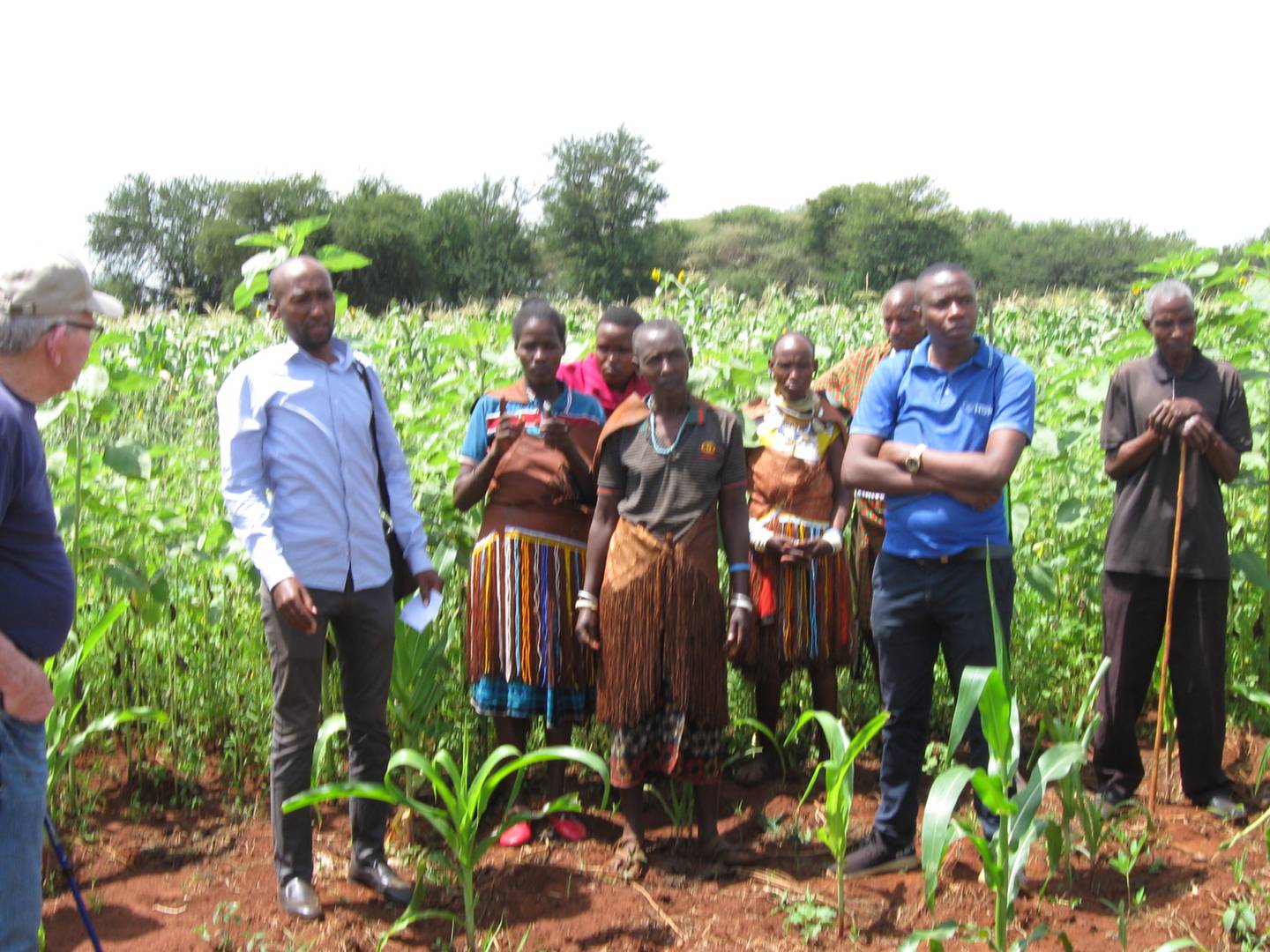 They're also tilling the land less and less on this farm. What they do till, they do by hand with a hoe. They're companion cropping, also able to benefit from those crops, which are usually edible beans or peas.
At this farm, the natives said they were hopeful for a good crop, because the ground was green this year. Last year, they didn't have a crop because of drought.
The Americans noticed on the trip that there were no fences in Tanzania. Instead there were shepherds with each herd of animals.
The need for drinking water
On the second stop of their trip, Lundy, Jensen and Marckmann were able to visit the first village that One World worked with. It was there that they saw the Tanzanians trying to traverse a challenge of very little accessible drinking water. They take a team of oxen and a two-wheel cart with four 50-gallon barrels on it. They go to a water source 4 hours away, then come back with their water and repeat that at least every three days.
To lessen the strain of this, natives started putting tin rooves on their homes with gutters that they could use to more efficiently collect rain water. They collected water in a bigger concrete tank next to their homes.
Empowerment
Education is one of the biggest pieces to helping the Tanzanian people, Lundy said. This area's story mirrors that of American settlers and Native Americans because of how the government pushed these people out of their land. The result is that men turned to alcohol and left the picture in many families. Wives are left to raise the kids and fend for themselves.
The work these mission organizations has done is making a difference, however. Men are coming back into the fold little by little. Kids are back in school. Still, in many cases women are taking the lead in making better, more sustainable decisions.
"Women empowerment is big there because the men aren't doing it there," Lundy said. "The women want to try. It's going to take generations, but it's going in the right direction."
During another stop, the Americans were at an event where they natives were able to come from everywhere to converse with them. It was at this stop that Lundy, Jensen and Marckmann felt like they were celebrities. All throughout the trip, their skilled interpreter helped them a lot.
'I want to help'
After returning, there's lots of lessons these men have been pondering. All three of them are at farms that are at least three generations old. They have all the modern advances of American farming. While none of these things are bad, they felt blessed to be able to use what they've been given to help those across the pond who haven't been given the same opportunities they have.
"God didn't give me what I have to just enrich myself and bathe in it," Lundy said. "If there's other people that need it, I want to help. It's making a difference. That's one takeaway, that we are indirectly doing a lot of good over there."