In a situation where they knew they will bring their entire roster back next season, Nodaway Valley girls basketball pushed themselves this season with a challenging non-conference slate comprised of mostly state-ranked teams. They believe they were better for doing that.
The Wolverines finished 18-5, including an unblemished 13-0 through conference play, and were on the brink of a regional final berth before their close loss to Treynor on the road in the regional semifinals. As of last Friday, they were third in Class 2A in scoring per game at 64.4. They're fourth in rebounds per game (41.3) and lead in blocks per game (9.3). They were second in shots made and first in shot attempts.
"I think that with all of those tough situations we put ourselves in, you can't replicate that in practice," NV head coach Brian Eisbach said. "It made us as prepared as we could be for Treynor in the end. We ran out of gas at the end and their crowd got crazy, but we didn't just roll over. We're excited for the future."
Junior guard Lindsey Davis and freshman guard Izzy Eisbach were named all-conference first team by the Pride of Iowa Conference. Junior forward Jorja Holliday is an honorable mention on those lists.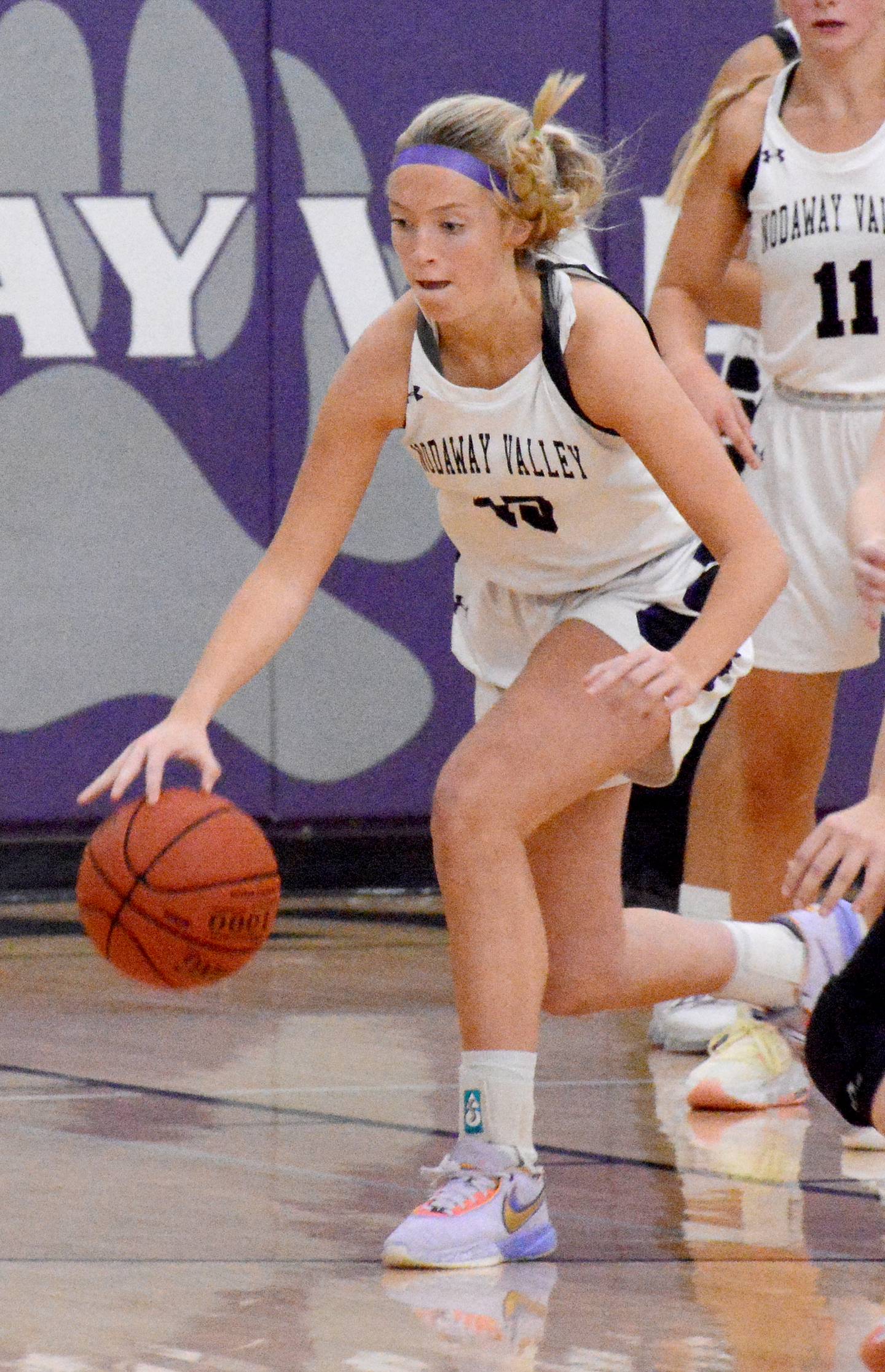 Davis and Eisbach were also named all-district by the Iowa Girls Coaches Association and All-Class 2A, Region 7 by the region's coaches, respectively.
Davis was the only unanimous first team all-conference player this year. She and Eisbach are joined on the first team by Lenox's Sadie Cox, Central Decatur's Layni Masters and Martensdale-St. Marys' Brynnly and Campbell German.
Second team selections are Mount Ayr's Tegan Streit, Southeast Warren's Alivia Ruble, East Union's Noelle McKnight, Martensdale-St. Marys' Sophia Shannon, Lenox's Zoey Reed and Mount Ayr's Breya Nickel.
Honorable Mention players are Bedford's Bridgett Murphy, Central Decatur's Harrisen Bevan, East Union's Sidney Staver, Lenox's Cadence Douglas, Martensdale-St. Marys' Carolyn Amphar, Mount Ayr's Tabby Henle, Southeast Valley's Maggie Haer and Wayne's Clara O'Brien.
Davis averaged 25.7 points, 5.5 rebounds, 3.5 assists and 4.7 steals per game. Her 591 points on the season finishes tops in Class 2A. Her field goal attempts (479) and makes (221) are also leading stats. Davis led the Wolverines with 60 3-pointers on the season.
Eisbach canned 44 3-pointers and averaged 14.7 points, 5.8 rebounds. 4.4 assists and 4 steals per game. She finished second in the state among freshmen in steals in a game and third in the state among freshmen in assists per game. She leads several statistical categories among Class 2A freshmen.
"Lindsey can score in many different ways. Her defense often leads to offense, and if it's not for her it's for a teammate. The cool thing about Izzy and Lindsey is that they compliment each other very well. Neither one of them is just a shooter or just a driver, they also involve their teammates," Eisbach said. "I think they were first and second on the team in assists."
Holliday's 296 rebounds in the season finishes second among Class 2A girls. She had 111 offensive boards, which was far and away the lead for the Wolverines. When she wasn't contesting shots on the defensive end of the floor she was right there on the offensive end, getting second and third chance opportunities for herself or her teammates.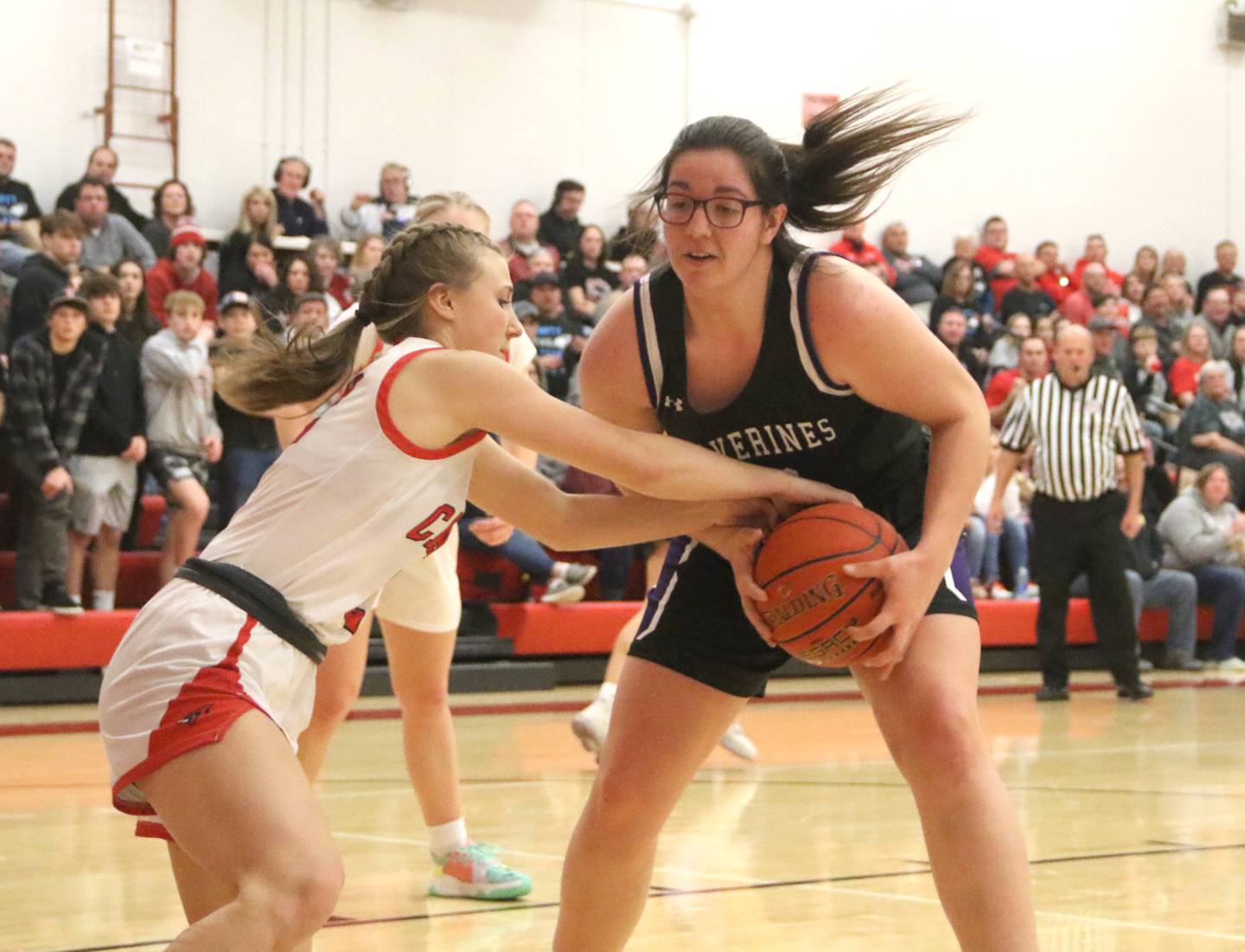 "With Jorja, there's not much to say other than she worked her butt off," Eisbach said. "She had a ton of rebounds and did a lot of really good things for us."
The Wolverines will bring back a senior class of six next season. In the same way they challenged themselves with a tough non-conference schedule this season, they plan to do the same again next year.
Eisbach said he wished all five of his starters could receive postseason honors.
"What I would tell you about all three of these girls is that they can't do what they do without the other players on the floor, and they'd be the first to tell you that. That's why they're fun kids to coach," Eisbach said. "They're good players at what they do individually but they understand that they need everybody else to make it go."