It's not at all as if they haven't already, but Nodaway Valley's girls' basketball team knows full well that now is the time to hunker down and lock in their level of focus. The stretch run of the regular season has arrived.
The Wolverines were 12-4 coming into this week overall and are unblemished at 9-0 in the Pride of Iowa Conference.
Last week, Nodaway Valley defeated Southwest Valley 81-37 and Central Decatur 57-44.
"It's a big ask to ask our kids to play 13 of 21 games on the road, four of which are against ranked teams," Nodaway Valley head coach Brian Eisbach said. "It was a tale of two games, but two different levels of teams, to be fair."
The Wolverines outscored Central Decatur 18-6 in the third quarter to create a little distance in that game after they held three-point leads at the end of the first and second quarters.
Southwest Valley fell victim to Nodaway Valley's suffocating defensive pressure in that game. Junior forward Jorja Holliday had five steals and junior Lindsey Davis added eight.
Davis scored 33 against the Timberwolves; freshman guard Izzy Eisbach added 18 and junior Annika Nelson 10. Mackenzie Fast paced Southwest Valley with 10.
Holliday had a monster game against Central Decatur with 18 rebounds to go with her 10 points. Davis scored 19 and Eisbach 16 against the Cardinals. Central Decatur's Aniston Jones scored 14 and Harrison Bevans added 10.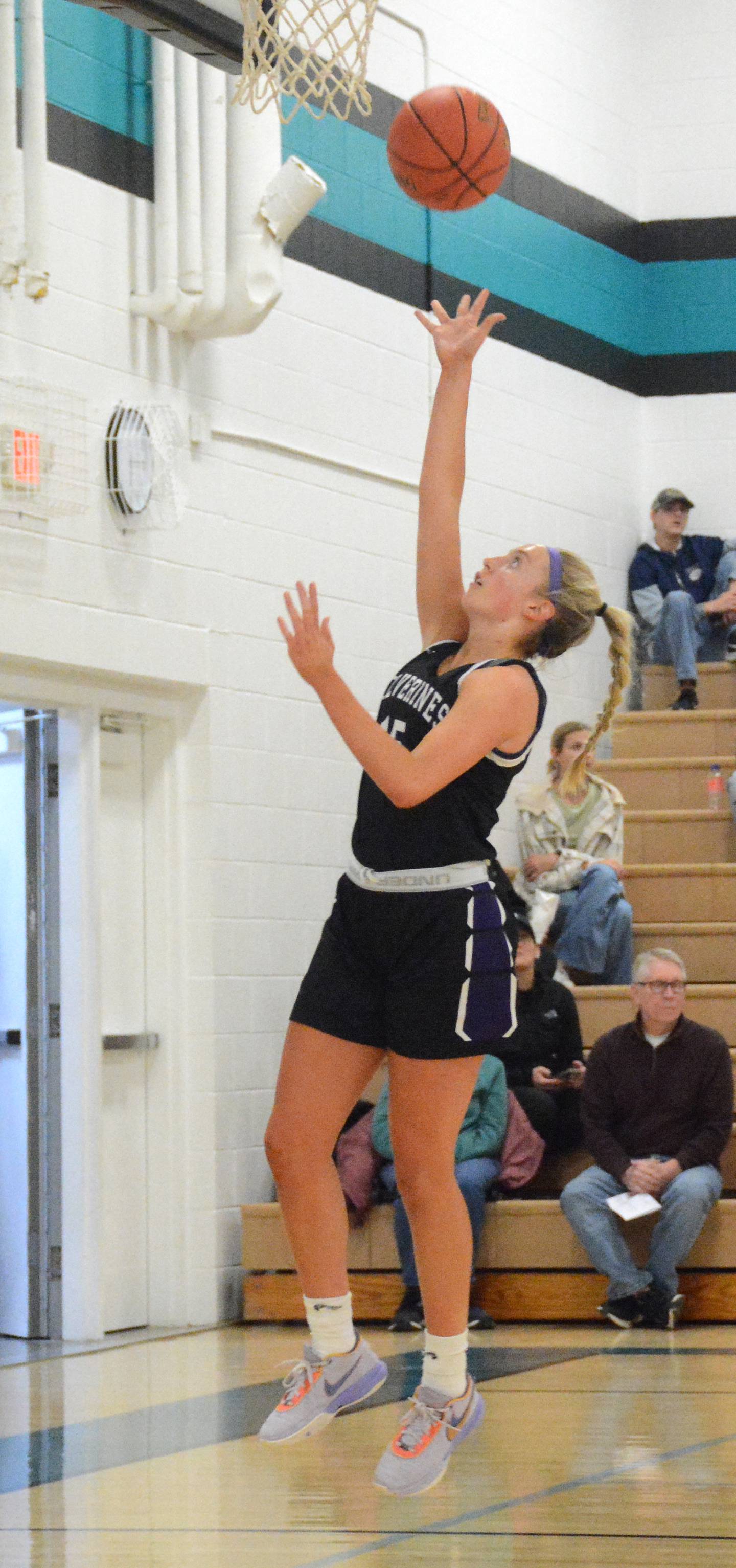 Holliday won the award for doing the little things well against Central Decatur, while sophomore guard Liv Laughery hit two valuable 3-pointers in a second-quarter scoring run against Southwest Valley to win the award that night. Maddie Weston won the Impact Performer of the Week Award for the program.
"I was really excited because I haven't been shooting a lot, and I think those were some of my first 3s of the season," Laughery said. "It really built my confidence."
As the Wolverines continue, they're preaching that all hands on deck will have to continue to step up when called upon. They were set to host Bedford Tuesday, Jan. 24, then Southeast Warren Friday, Jan. 27. Saturday, they travel to non-conference Earlham. They close with a game Jan. 31 at home against Mount Ayr and a road trip Feb. 3 to Lenox.
"Anytime you play that many away games against that good of competition — we have four losses at this stage in the game and we had four all last season — providing we don't win the state championship, we'll finish with at least five losses," Eisbach said. "It's about getting our girls to believe that's not a detriment. They've all made us better, and that's the focus. We just want to keep focusing on doing the little things well."