Jazz Christensen led the way with a sixth place finish in the Class B division of the Creston meet Tuesday, Sept. 20 for the Nodaway Valley girls cross country squad. She was 12th overall between both classes.
Christensen has been steady as the Wolverines' top runner this season.
Her time in Creston was 24:05.70. She feels this year has been a stronger year for her than last year was.
"I'm definitely going up hills a lot easier," Christensen said. "They've told us to get our chest up and use our arms and legs to get up the hills. You've gotta keep your head up and keep running your best."
Christensen said that although the heat may have been intimidating for some, the Creston meet went well for her.
"It's just very hilly," Christensen said. Her goal is to be down into the 21-minute range by the season's end.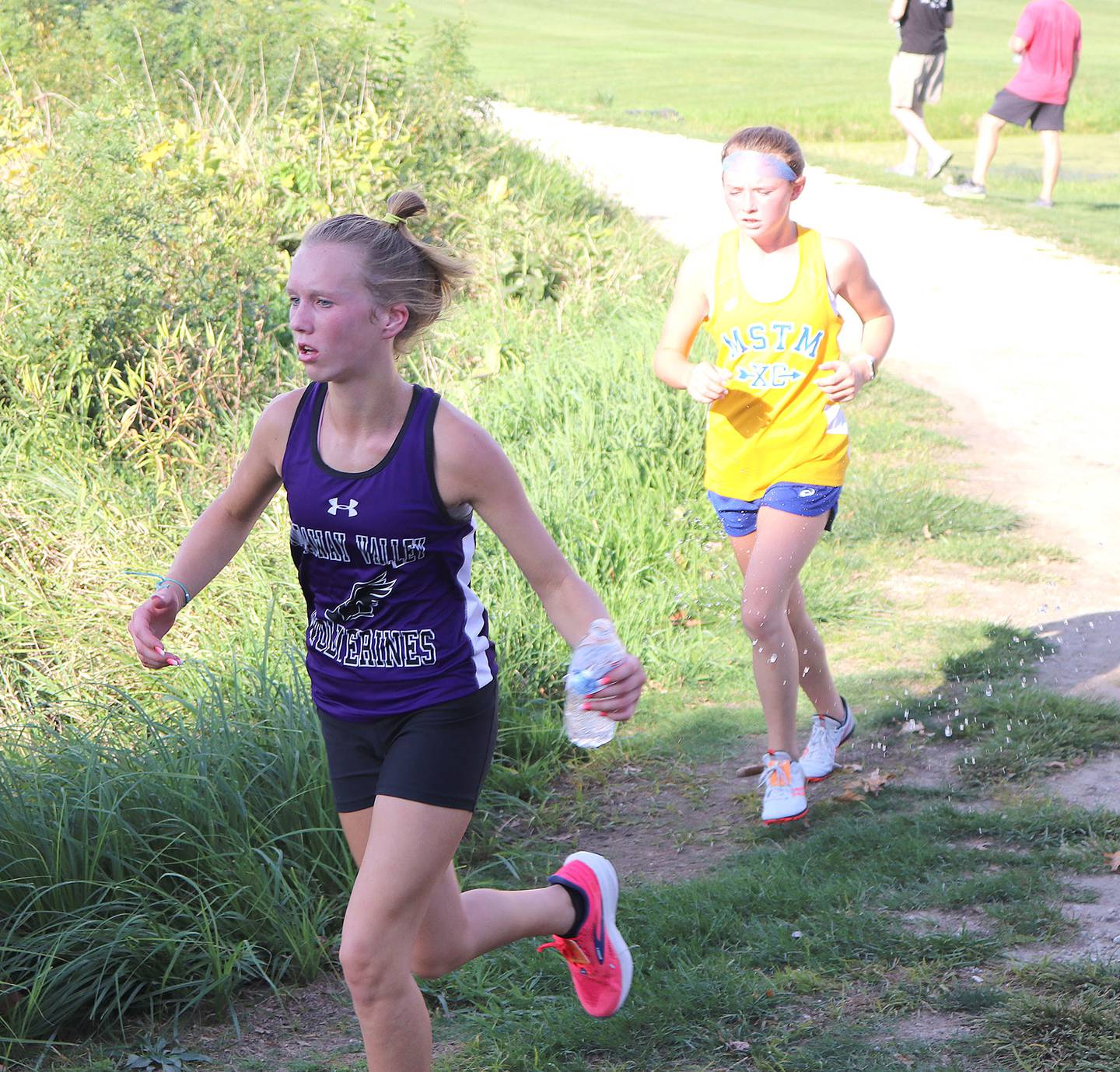 Annika Nelson was 42nd overall and Lily Day 44th. They were 17th and 18th in the division, respectively. Nelson ran a 30:11.00 and Day a 30:25.00.
Hope Kading was 21st in Class B and 53rd among all runners, finishing in 32:26.00.
As one of the team's seniors, Kading is very pleased with how her season has gone.
"My times from last year to this year, I'm about a minute faster in every meet, which I think is good," said Kading. "This is my sixth year of cross country. You learn the courses, where you should go faster, and especially where all the hills are. I've been doing a lot better learning where to speed up and when to [pace myself]."
Kading says each of her teammates have goals they're aiming to meet. She feels they are in good position to meet their goals going forward.
"We should hit them by the end of the season," Kading said. "We're doing more speed workouts and adding more miles as we go. Having a smaller group, it's easier to connect, do stretches and run together."
The Wolverines run in a meet at Wartburg College Saturday, Oct. 1. On Monday, Oct. 3 they host their own meet at Greenfield Country Club beginning at 4:30 p.m.
Teams slated to compete on the girls side of the Wolverines' home meet include AHSTW, Bedford, East Union, Interstate 35, Lenox, Martesndale-St. Marys, Orient-Macksburg, Panorama, Pleasantville, Southeast Warren, Southwest Valley, Tri-Center, Van Meter and Woodward-Granger.