Nodaway Valley's cross country teams are hitting their marks for where they'd like to be at the midpoint of the season.
The Wolverines ran well enough to beat Earlham, a team that was once ranked in Class 1A, and an area rival.
Senior runner Doug Berg ran a 17:53.80, the fastest time of any Class B runner. Overall, he was fifth on the day.
"I'm not quite where I want to be. My end goal for the year is to be under 16:30. I haven't had a good opportunity to run that yet, but this Saturday at Wartburg, it's supposed to be good weather and it's a great course to P.R. on," Berg said. "I just try and take them one race at a time. I see how I feel that day, go with the flow and try not to let many people pass me, move up in the race."
Creston's race came on a very hot day and a hilly course. Glenwood junior Bryant Keller was the overall winner in 16:58.
"Right off the gun, the first half-mile, I was in about 10th overall. I remember going by [Coach Darrell Burmeister] at the first mile. He said I was in 10th or something, so I just kept moving up," Berg said.
Junior runner Malachi Broers has consistently been the team's second runner this year. He was 15th overall and third in Class B at Creston, finishing in 18:57.70. He has been training up with Berg this year. He said he has begun to see the rewards that come with that.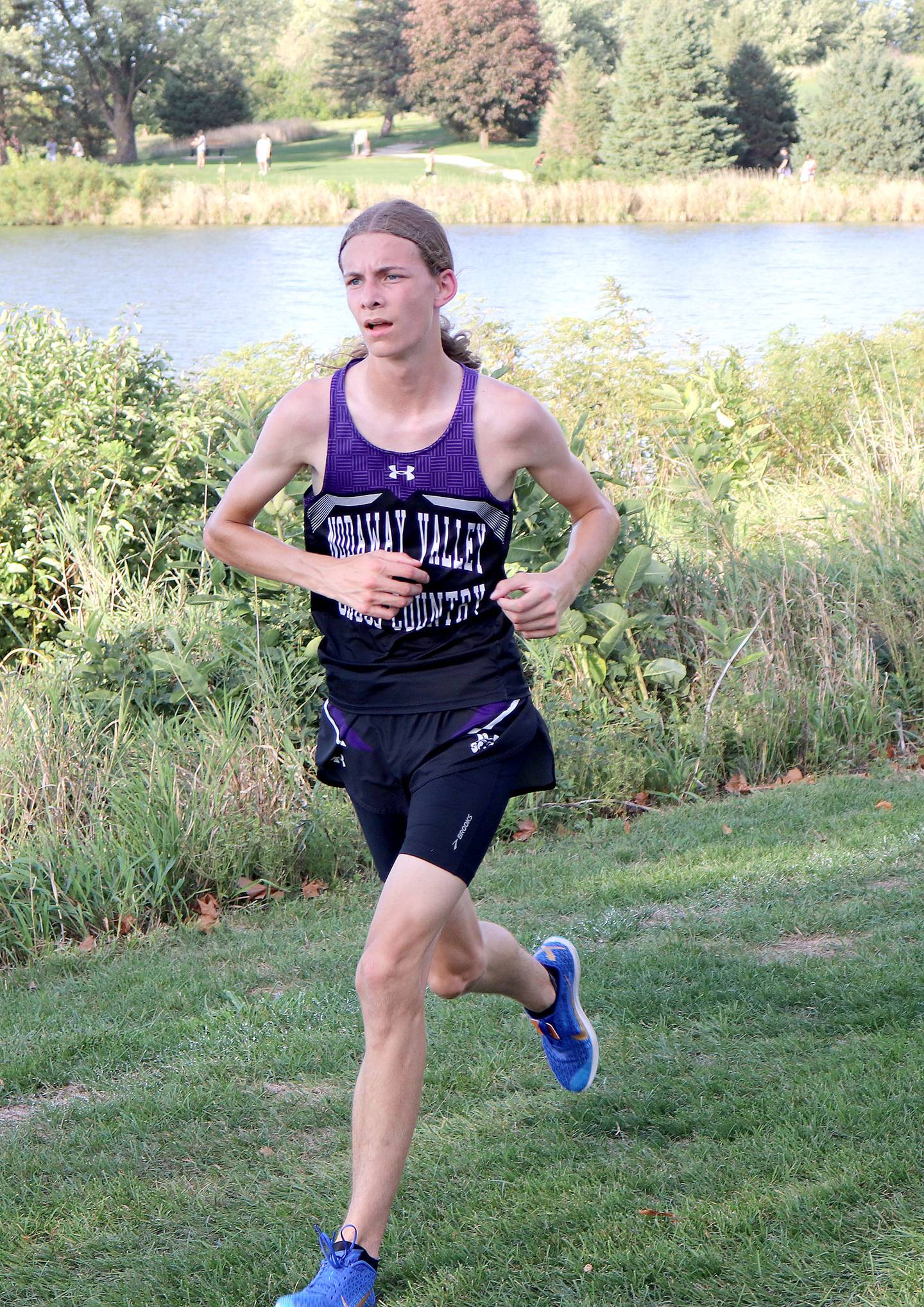 "He's pushed me a lot to improve my times, so I credit a lot of that to Doug," Broers said. "It's definitely hard work to do that. He's certainly faster than I am. By the first meet I had improvement from last season, but the second meet at Winterset, my time stayed the same where everyone else's went down because it is a tough meet. I think that's where I started to see myself take off and I've been running faster."
Burmeister and the rest of the runners would say junior Tyler Cooper is the most improved runner on the team. He ran a 20:35.70 to earn a medal in eighth place in Class B and 36th overall. Senior runner Ben Piearson was 15th in Class B and 59th overall (22:00.60). Jack Jensen was 26th within the division and 93rd overall (26:21.50).
Nodaway Valley runs Saturday, Oct. 1 at Wartburg College in Waverly and hosts its home invitational 4:30 p.m. Monday, Oct. 3 at the Greenfield Country Club.
Teams slated to compete in the Wolverines' home meet include AHSTW, Bedford, East Union, Interstate 35, Lenox, Martesndale-St. Marys, Orient-Macksburg, Panorama, Pleasantville, Southeast Warren, Southwest Valley, Tri-Center, Van Meter and Woodward-Granger.