Through the first hurdle, second hurdle, third hurdle, and so on, anticipation built as Nodaway Valley senior Maddax DeVault and her teammate, junior Madison Fry, duked it out with a talented field of runners in the 100-meter hurdles finals at Drake Stadium Saturday, May 21 during the state track meet.
In the end, DeVault, a Simpson College basketball commit, had what was needed to run a sizzling personal and school record 14.69 seconds race to win a state championship, which is Nodaway Valley's first by a female track athlete.
Fry medaled fourth in the race, finishing in 15.23 seconds, a personal record for her.
"It's kind of crazy," DeVault said. "Finishing fifth here a year ago, I knew I could do better than that, and I didn't run my best here last year either. This year I really wanted to come in focused and make sure I didn't have any regrets or think I could've given more. This means everything to me. This is the last race of my high school career, so it means the world."
DeVault felt good about her start out of the blocks against a balanced field that included three seniors, three juniors and two sophomores.
"There were quite a few girls who were right there to the first hurdle. I didn't really see anybody there beside me at the second hurdle," DeVault said. "I knew I had to keep pushing because they were right behind me. I just wanted to finish strong through all 10 hurdles. Sometimes in meets those first five, six, seven hurdles feel really strong and the last two or three feel kind of iffy and you're kind of reaching for them, but today I had a mission and went out and did it."
DeVault ran 45-hundredths of a second faster in the finals than she did in Friday's prelims.
Fry was 66-hundredths faster in the finals. She overcame coming into the finals as the eighth-fastest hurdler and was pleased to finish where she did and come away with a state medal.
"I knew that coming in eighth I wasn't in a very good lane — I was in lane eight — but my goal was just to PR and try to not get eighth. I usually get to the first hurdle pretty fast. I just knew I needed to keep going and beat the girl next to me."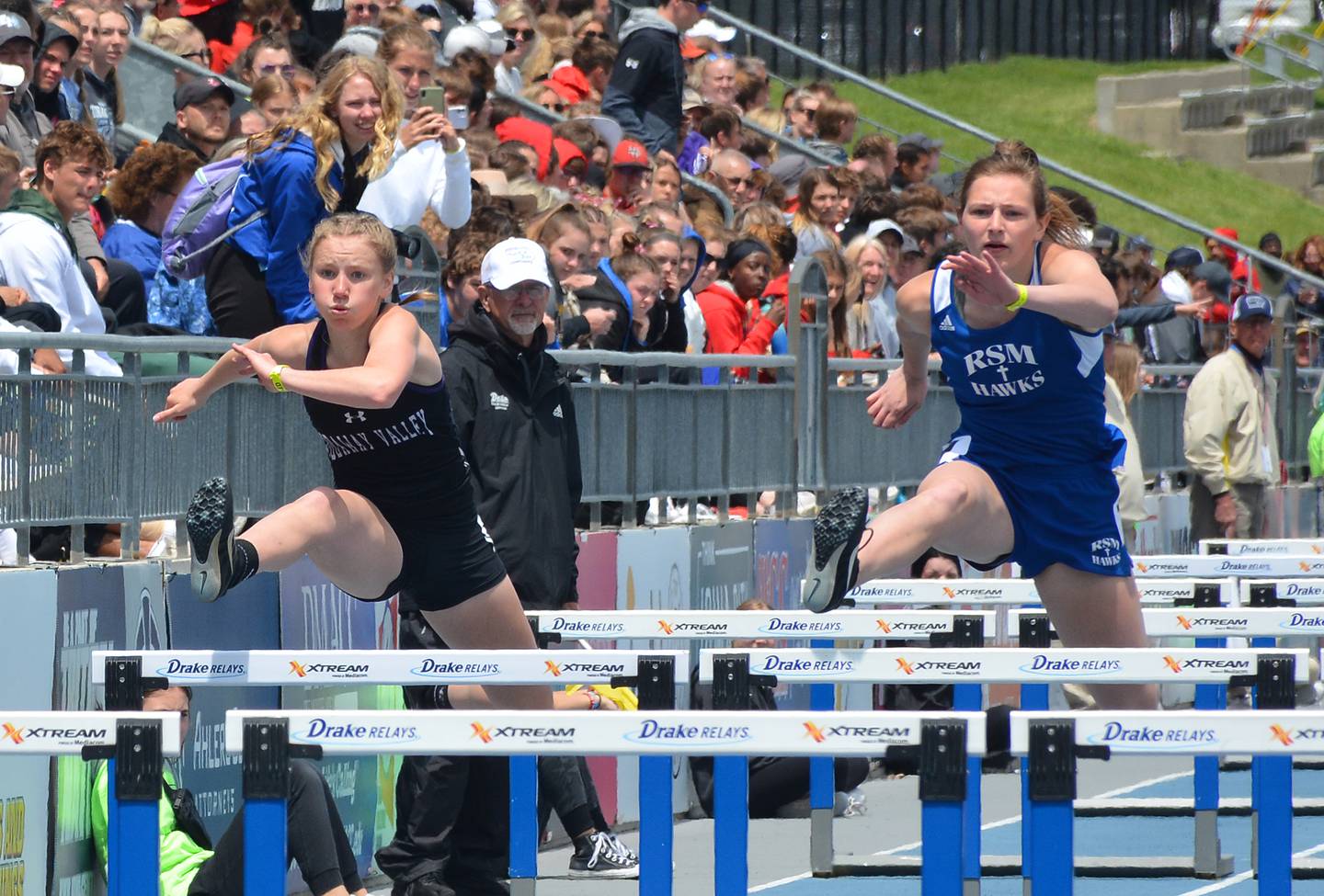 Five medals in all
DeVault and Fry gleaned two of NV's five state medals from the weekend in that hurdles race. The Wolverines scored 30 points, finishing sixth in the team race. Receiving trophies as top-3 teams were Nashua-Plainfield (59), Madrid (54) and Oakland Riverside (40).
DeVault took silver in the 400-meter hurdles on Friday, running a 1:06.32. She came in seeded fifth and ran 1:06.97 at the state-qualifying meet eight days earlier.
In relays, the Wolverines' 4x200-meter relay was third, with junior Abby Engles, Fry, sophomore Emma Lundy and sophomore Annika Nelson. They ran a 1:47.46.
"My biggest goal out of the blocks is to catch lane eight and get Maddie the baton first," Engles said. "I always shorten her so she doesn't run a full 200, so I always feel I'm running so far, but I know I need to get the baton to her. Blocks are a big part of it for me. We ran this same race last year at state and got second, and I started that race, so I wasn't as nervous."
Engles said that she liked the way Fry ran her stretch of the race, and Lundy set Nelson up in good position to finish well, Nelson said.
"Abby always starts out strong, Maddie just keeps that lead, Emma gets out to an even greater lead and she hands it off to me," Nelson said. "It's super cool and super fun [to get a state medal in this] and I can't wait to be back next year. It's just really fun we're here."
Nodaway Valley's other relay that medaled was its 4x100-meter relay. With freshman Maddie Weston, Engles, Lundy and Fry, the quartet ran a 51.73 at the state-qualifying meet, putting them as the seventh-fastest coming into state.
The Wolverines ran a 51.29, which was a season-best, in the prelims on Friday. They clocked in at 52.09 seconds in the finals, placing eighth. Madrid won the event in 49.12 seconds.
Weston kicked the event off out of the blocks in lane two.
"My main goal was trying to beat the girl in lane three. I was mainly trying to get to Abby before the other girls," Weston said. "I thought my handoff to Abby was really good. I have a lot of trust in Abby, I never think she's gonna drop it. I felt good about it."
Engles then set up Lundy, who set up Fry for the anchor leg.
"Abby comes in super fast and I don't always get out the quickest, so that was something we've had to practice a lot. We just have to be patient with each other and know the other one's coming," Lundy said. "Our goal is always to hand off in first, so that's what I was thinking when I was running too."
To earn five medals was an act of overcoming adversity for the Wolverines. On Thursday, the shuttle hurdle relay with Fry, freshman Olivia Laughery, Nelson and DeVault ran a strong time of 1:07.39, however they were disqualified because a runner false-started on an exchange. That was a tough pill for the Wolverines to swallow and overcome.
"Considering how it started, I'm really pleased with how this ended. Obviously our expectations were a lot higher, but things happen in life and it's a good life lesson for a lot of these girls," Nodaway Valley head coach Brett Welsch said. "Thirty points at state, that's really good. We're happy with how things ended up. There's a lot of positives."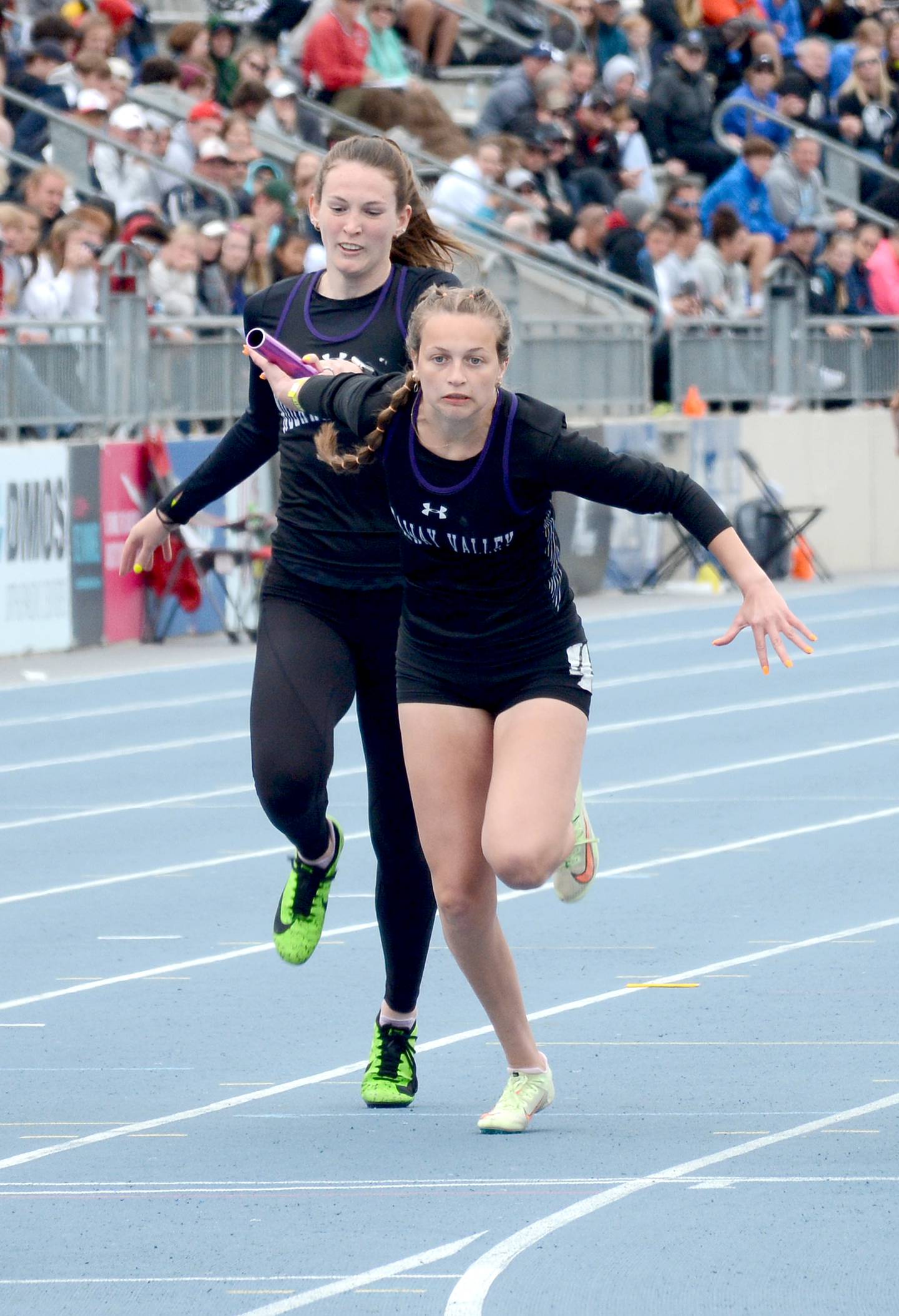 Finishing at state
Several other events missed out on medals but had a solid showing, finishing their seasons at the state track meet.
Sophomore thrower Jorja Holliday finished just outside the medals, placing ninth in the discus competition with a throw of 109 feet, 9 inches on Friday. Her personal best this year was 114 feet, 10 inches.
First thing Saturday morning, the Wolverines took 10th in the sprint medley, with Weston, Lundy, Nelson and Engles. They ran a 1:54.87.
On Friday, the 4x400-meter quartet of Engles, freshman Alena Rectenbaugh, Lundy and Nelson ran a 4:16.35 to finish 12th.
DeVault was 13th in the 400-meter dash, running a 1:01.45.
"When you're at the state meet, hundredths of a second matter. You've just gotta be really perfect when you come up to the state meet. I believe you've gotta make a little of your own luck. We fell short in a few things this time, but we'll come up here next year ready to go, maybe we'll exceed expectations," Welsch said. "I'm super proud of the girls. They worked hard all year. This wasn't our weekend in some of those races, but I can't fault the effort. I'm not too worried, we'll be back here next year. We've got a lot of talent. Abby and Maddie Fry, they're going to be the seniors next year. They're going to have to be ready to roll."