Nodaway Valley pieced together several solid performances at a state-qualifying meet for Class 1A track and field programs Thursday, May 12 at Earlham, and as a result, has 12 entries into this Thursday through Saturday's state track meet at Drake Stadium in Des Moines.
The Wolverines were first in the team race on the girls' side with 116 points, beating Madrid by four, only after the dust cleared following the final race of the night.
Ten of Nodaway Valley's entries are on the girls' side.
On the boys' side, distance runner Doug Berg qualified for state in the 1,600-meter and 3,200-meter runs. He ran a 4:43.01 in the former and a 10:38.61 in the latter.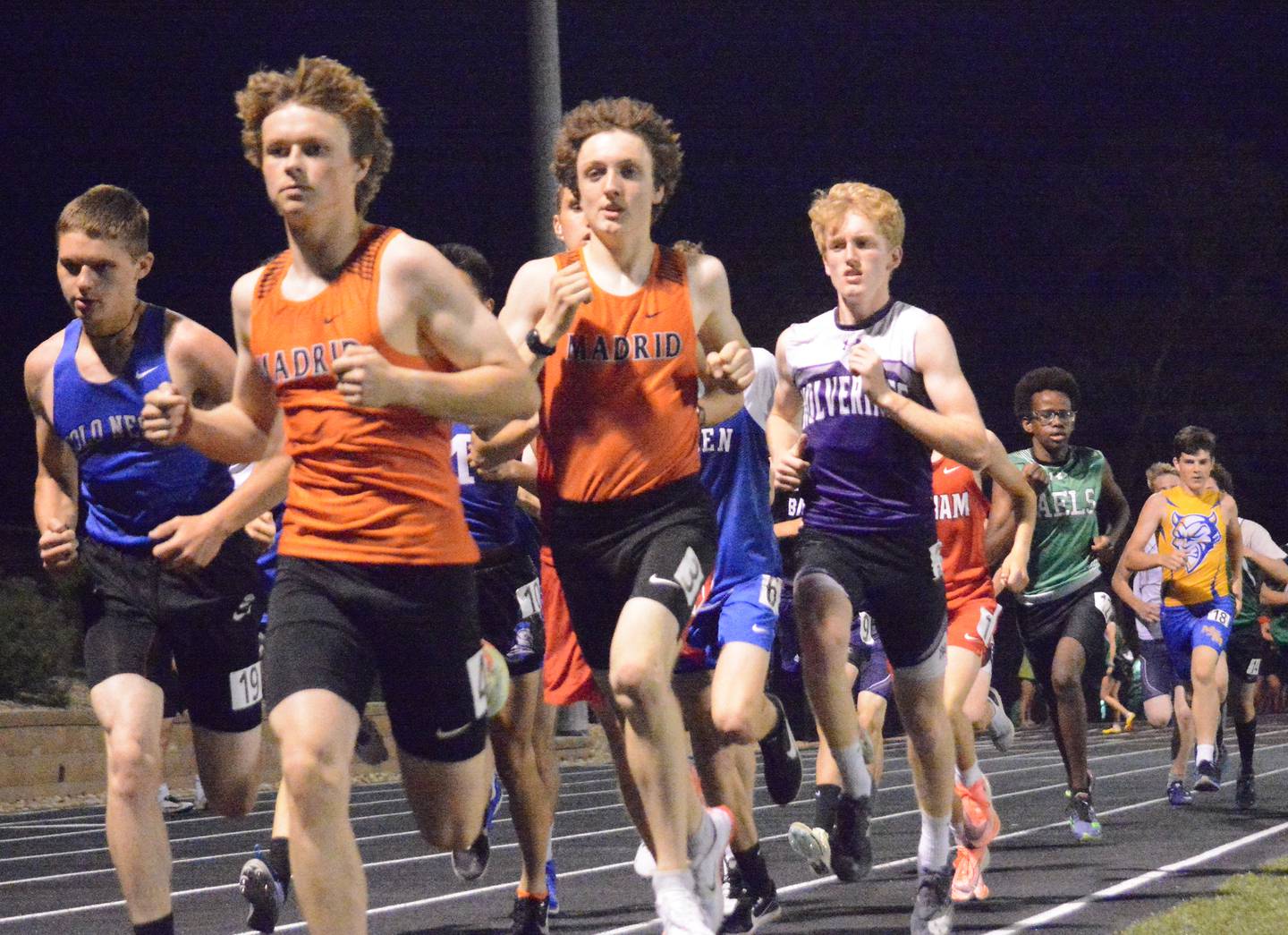 "It feels good to achieve your goals. I've been working hard since December to get it, so it's just satisfying to do it. You do it day-by-day, trying to hit every workout how you need to hit it," Berg said. "I'm ranked 10th in the 1,600 and 14th in the two-mile, so I'm looking to place top-8 in both of those. I felt great running the mile [at Earlham]. Coach [Darrell Burmeister] had times for me to hit on every lap, so on every lap I just had to make sure I was on pace. The [3,200] was a brutal race. Obviously my time was slow, but so was everybody else's. You pretty much finish that race and get through it."
Back on the girls' side, Nodaway Valley's shuttle hurdle relay, with Madison Fry, Olivia Laughery, Annika Nelson and Maddax DeVault, set a new school record, running a 1:08.20. The 4x400-meter team of Abby Engles, Alena Rectenbaugh, Emma Lundy and Nelson, ran a school record time of 4:14.22. Both of these relays qualified.
Other relays qualifying were Engles, Fry, Lundy and Nelson in the 4x200-meter. They ran a season-best 1:47.76. The sprint medley of Maddie Weston, Lundy, Nelson and Engles qualified with a time of 1:55.57. The 4x100-meter quartet of Weston, Engles, Lundy and Fry are going to state after running a 51.73 in Earlham.
As an upperclassman who is on three of the five relays going to state, Fry has been pleased with the efforts of her teammates to get this far.
"It's pretty exciting. We've been working on these relays the whole year," Fry said. "We haven't really changed anything. We've focused on handoffs and have really nailed down on those relays."
Individual girls events qualifying for state were DeVault (15.06) and Fry (16.14) in the 100-meter hurdles, DeVault in the 400-meter hurdles (1:06.97), DeVault in the 400-meter dash (1:00.87) and Jorja Holliday in the discus (108 feet, 6 inches).
"I'm probably most excited about the 100 hurdles. I finished fifth last year at state. I think this year I have a bigger goal and can do really well, so I'm excited to see how that goes," DeVault said, adding she's excited to get to run that race with Fry at state. They both hope to make the finals. "She really did push me through those first couple of hurdles. I hope we can both make it to the finals and compete against each other there."
Holliday likes how things have come together for her discus throw late in the season. She was also on the cusp of qualifying in the shot put, but narrowly missed it.
"I've really just learned to relax this year and push myself," Holliday said. "Coach [Seth] Comly has really helped me this year in finding my groove. I was only off by a couple feet last year, so it's exciting to make it this year. You have to get your hips right and make sure you release it right, otherwise it just doesn't go anywhere."