Area seniors and their families observed a rite of passage Sunday, May 15, as Nodaway Valley and Orient-Macksburg turned the page to another life chapter by holding commencement exercises.
Nodaway Valley's 47 seniors paraded into their school's gym, the ladies in gray cap and gowns and the gentlemen in purple.
Orient-Macksburg's class of five celebrated a short time later in Orient, the ladies dressed in white and the gentlemen in red.
Twins Caelen and Maddax DeVault were named Nodaway Valley's valedictorian and salutatorian, respectively. It is thought to be the first time in school history that siblings have held the top two spots in a class.
"I'm really proud of us," said Maddax prior to commencement. "I think it shows how well our parents raised us, that we can excel in academics and other areas of life."
Caelen said that naturally it was a big competition for who would be valedictorian between he and Maddax.
"We were able to put the work in and be as successful as we could academically, but since we're both athletes, it's about balancing academics and every other aspect of our lives," Caelen said.
Four students graduated magna cum laude, with a grade point average of 3.75 to 3.89, including Elliot Cooney, Justice Cunningham, Cadence Firch and Nathan Russell.
Both DeVaults graduated summa cum laude, with grade point averages of 3.9 or above.
Members of National Honor Society that graduated were Ethan Blomme, Cooney, Cunningham, Whitney Lamb and Russell.
Receiving red cords for involvement in the Red Cross Bloodmobiles were Firch, Lamb and Kyrin Young.
Receiving silver cords for involvement in community service were Madison Carstens, both DeVaults, Olivia Funke, Terrin Gettler, Lamb and Young.
Funke amassed the most silver cord hours of her class. This is the fourth year Nodaway Valley has offered silver cord.
"My biggest thing I did was worked for Wesley Woods in Indianola. For one week, I worked with people with special needs. I helped them throughout the week with whatever they needed. The other week I did [maintenance] and did whatever they asked around camp. We set up the archery course, one time we cleaned out a pond," Funke said. "I'm so happy to earn my silver cord and help that community with what they needed."
O-M's valedictorian was Janesa Tonnberg, it's salutatorian was Addyson Kerr.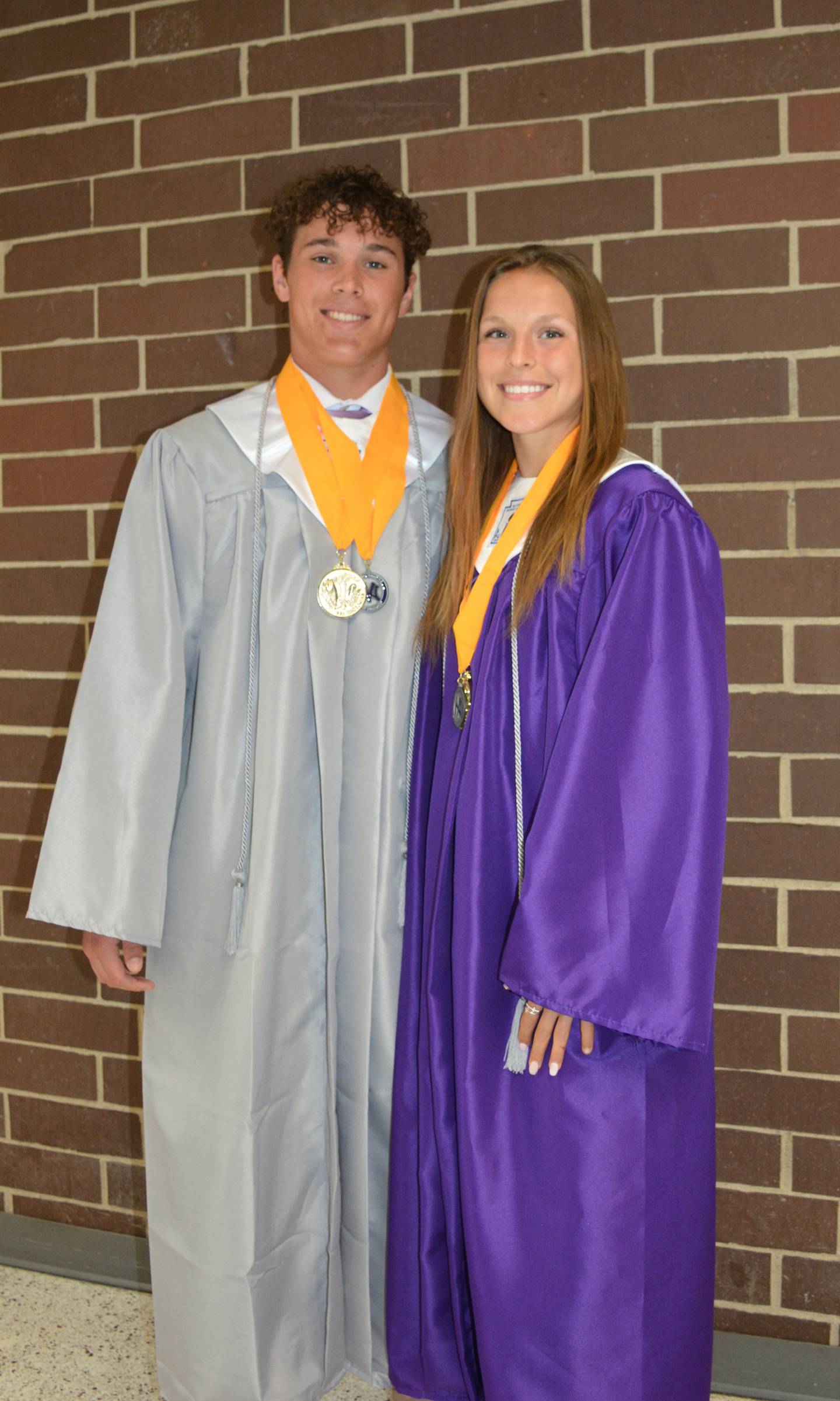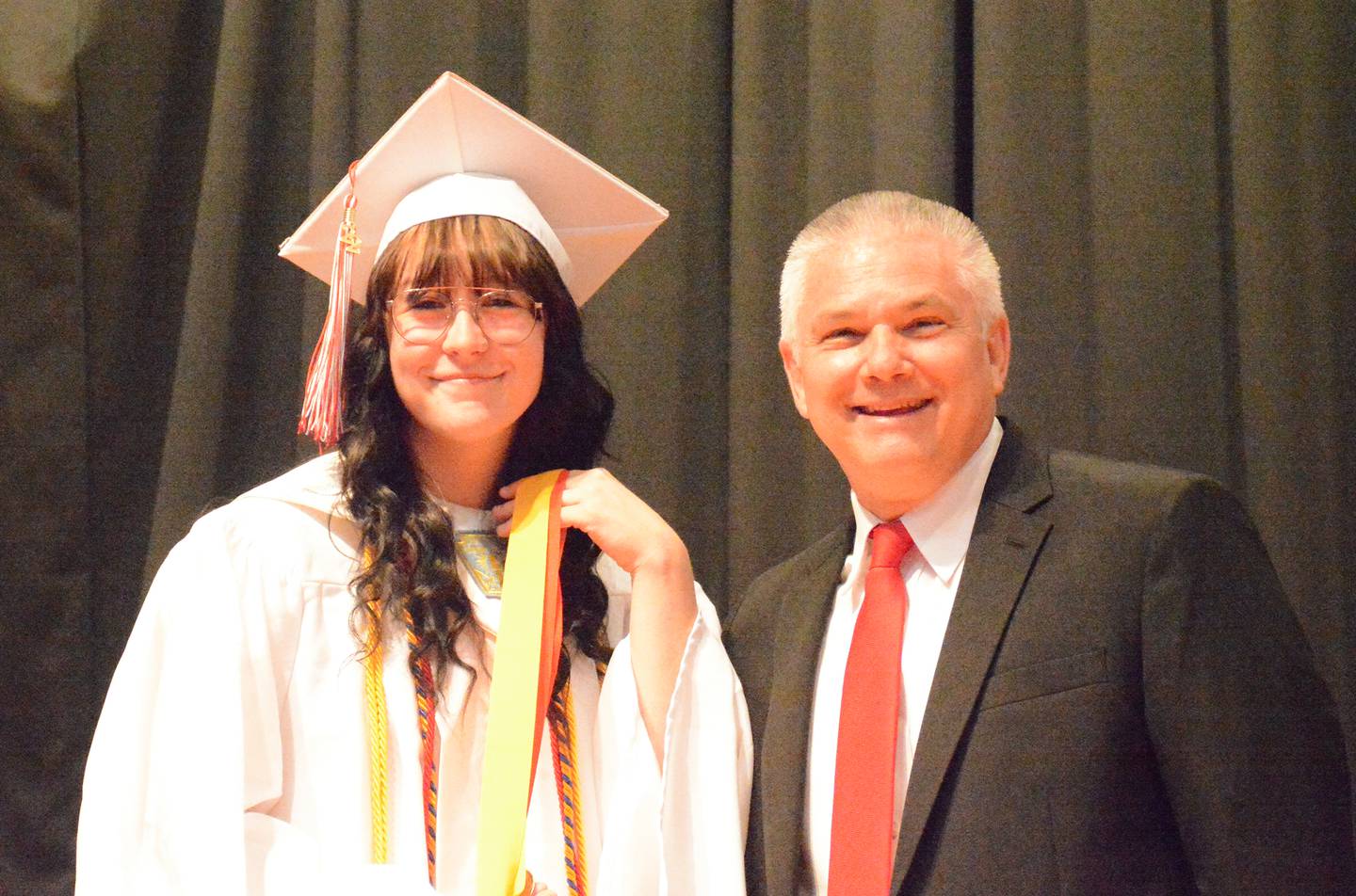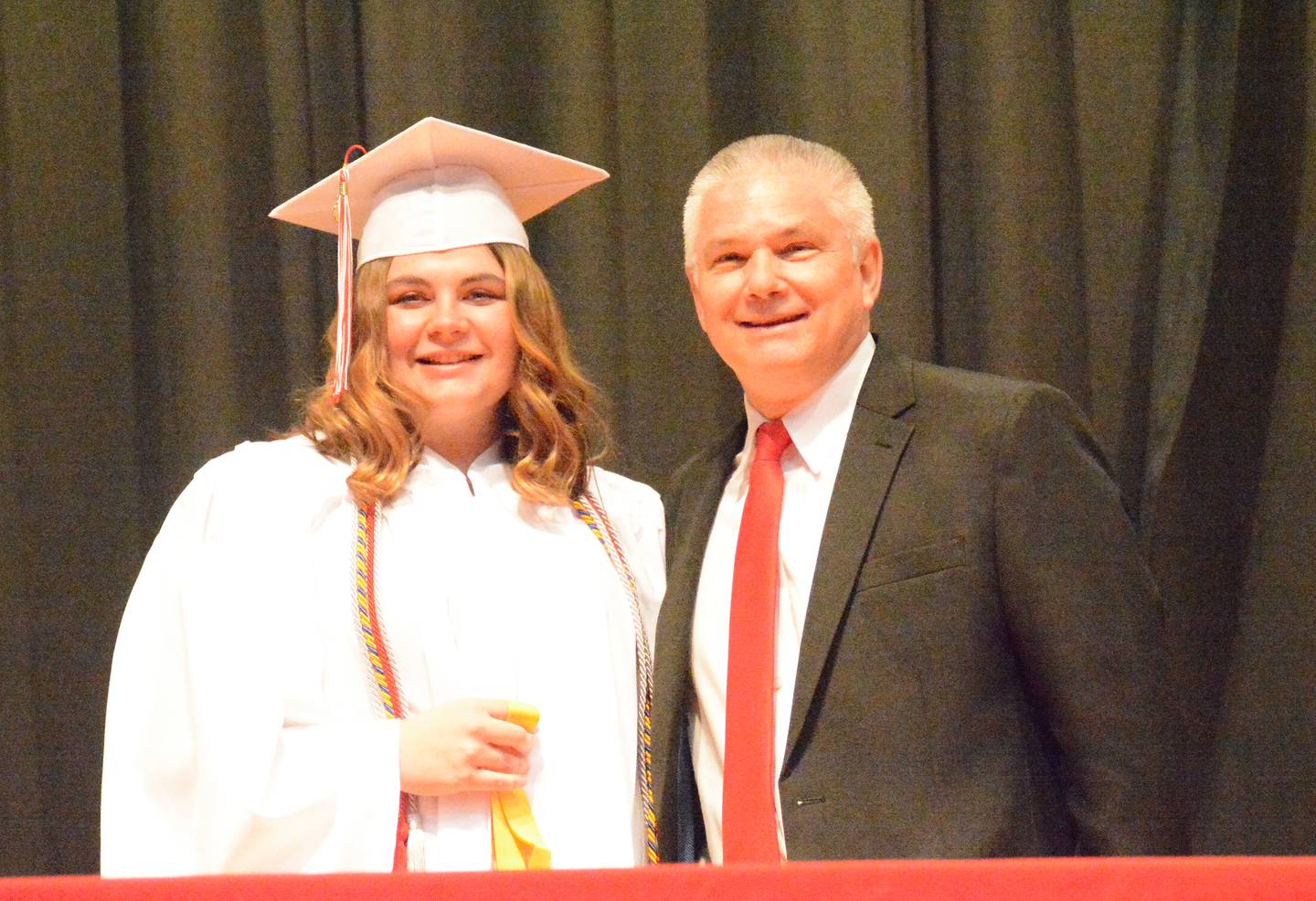 Keynote speaker for the class was their social studies teacher, Grant Bohlke.
Bohlke gave the graduates lots of life lessons, telling them they should try to surround themselves with good mentors to speak truth into them, that it's OK to be nervous but being scared shows you weren't prepared. He told them it's important to have a daily focus and to follow the "three ups" of the golf caddy world, which are "show up, keep up and shut up." He told them to not be afraid of failure and to make sure that everything they do, they treat as important.
Tonnberg and Kerr also each shared speeches full of memories of their years in school.
Nodaway Valley's class motto is that "You miss 100% of the shots you don't take." Their class flower was the tulip and their class colors were purple, black and silver.
O-M's class motto was, "Just do it, because if you don't, you didn't." Their class colors were black and pink and class flower the white peony.