CORNING — Nodaway Valley/O-M senior Elliot Cooney ran the table in the 132-pound weight class, collecting his wrestling program's first individual title at the John J. Harris Wrestling Tournament Saturday since 2010, when Kevin Wessell won his weight class, and the Wolverines placed seventh in a tough field of teams in the 67th edition of the event.
Ranked third at 132 pounds according to IA Wrestle, Cooney had previously always come up short at the prestigious southwest Iowa event that features over 25 teams, but this year he broke through, winning it all.
Cooney pinned his way into the finals, where he won by 11-3 major decision over Atlantic-CAM junior Easton O'Brien. A takedown and three nearfall points in the second period widened the score to 9-3 at that point in the bout.
"Coming into today, I just prepared myself for each match and went out there and did what I do," Cooney said. "I knew the kid in the finals was good on his feet and liked the leg a little bit, so I went into it knowing I had to get out there and get on my offense right away. I stayed offensive, scored points, had to keep my head in it, counter his moves and go on the offense."
Senior 138-pounder Jaxon Christensen pinned his way into the semifinals, where he outlasted Central Decatur's Devin Adams by 4-3 decision, only giving up an escape in the final period. In the finals, Christensen had two escapes but gave up four takedowns, a reversal and two back points in a 12-2 loss to Creston's Austin Evans and placed second.
"We came in today and got a good workout in before weigh-ins and were working hard. It's just about staying warm today because you're standing around a lot," Christensen said. "I wish [the finals] would've been better, but it is what it is. I went out and wrestled as hard as I could. It was a great match."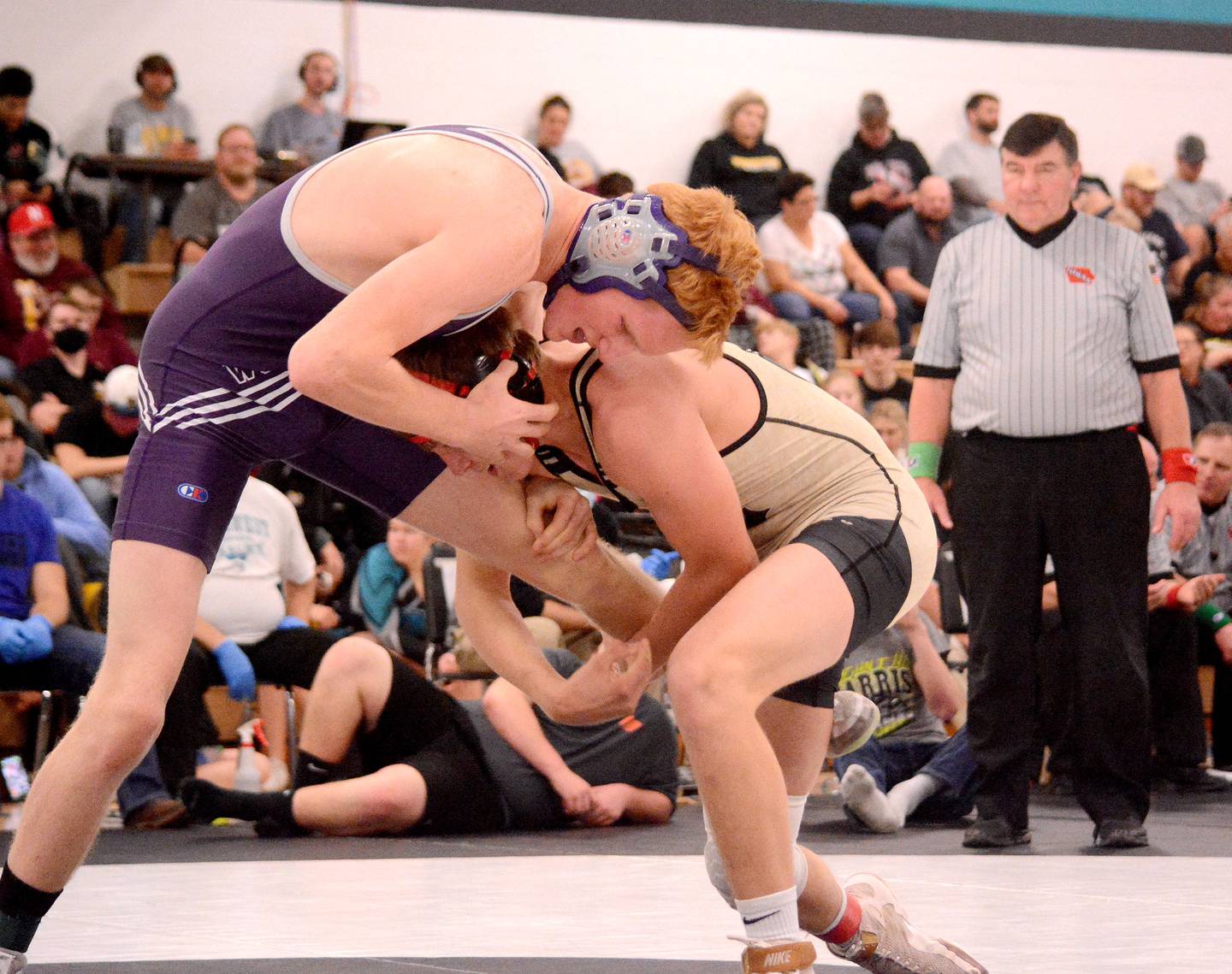 Finishing fourth at 285 pounds was freshman Trenton Warner. He beat Winterset's Joel Akers by fall in his first contested match and followed it up by pinning Panorama sophomore Isaac Monrroy-Nune in the quarterfinals. Warner was pinned in 1:10 by Clarinda senior Logan Green in the semifinals and came back, pinning Atlantic-CAM's Nathan Keiser late for a spot in the third place match.
In the third place bout, Warner was pinned by Bedford/Lenox senior Devin Whipple in 1:31.
"I came out today (Saturday) wrestling the No. 1 seed and it was a really tough match. It was a good match for me experience-wise," Warner said. "I wrestled Whipple [in the third place match] and he's another good ranked kid. He just got me in a fireman's and stuck me. I really need to work on my defense mostly. I need to start being more aggressive on ties and take more shots. It's been a good experience in high school, it's a lot different than middle school. It's been a good year overall."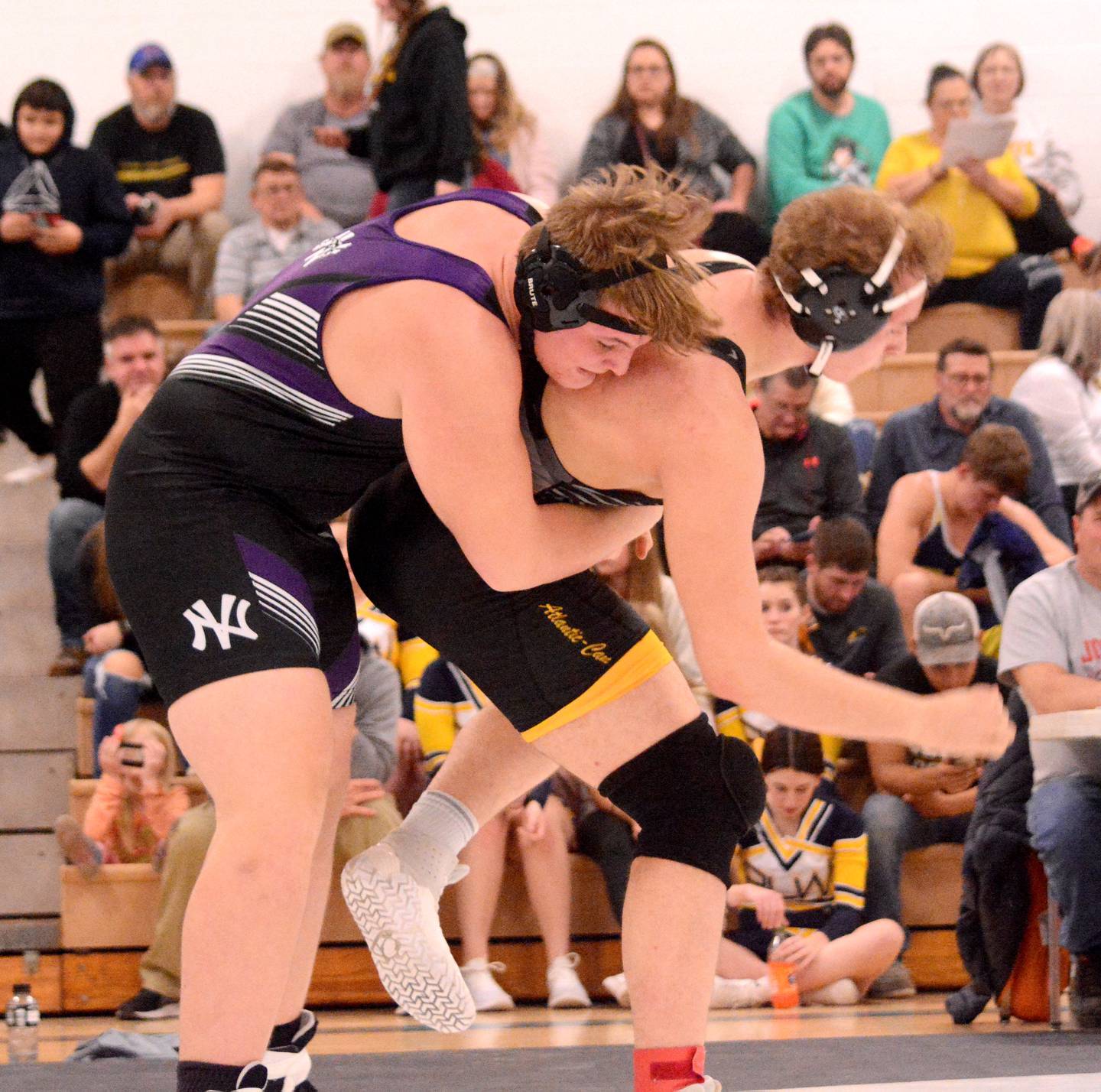 In other action, 113-pounder Eli Harris went 2-2 in matches wrestled, Bradley Gebbie (120) went 0-2, Zackery Gebbie (126) went 2-2, Jevin Christensen (145) went 1-2, Carmine Shaw (152) went 0-2, Dylan Bartles (160) went 0-2, Brandon Raasch (170) went 1-2 and Charles Rudolf (195) went 0-2.
Nodaway Valley/O-M hosts Senior Night Thursday, when Southwest Valley and Southeast Warren will come to town as the Wolverines look to finish the Pride of Iowa Conference duals slate undefeated.
"I was really pleased overall with the effort and the way the kids wrestled over the weekend. We got seventh place out of 25 teams without our starting 182-pounder, who would've been a top placer. We feel like we wrestled to our capability. We won the matches we were supposed to win. I don't know if we got any upsets but we're still peaking, trying to hit our stride in a couple of weeks at sectionals," NV/O-M co-head coach Brad Honnold said. "I think we wrestled well to get ourselves there."