GREENFIELD — The Adair County Fair pulled out all the stops for its 125th birthday celebration and crowds came out to enjoy the fair.
Adair County Fair Board President Gina Meisenheimer said she felt the fair went well. Possibly because of hot, steamy weather for a few of the days of the fair, she said attendance figures were projected to be down from 2019, however those who did make it to the fair seemed to enjoy it.
"I think it was a great fair. We're happy with it," Meisenheimer said.
The fair kicked off Wednesday night with live music from Jesse and the Medicine Man, a barbecue served by the fair board members and a fireworks show that was met with a good crowd reaction, as it was nearly double in length from last year's fireworks show.
The opening night also consisted of the Adair County Fair Queen Contest, Little Miss and Little Mister Contest, 4-H Hall of Fame Induction and Adair Soil and Water Conservation District Awards.
Nodaway Valley student Lily Day, the daughter of Tad Day and Christy Kernen, was crownd fair queen. She will be a junior in high school this fall.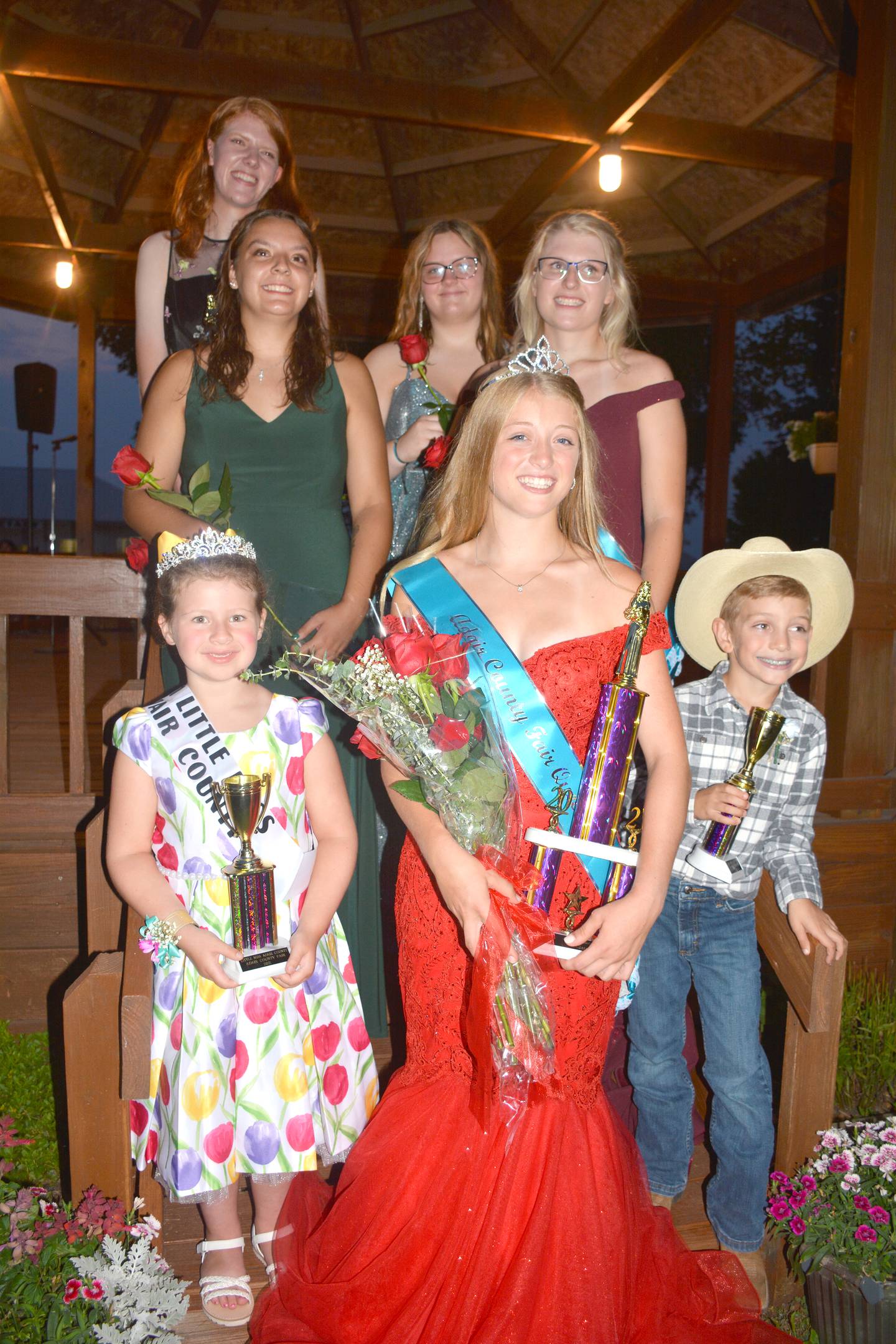 "I'm very grateful and excited for the opportunity to be the 2021 Adair County Fair Queen," Day said.
Day had the experience of being crowned fair royalty alongside her brother, Toby Day, who was named Little Mister a short time before she was crowned.
"I think I'm just going to go with my sister, be with my sister, and go everywhere with my sister," said Toby Day, 7.
When Little Miss and Little Mister candidates were introduced by emcee Dave Huff, they were asked a question, such as what is their favorite sport or their favorite subject in school. Day was asked what his favorite subject was in school, and he said "Mrs. Raasch."
Lily Day was excited on the first night of the fair to get a chance to spend a lot of the week with her little brother.
"I think it's pretty cool, I think we're going to have a lot of fun this year," said Lily Day. "I think he's pretty pumped for it. He said before it that if I won and he didn't he was going to kick my butt."
Also during the royalty contests, Josie Sacket of Stuart was named Runner-Up, while Riley McCall of Bridgewater was Miss Congeniality.
In the Little Mister and Little Miss Contest, Kysa Shelley was crowned Little Miss. Miss Congeniality was Leah Clayton and Runner-Up Allana Engles. Mr. Personality in the Little Mister Contest was Jaxon Carstens. Runner-Up was Reid Steele.
Inducted into the 4-H Hall of Fame was Tom Doud of Stuart for his many years of dedication to the 4-H program in the county, most recently as the sheep project superintendent.
Recipient of the Adair Soil and Water Conservation District Landowner/Tennet Award for this year was Linda Van Vleet and Kelly Pool.
The fair continued Thursday through Sunday, with grandstand events that included the All-American Lumberjack Show, the demolition derby, a Willie Nelson, Waylon Jennings and George Strait tribute concert, and a rodeo that featured several local talents.
The 2022 Adair County Fair will be July 20-24. Meisenheimer said that she and the fair board are grateful for all of the support they received from sponsors and attendees throughout the week.
"With it being 125 years, that's a lot of people putting in a lot of [volunteer] hours," Meisenheimer added. "To have it still be as active as it is, and as many kids we still have in attendance, I think that says a lot for us. We're glad everybody still supports us, everybody that sponsors our fair, we couldn't do it without everybody."